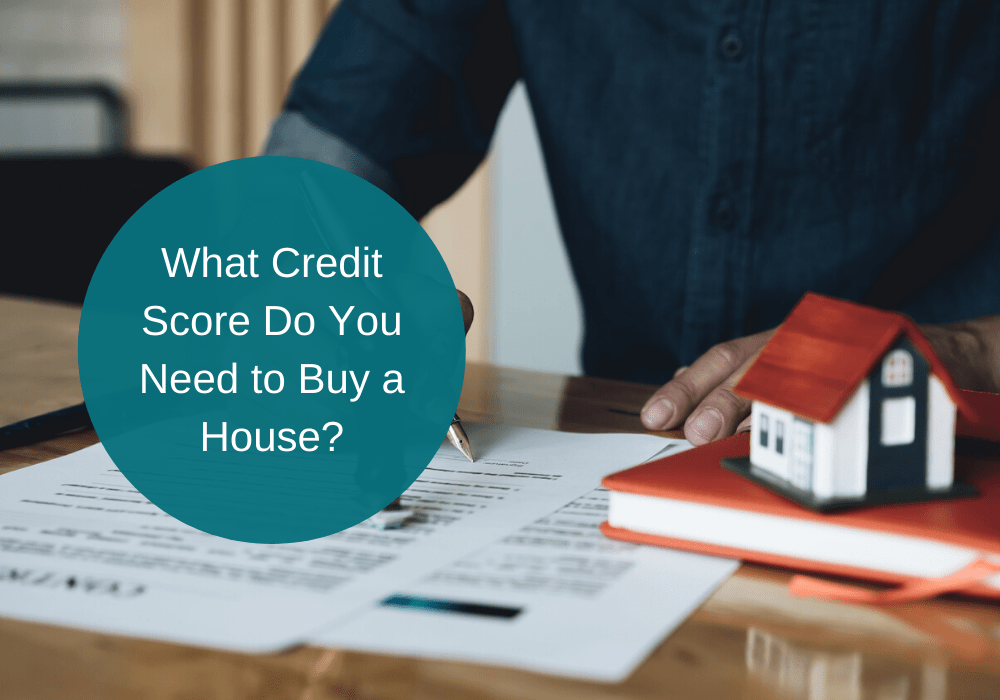 There's a lot to think about when you're buying a house. You'll want to consider what neighborhood you want to live in, what schools or businesses are nearby, what style home you want—and that's not even touching on finances.
Buying a home is probably the biggest purchase you'll make in your lifetime, so it's no wonder that there's a lot to consider. Going into the house-hunting process informed about what you want, what you have, and what you can expect is the most important thing you can do as a buyer—and that means getting educated about your credit score. If you have questions about what credit score is needed to buy a house, there are a few important facts to recognize.
Why does your credit score matter?
In short, credit scores are three-digit numbers from 300 to 850 that tell lenders if you're a responsible borrower. The higher your number, the less risk you present to a lender.
Creditors send credit bureaus information about whether you pay on time, how much credit you've been given by different lenders, and if you have any accounts outstanding. Each credit bureau chooses an algorithm to consolidate all of this information into a three-digit credit score.
If a lender uses the FICO® Score 8, which is the most common model in use today, 35 percent of your score relates to your payment history and 30 percent comes from the percentage of your credit limit that you use. The remaining 35 percent is a blend of factors like how long you've been using credit, what types of credit you've had, and how many lenders have made hard inquiries into your credit.
By translating all of this information into a three-digit number, credit bureaus give lenders a quick snapshot of whether you're likely to repay a loan. They also allow lenders to easily compare your creditworthiness to that of other borrowers.
What credit score is needed to buy a house?
There are no "official" quality levels for credit scores, but scores between 700 and 749 are generally considered to be good. Scores above 750 are considered excellent and can get you some of the best rates. Scores from 650 to 700, on the other hand, are only fair and often cause lenders to charge higher rates.
According to FICO®, the national average credit score has hit an all-time high of 706 this year. Scores have been on a generally upward trend for a while, so mortgage lenders have higher standards than they may have had 10 years ago.
That said, there's no single answer as to what credit score is needed to buy a house. It all depends on what kind of mortgage you want.
The government-secured Federal Housing Administration (FHA) loan, for instance, is designed to make homeownership affordable. For these loans, you may be able to put as little as 3.5% down. You may still qualify for an FHA if you have a lower credit score, but the downpayment required may be more than 3.5%.
If you're planning to apply for a conventional mortgage from a bank or lending company, your lender gets to decide what credit score they need you to have, and the expectations are higher. According to a Fannie Mae report, the average credit score for first-time home buyers in 2022 is 746. So when you apply for a mortgage, your credit score will likely be a strong indicator of what kind of offer you receive.
How to improve your credit score
Now that you know what credit score is needed to buy a house, it's time to review your financial situation and see what tactics you can use to raise your credit score if need be. Your credit score is always changing as you use your credit. If it's not where you want it to be as a potential home buyer, you can bring it up by paying loans on time and being careful about how much credit you use.
These tips can help you bump up your credit score over time:
Use your credit card less. Credit bureaus calculate your utilization score based on your closing balance each month, so the less you charge, the better your score.
Request higher limits on your credit cards, but don't use more. That improves your credit utilization ration because there's more of your credit that you're not using.
Pay down your credit cards but keep the accounts open. The effect is similar to increasing your limits.
The more ways you learn to bring up your credit score, the better you'll look to mortgage lenders—assuming you stay disciplined and borrow responsibly. Knowing what credit score is needed to buy a house and making positive changes to improve your score is a good step before making any home offers. It's a long road, but the prize at the end is a new home to call your own.
FICO and FICO Score 8 are trademarks and/or registered trademarks of Fair Isaac Corporation in the United States and other countries.
Eligibility for a home equity loan or HELOC up to the maximum amount shown depends on the information provided in the home equity application. Depending on the lender, loans above $250,000 may require an in-home appraisal and title insurance. Depending on the lender, HELOC borrowers must take an initial draw of $50,000 at closing, except in Texas, where the minimum initial draw at closing is $60,000; subsequent HELOC draws are prohibited during the first 90 days following closing; after the first 90 days following closing, subsequent HELOC draws must be $1,000, or more, except in Texas, where the minimum subsequent draw amount is $4,000.
The amount of time it takes to get funds varies. It is measured from the time the lender receives all documents requested from the applicant and depends on the time it takes to verify information provided in the application. The time period calculation to get funds is based on the first 4 months of 2023 loan fundings, assumes the funds are wired, excludes weekends, and excludes the government-mandated disclosure waiting period.
For Texas home equity products through Prosper, funds cannot be used to pay (in part or in full) non-homestead debt at account opening.
Depending on the lender, qualified home equity applicants may borrow up to 80% – 95% of their primary home's value and up to 80% – 90% of the value of a second home. In Texas, qualified applicants may borrow up to 80% of their home's value. HELoan applicants may borrow up to 85% of the value of an investment property (not available for HELOCs).
Home equity products through Prosper may not be available in all states.
All home equity products are underwritten and issued by Prosper's Lending Partners. Please see your agreement for details.
Prosper Marketplace, Inc. NMLS# 111473
Licensing & Disclosures | NMLS Consumer Access