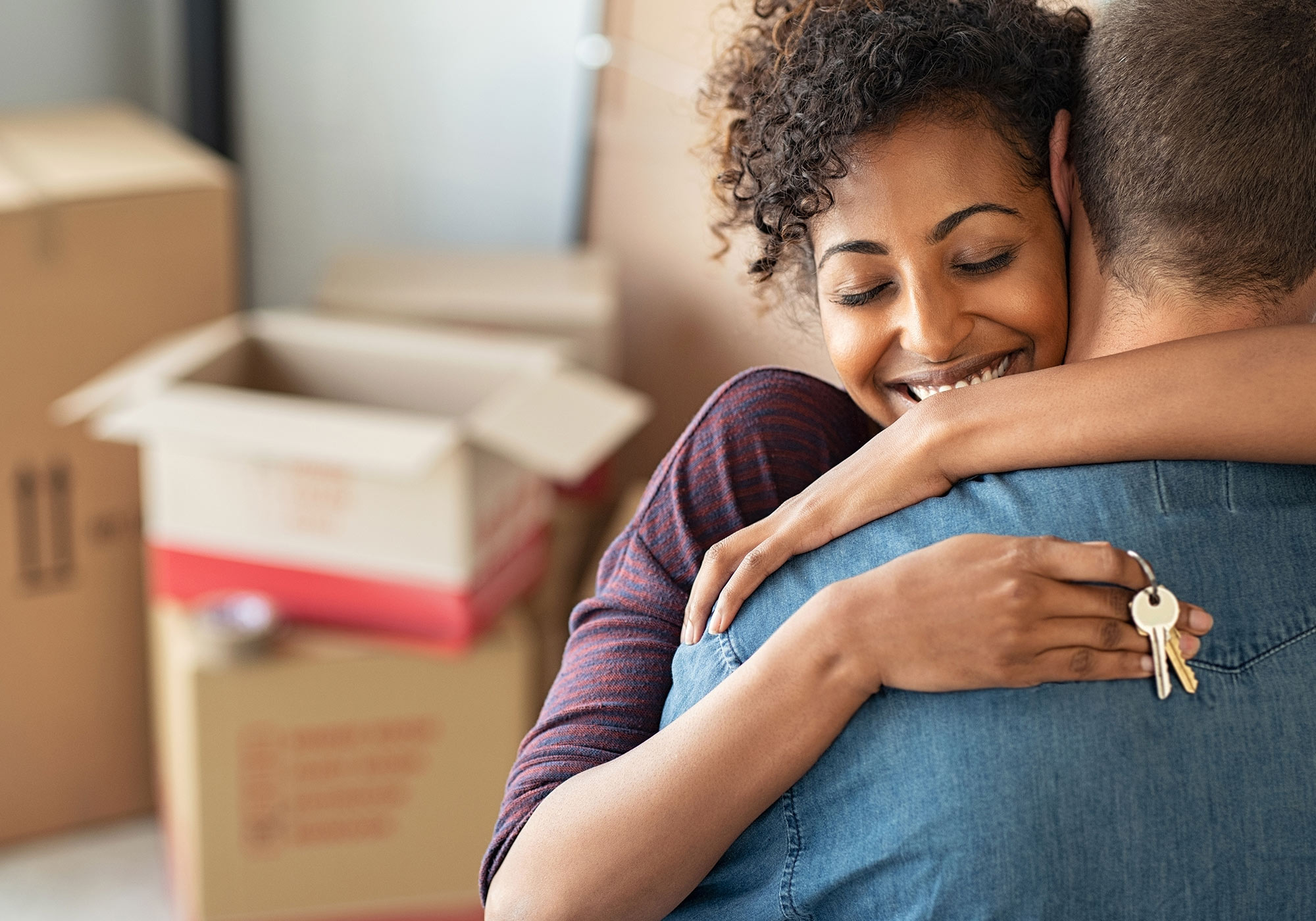 Buying a home for the first time is exciting, and it can also be intimidating. It's an enormous commitment, and the process can seem incredibly complex. However, if you do your research and have a solid team in your corner, buying a home is less complicated than you think!
To help you navigate buying your first home, today we'll be covering:
First-time homebuyer programs
Home down payments
How your credit score impacts your ability to secure a mortgage
Mortgage applications, approvals and types
What to expect on closing day
Laying the Groundwork
We know you're eager to start looking at houses, but doing your homework first will make the process a lot easier. Let's look at the first steps of your home-buying journey.
Research First-Time Buyer Programs
Many state and local governments or nonprofits offer first-time homebuyer programs, including grants to help with down payments and closing costs, educational programs, and tax breaks.
These programs vary depending on where you live and may have different qualifications, so you'll have to do some research. However, they help make homeownership possible for many first-time homebuyers like you.
Set Money Aside for Your Home Down Payment
If you're preparing to buy a house, saving for a down payment is one of the first steps you should take. While many first-time homebuyer down payment assistance programs exist, you'll likely still have to make a down payment.
Historically, the rule of thumb has been for homebuyers to place a 20% down payment because:
Above that threshold, most lenders don't require buyers to carry private mortgage insurance (PMI), and a larger down payment means lower monthly payments.
It can give your offer an edge against other prospective buyers.
For many Americans, however, a 20% down payment isn't realistic. The median down payment on houses was only 12% in 2020, and it was only 7% for first-time buyers.
How much you should put down depends on your situation. Generally, you need a down payment of about 5% to qualify for conventional loans. However, government-backed loans often allow certain homebuyers to pay a reduced down payment or no money down since the government insures those mortgages.
Even if you qualify for a reduced down payment or a zero-down option, a down payment will help reduce your monthly payment and allow you to gain equity in your home more quickly.
Determine How Much You Can Afford Monthly
A mortgage lender will look at the following three rules to determine how large a loan you're eligible to receive, based on your salary and total debt.
The Rule of 28: Your monthly mortgage payment shouldn't exceed 28% of your gross monthly income (meaning your income before any taxes or deductions are taken out).
The Rule of 32: The total of your housing payments (including mortgage, homeowner's insurance, PMI, homeowner's association fees, and property taxes) shouldn't exceed 32% of your gross monthly income.
The Rule of 40: Your total debt payments, including house payments, car payments, minimum credit card payments, and student loan payments, should not exceed 40% of your income. This means that homebuyers with a big car payment or a lot of debt may not qualify for the maximum mortgage payment indicated by the Rule of 28 or the Rule of 32.
Using these guidelines and an online mortgage calculator, you can get a good estimate of the loan amount you'll qualify for. You can determine the price range of homes you should be looking for based on the loan you qualify for and the amount of down payment you can offer. There are many loan products out there and these are only general guidelines. A good real estate agent and mortgage provider will be able to advise more concrete numbers tailored to your situation.
Review Your Credit
Your credit score plays a big role in both the approval process and securing the most favorable terms for your loan.
Before applying for mortgage loans, pull your credit reports to ensure they're complete and accurate. Keep in mind that while the three credit bureaus (TransUnion, Experian, and Equifax) generally maintain the same information, there can be discrepancies. That's why it's a good idea to check all three. The Fair Credit Reporting Act entitles all Americans to a free credit report from each bureau every 12 months, which you can get through annualcreditreport.com.
Federal consumer protection laws allow you to dispute in writing any items you believe to be in error. Once you dispute an item, the credit bureau has a set period (usually 30 days) to investigate and must remove the item from your credit report if they cannot determine its validity.
Additionally, before applying for a mortgage, it's smart to:
Pay down credit card balances
Avoid using your credit cards for at least two months
Not apply for any other credit (such as credit cards or a car loan)
Collect Documentation
An often overlooked detail that can reduce your stress is to get your documentation in order before you start the mortgage approval process. Mortgage lenders verify your finances using primary sources, so you'll need to provide:
Your two most recent W-2s
Several months' worth of bank statements and pay stubs
Two years worth of tax returns (if you have significant freelance or self-employment income)
Get Help from a Real Estate Agent
Buying a home is best done with a team. Besides your mortgage provider, a real estate agent serving as the buyer's agent can help you:
Find a home in your price range and desired area.
Navigate the homebuying process and represent your interests.
Negotiate the offer on your behalf.
Advise you and recommend other professionals you'll need during the process, such as real estate attorneys and home inspectors.
The best part is that, as a first-time buyer, a buyer's agent's services are effectively free since the seller pays the sales commission.
Keep in mind that the listing agent's responsibility is to the seller. As a first-time buyer, it's important to have an agent looking out for your interests and guiding you through the process.
Shopping for a Mortgage
Don't put mortgage shopping off until the end of the process. Home sellers often favor buyers who have everything in order, and losing your dream home to a better-prepared buyer is a tough break.
Fortunately, you can get pre-approved for a mortgage through your lender. Pre-approval gives you the confidence to make a serious offer and gives the seller confidence that you're a qualified buyer.
Mortgage Pre-Approval vs. Pre-Qualification
During the mortgage process, you'll hear two terms: pre-qualification and pre-approval. So let's take a moment to compare mortgage pre-approval vs. pre-qualification.
For pre-qualification, you provide your data and the lender informs you of how large a loan you likely qualify for — and on what terms. However, it's just an estimate; the lender doesn't verify that information. Pre-qualification is nonbinding, meaning the lender is not legally obligated to provide you the pre-qualification amount or terms.
Pre-approval is also nonbinding, but more involved. During pre-approval, the borrower must complete the full application, supply all needed documentation, and undergo the full credit and financial background check required for a loan. Then, they receive a conditional commitment in writing for the maximum loan amount the lender will offer.
Once an offer has been accepted, the lender will do their due diligence and issue a loan commitment.
Keep in mind that when undergoing mortgage pre-approval, interest rates can fluctuate between the time of application and the time of closing. However, some lenders allow the borrower to 'lock in' a rate at the time of application, often for a fee.
How Mortgage Interest Rates Work
Three factors determine the interest rate of a mortgage:
The market rate: The market rate is based on a variety of factors, including federal and other interest rates. The more it costs the lender to secure the money they're loaning to you, the higher the market rate will be.
The length of the loan: Most mortgages have a repayment term of either 15 or 30 years. Thirty-year mortgages result in a more affordable monthly payment, but 15-year mortgages have a lower interest rate.
Your financial and credit situation: The lender will take their basic rate for a mortgage and then consider your credit score, debt-to-income ratio, employment history, and down payment amount.
Comparing Fixed vs. Adjustable-Rate Mortgages
There are two types of mortgage interest rates: fixed-rate mortgages and adjustable-rate mortgages. And both have pros and cons.
A fixed-rate mortgage is exactly what it sounds like. The loan has a fixed rate of interest that will not change for the life of the loan. This offers greater cost certainty, as the amount of each payment remains the same.
An adjustable-rate mortgage is variable. While the initial rate is usually lower than a comparable fixed-rate mortgage, the rate is adjusted on a set schedule based on the prevailing market rates. This schedule varies; some adjust monthly, while others can go as long as a decade between rate adjustments.
Many adjustable-rate mortgages have an initial period in which the rate is fixed, and some cap the maximum interest rate increase per adjustment or for the life of the loan.
Adjustable-rate mortgages typically offer a more attractive rate and lower monthly payments at the beginning of the mortgage. However, they're often more expensive in the long run, as a significant interest rate hike can mean a big jump in your monthly payment.
If you consider an adjustable-rate mortgage, read the disclosures carefully. There is a risk that an adjustable-rate mortgage may lead to an unaffordable payment. While some lenders offer a maximum monthly payment option to prevent this, it may take longer to pay for your home.
Adjustable-rate mortgages are best:
When you plan on moving within a few years
If you expect your income to grow in the future
Fixed-rate mortgages are best:
When you plan to stay in your new home for a long period of time
If you need a stable, predictable payment
Types of Mortgages
Loans come in three basic categories:
Conventional loans
Jumbo loans
Government-backed loans
All three types of mortgages are made by private lenders such as banks, credit unions, or specialized mortgage companies.
Conventional mortgages adhere to a maximum loan amount set each year by Fannie Mae and Freddie Mac. The credit, income, and down payment requirements vary widely based on the lender's risk criteria.
Jumbo mortgages are conventional mortgages that exceed $500,000 (more in higher cost areas). These mortgages require a large down payment and are difficult to qualify for, so in many cases, they're not a great option for first-time homebuyers.
Government-backed mortgages are offered by private lenders, but the government insures the mortgage to reduce risk to those lenders. Each type of government-backed loan has its own eligibility requirements and special guidelines.
Federal Housing Administration (FHA) Loans
FHA loans are popular with those who have limited savings and/or credit challenges, offering a minimum 3.5% down payment for homebuyers with a credit score of 580 or above.
Veteran's Administration (VA) Loans
VA loans are offered to current and veteran members of the armed services, as well as certain eligible family members. Most VA loans do not require a down payment or mortgage insurance or PMI. They also include limitations on buyers' closing costs, lower average interest rates than other loans and no prepayment penalties.
U.S. Department of Agriculture (USDA) Loans
The Rural Development Program of the USDA offers mortgages for homebuyers in eligible rural or suburban areas with low to moderate incomes. These loans have no down payment requirement and favorable interest rates.
Fannie Mae and Freddie Mac Homebuyer Loans
Fannie Mae HomeReady and Freddie Mac Home Possible loans are geared toward lower-income homebuyers without substantial savings for down payments. While there are some minor differences, both have limited down payment requirements, often as low as 3%. They also allow the homebuyer to count roommate income to aid in eligibility.
Preparing for Closing Day
Closing day is the day you complete the transaction and receive the keys to your brand new home, usually 4–6 weeks after the seller accepts your offer. During closing, the seller transfers the deed and ownership of the property to you.
To help you prepare, the U.S. Department of Housing and Urban Development offers a downloadable checklist of everything you'll need to take care of.
Before closing day, you'll need to:
Take your signed sale contract to the lender so they can begin the loan process.
Order a home inspection and, where applicable, a radon and termite inspection.
Confirm the lender has ordered a home appraisal.
Follow up on home inspection issues and, if necessary, order a second inspection.
Track any contingencies in the sale, such as the seller making repairs, and ensure they're completed prior to the closing date.
Confirm the closing date and location.
Arrange for a homeowner's insurance policy to go into effect on closing day. Make sure you get proof of policy; you'll need it to close.
Complete a change-of-address form and schedule utilities to be transferred into your name on closing day.
Read all closing disclosures and paperwork, and review terms and fees. Make sure there are no discrepancies with what you previously agreed to.
Confirm how much you have to pay in closing costs and the method of payment (cashier's check, certified check, wire transfer, etc.).
Arrange for a final walk-through of the home the day before closing to confirm it's still in proper condition.
Make sure you know who needs to be present (closing attorney, title agent, escrow agent, etc.) and how to reach them.
Gather all needed documentation ahead of time.
The Home Inspection
Even a great-looking house can have problems under the surface, making this step essential despite the fact that many homebuyers are choosing to forego inspections.
A good home inspector will check every aspect of your new home and give you a comprehensive overview of any issues it might have or develop in the foreseeable future, plus an estimate of maintenance costs. They'll check the:
Appliances
Heating and air-conditioning systems
Plumbing
Electrical systems
Attic, basement and crawl space
Their sole function is to make sure you're aware of any problems or needs before finalizing the purchase, and that's important. Once you close, you're responsible for any issues that arise, so hiring a reputable home inspector can save you a lot of money.
Make sure to schedule the inspection as soon as possible once your offer has been accepted. That way, you'll have enough time to schedule a second inspection or renegotiate the terms of the sale if the home inspector uncovers any issues.
Keep in mind that, unlike most closing costs, home inspectors typically require payment at the time of service, and an inspection runs $300–500 in most areas. Your real estate agent should be able to recommend a good inspector, or you can contact professional organizations like the American Society of Home Inspectors or the International Association of Certified Home Inspectors to find one in your area.
Home Appraisal
Unlike a home inspector, a home appraiser conducts a comprehensive overview of a home in order to determine its value. A home appraiser looks at many of the same things as a home inspector, but they also consider recent sales of similar properties, market trends, and the features of the home. Another important difference is that, while the inspector works for the buyer, the appraiser's responsibility is to the lender, although the borrower is responsible for the appraiser's fee.
The appraiser's job is to minimize risk for the lender by ensuring that the home's value is commensurate with the price being paid. Since the home serves as collateral for the mortgage, the lender doesn't want to lend more than it can recover from the sale of the house should the borrower default on the mortgage.
Though the lender handles this step, it can also benefit you as the homebuyer. If the appraiser determines that the home's value is lower than the asking price, that information can help you negotiate a lower price for the sale.
What Happens at Closing?
Once you arrive at closing with your documentation and ID, you're almost done! During closing, you'll review and sign the following loan documents:
Deed of Trust or Mortgage: This puts a lien on your property on behalf of your lender, which simply confirms your home as the collateral for your mortgage.
Promissory Note: A legal agreement confirming your obligation to pay the mortgage provider, and the terms of repayment.
Closing Disclosure: An itemized list of final credits and charges from the contract, confirming what you're paying for in the mortgage.
Closing can be an intimidating process, but don't feel rushed. Read everything you sign and don't be afraid to ask about anything you don't understand. You're taking on an enormous commitment; you have a right to be comfortable and informed.
Understanding Closing Costs
Closing costs include all the fees, taxes, and other expenses incurred while finalizing a mortgage. These costs typically range from 2–5% of the home's value. The homebuyer usually pays them, although this can be negotiated as part of the sale. Sometimes, closing costs can be folded into the mortgage, but it's more cost-effective to pay them upfront, if possible.
Closing costs are generally itemized in the loan estimate provided by the lender. And while some fees aren't negotiable, it may be possible to negotiate in order to reduce the cost.
Moving In!
Once closing is done, you've achieved what many refer to as the American dream: homeownership! Say goodbye to landlords and throwing money away on rent. You can decorate and renovate your home however you wish.
For first-time homebuyers, the process can seem long and intimidating, but when you break it down to its components, it's within your reach.
Read more:
All personal loans made by WebBank.
---