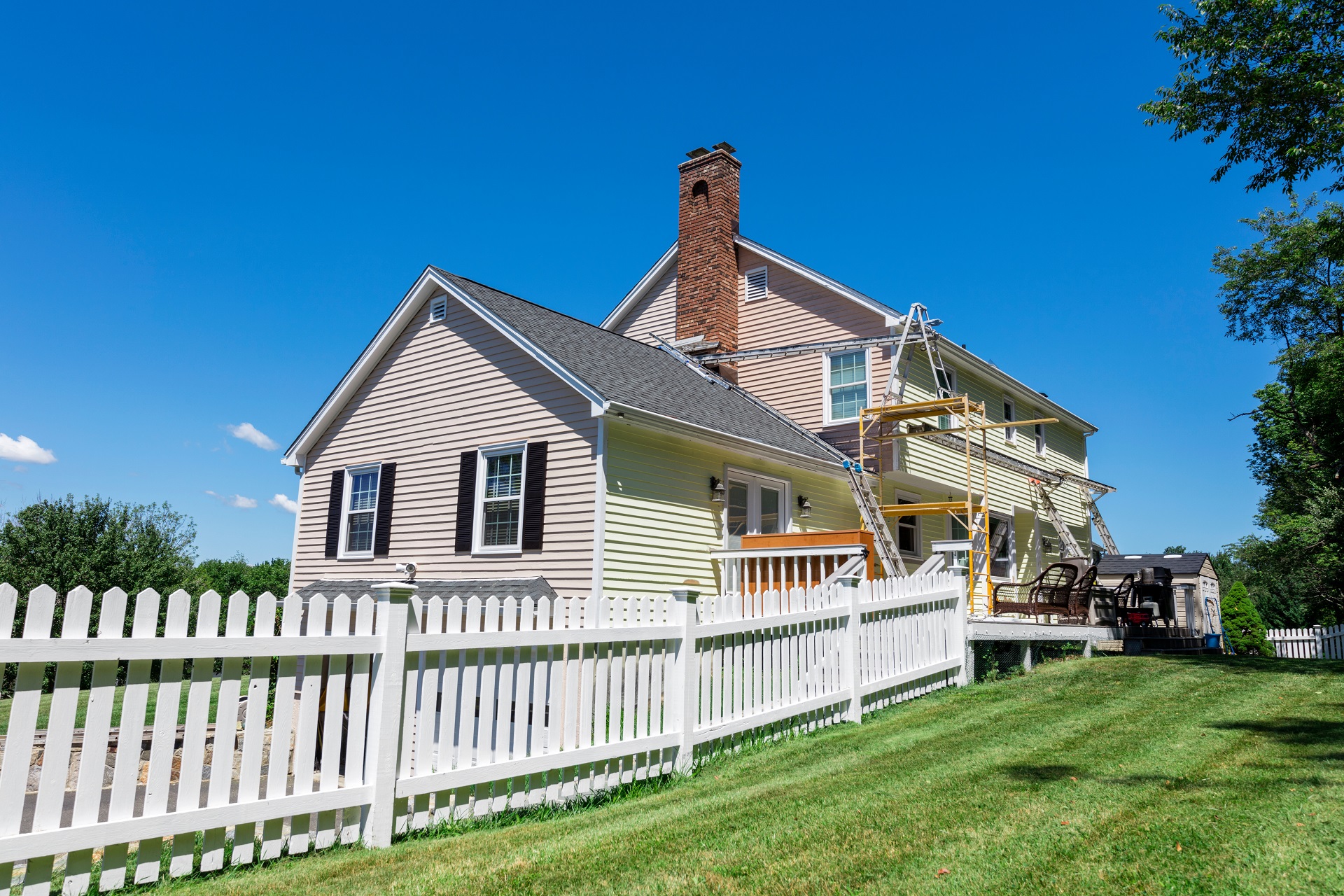 Whether you're taking a home you already love and making it better or taking a fixer-upper and restoring it to livability, the key to a successful remodel is planning. Remodel projects take a significant investment in time, money, and effort, and the details can become overwhelming without proper planning.
Fortunately, by breaking it down step-by-step and engaging in thoughtful remodel planning, you can fix your fixer-upper without breaking your back, busting your budget, or getting stressed. Prosper's got your back with our guide to remodel planning.
Remodel Planning: What Does a Renovation Entail?
One of the best things about owning a home is the right to tailor it to meet your needs. Another is that you're not only paying for a place to live — you're making an investment. Additionally, remodeling or renovating your home — when done thoughtfully — can strengthen your investment by increasing resale value and making it more comfortable for your family.
The average expense of a full house gut and remodel ranges from $100,000౼$200,000, with a cost per square foot between $60౼$150 depending on factors such as material cost, labor cost, region of the country, and scope of work. It can take weeks or months to complete a renovation project, especially given current labor shortages and supply chain disruptions.
Most importantly, consider your end goal. If you're planning on living in your home for many years, resale value isn't as important a consideration as tailoring your home to your preferences. On the other hand, if you consider this a starter home or plan on upgrading within a few years, you'll want to consider resale value and what features or additions might make your home more profitable.
Home renovations are expensive and time-consuming projects, but doing your research and planning carefully allows you to achieve your goals while keeping your stress to a minimum.
Remodeling a House: Where to Start?
When it comes to an entire home remodel, where's the best place to start? First, let's talk about how to remodel a house step by step.
Create a Detailed Renovation Plan
Detailed remodel planning for your project's logistics and aesthetics is the key to a successful renovation project — keeping in mind your budget and stress tolerance.
Your plan should state the end goal, inspiration, design, and how you'll get from conception to completion. Elements should include:
Design inspiration, sketches, and desired or needed features
Blueprints, schematics, and other documents
Step-by-step workflow
List of materials
Necessary regulations and permits
List of professionals you'll need for each step, along with their contact information
Research zoning regulations early in the process to ensure your plans won't violate local laws or homeowner's association (HOA) covenants. It would be a shame to spend tens of thousands of dollars to build an addition or convert a garage to a living space, and then have to tear it down again because it violated HOA regulations.
Set Your Budget
A comprehensive budget will help you determine what you can afford, the scope of your renovation, and keep your finances on track during the process. A solid budget also can help prevent you from running into financial challenges halfway through the project.
Your budget should account for the following:
Cost of materials
Permits
Labor costs
20% reserve fund for unexpected expenses
If you plan on living in your home while renovating, you'll want to budget additional funds for living expenses during the renovation project. For example, if you're redoing your kitchen, you may have to dine out or order take-out more often. You may even decide to stay at a hotel during especially noisy or intensive parts of the project. Setting aside money to avoid the noise and stress of a major renovation or remodel can make a big difference in your quality of life.
If your planned project is going to cost more than you can finance, you have options. You can use your comprehensive plan to break the project into phases and complete them as you have the funding. Or, you can eliminate lower-priority elements and focus on getting the most important aspects of the project done. Another option is to select less expensive materials than are called for in the original plan.
Many people skimp on their reserve fund to squeeze their project within their budget, but that may not be a good idea. The price of construction materials has climbed significantly in recent years and will likely continue to fluctuate. In addition, whole-house remodel projects often uncover existing problems that must be repaired before the remodel can be completed. Therefore, it's critical to keep a healthy emergency fund to cover any challenges that come up.
Determine Your Timeline
Before starting a project, you'll want to coordinate your calendar. If it's early November and you're planning on hosting Thanksgiving, it would be too tight of a window for a kitchen remodel. If you're hiring contractors to do the work and have a family vacation planned, schedule the most intensive parts of the project while you're out of town to minimize disruptions.
Make sure your timeline has accounted for the following:
Time to prepare the project area for remodel/renovation
Shipping and delivery time for materials
Accounts for contractor and labor availability
Realistic timeframes for each part of the project
Be realistic about the amount of time your project will take. If you have an event in mind and want to be done in time, you'll want to build several days of wiggle room for unforeseen circumstances when selecting a start date. If you're working with contractors, confirm your timelines with them and ensure they'll be able to complete their work on schedule.
DIY or Contractors?
Of course, doing work yourself is attractive from a budget perspective. However, it depends on your skill level and limitations. Additionally, in many localities, specialty work — such as electrical wiring or plumbing — must be performed by certified, licensed professionals.
When doing remodel planning, note the portions that involve work you are not confident in your ability to complete. So budget out sufficient funds to hire reputable, professional help. It's best to do your research and seek referrals rather than hiring the first company that answers the phone.
Step-By-Step Guide To Selecting And Hiring a Contractor
Here are some tips for selecting a contractor, whether hiring someone to complete the entire project or just the parts you can't do yourself.
Get recommendations: Talk to friends and neighbors. Read reviews on Angi, Thumbtack, and other independent review sources.
Interview candidates: Phone screen possible candidates. Meet with your top 3–4 choices for a consultation and estimate. For larger or more complicated projects, you may even want to visit a current job site or interview former clients.
Plan: Sit down with your preferred candidate and discuss your plan. Confirm a timeline and outline their responsibilities. Also, be sure to clarify whether they will handle permitting or if that is something you need to take care of.

Payment schedule: Confirm the contractor's expected payment schedule. For large projects, contractors generally expect a 10% down payment at the start, three 25% payments during the duration of work, and the final 15% at project completion.

Select a bid: Don't settle for the lowest offer. Price should be a consideration — but not the only one. Trust your intuition; it may be worth accepting a higher bid if you feel more confident in that company's work.
Get everything in writing: No matter how comfortable you are with the contractor you've chosen, get everything in writing. Make sure their scope of work, timelines, costs, and penalties are specified. Notate exactly what types and grades of materials you expect. You should also secure copies of their liability and workers' compensation insurance and lien releases for any subcontractors or suppliers.
How to Remodel a House Step by Step
You've got a remodeling plan, a budget, the contractors, and you're ready to go. Our step-by-step home renovation checklist will help you stay on track.
Pack up and prep your space: Pack up belongings in areas that will be worked on and ensure they are prepped and ready for construction. Remodeling is a messy job, and packing up the contents of each room protects them from damage, and also makes it easier for the contractors to get the work done.
Anticipate problems: Don't stress when you run into an issue. This is why you have a reserve fund, as every remodeling project runs into challenges. Just roll with the punches and adjust your plans accordingly!
Waste removal: If your contractor isn't handling this part of the project, you'll want to make sure you have a plan for this sooner rather than later. Your usual trash company likely will not haul away construction debris, so make arrangements before the renovation starts.
Child- and pet-proof your renovation: Whether doing the work yourself or hiring contractors, secure the work area! You want to make sure children and pets are safe. If they ordinarily have the run of the house, renovation work means dangerous tools and conditions. Adequately secure all work areas and tools, especially during off-time when no adult supervision is present.
Plan for supply chain issues: The global supply chain is slower than it used to be, so you can't count on being able to get what you need at the last minute — especially for luxury materials or hard-to-find items. Order what you need before you need it to avoid delays.
Planning Your Remodel: Financing
We've walked you through how to remodel a house step by step, but what about financing your renovation project? That's where Prosper comes in.
A home equity line of credit (HELOC) through Prosper allows you to harness the equity in your home to pay for your remodel or renovation. With a HELOC, you can pay down part of the balance and re-access the funds, making this a perfect choice for large projects or projects that include multiple phases. And as a secured loan, a HELOC often carries lower interest rates than similar unsecured loans.
Home Equity Loans (HELoans) are another great option to harness the equity in your home for remodel or renovation purposes. Like a HELOC, a HELoan carries lower interest rates than unsecured loans. However, it pays out a lump sum with set repayment terms, providing cost certainty for your budget. A HELoan is a great option for major projects with a reasonably set budget.
Personal loans through Prosper are another popular option for home improvement projects. Prosper's peer-to-peer lending marketplace allows you to borrow up to $40,000 for home improvements with a fixed interest rate and no pre-payment penalty, providing enormous flexibility. Use our personal loan calculator to estimate your interest rate and payment before you apply.
Whether you're creating your dream refuge from the outside world or improving the value of your investment, Prosper's steps to remodeling a house can help you reach the finish line. A bit of careful remodel planning makes the whole process easier. Prosper's here to help you every step of the way!
All personal loans made by WebBank.
IMPORTANT INFORMATION ABOUT PROCEDURES FOR OPENING A NEW ACCOUNT.
To help the government fight the funding of terrorism and money laundering activities, Federal law requires all financial institutions to obtain, verify, and record information that identifies each person who opens an account.
What this means for you: When you open an account, we will ask for your name, address, date of birth, and other information that will allow us to identify you. We may also ask to see your driver's license or other identifying documents.
Eligibility for a HELOC up to $500,000 depends on the information provided in the HELOC application. Borrower must take an initial draw of $50,000 at closing. Subsequent draws are prohibited during the first 90 days following closing. After the first 90 days following closing, subsequent draws must be $1,000 or more (not applicable in Texas). Loans above $250,000 require an in-home appraisal. Loans above $250,000 require title insurance.
The time it takes to get cash is measured from the time the Lending Partner receives all documents requested from the applicant and assumes the applicant's stated income, property and title information provided in the loan application matches the requested documents and any supporting information. Spring EQ borrowers get their cash on average in 18 days. The time period calculation to get cash is based on the last 6 months of 2021 loan fundings, assumes the funds are wired, excludes weekends, and excludes the government-mandated 3-day right of rescission grace period. The amount of time it takes to get cash will vary depending on the applicant's respective financial circumstances and the Lending Partner's current volume of applications.
Spring EQ cannot use a borrower's home equity funds to pay (in part or in full) Spring EQ non-homestead debt at account opening. Minimum draw in Texas is $4,000. To access HELOC funds, borrower must request convenience checks.
Interest rates may be adjusted based on factors related to the applicant's credit profile, income and debt ratios, the presence of existing liens against and the location of the subject property, the occupancy status of the subject property, as well as the initial draw amount taken at the time of closing. Speak to a Prosper Agent for details.
Qualified applicants may borrow up to 90% of their home's value (not applicable in Texas). This does not apply to investment properties. For Texas HELOCs, qualified applicants may borrow up to 80% of their home's value.
HELOCs through Prosper may not be available in all states. Please carefully review your HELOC credit agreement for more information.
All HELOCs are underwritten and issued by Spring EQ, LLC, an Equal Housing Lender. NMLS #1464945.
Prosper Marketplace NMLS Prosper Marketplace, Inc. NMLS# 111473
Licensing & Disclosures | NMLS Consumer Access
Prosper Funding LLC
221 Main Street, Suite 300 | San Francisco, CA 94105
6860 North Dallas Parkway, Suite 200 | Plano, TX 75024
© 2005-2022 Prosper Funding LLC. All rights reserved.

Read more