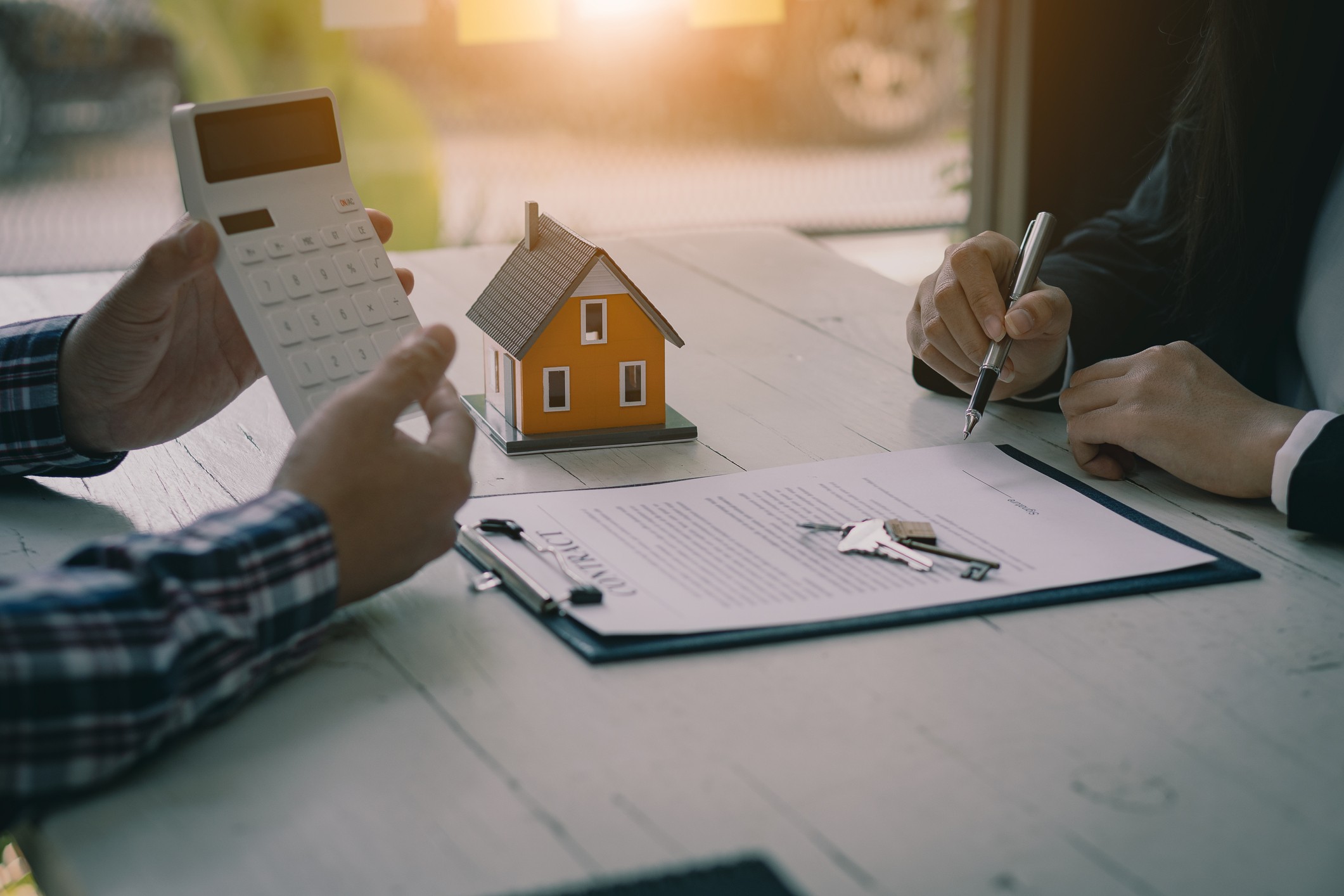 Becoming a homeowner is considered a key milestone in an individual's financial empowerment journey. Not only is your home an appreciating asset, but homeownership also brings the ability to access your home equity. Home equity enables you to access financing tools at advantageous rates by using it to secure loans.
There are two primary types of financing that utilize home equity: Home Equity Lines Of Credit (HELOCs) and Home Equity Loans (HELoans). We're here to break down for you all about home equity loans: pros and cons, so you can make an educated decision on how to use home equity and whether a HELoan is right for you.
What Is Home Equity?
To put it simply, home equity is the current value of your home minus the amount you still owe on your mortgage. You build equity in two ways. 
Paying down your mortgage principal: By paying down your mortgage principal, you're reducing the lender's share of ownership of your house and increasing your own share. This is often a long-term endeavor; on a typical 30-year mortgage, your early payments will go almost entirely to servicing the interest on the loan each month, and real progress is slow.
Property value fluctuation: One of the reasons personal finance experts so laud homeownership is that, historically, real estate values generally rise. Property values can fluctuate up and down, but they almost always rise over a long enough period. This makes real estate one of the safest investments you can make.
While your mortgage principal will always continue to drop if you make your payments on time, property value can fluctuate. So it is possible to have negative equity if your property value drops substantially.
However, don't panic; historically, prices rise. Also, this has been a very rare occurrence in recent years, with real estate prices surging.
What Is a Home Equity Loan?
A HELoan is a loan secured by the equity you have in your home. A HELoan provides you with a lump sum of cash and typically features payment terms, including fixed payments for 5–30 years.
HELoans are a form of second mortgage. It's a loan against your house, much like your mortgage, and is secured by your home in case of default. It usually involves closing costs, also like your mortgage.
How Much Can You Borrow?
How much you can borrow with a home equity loan depends on how much home equity you have and the lender's guidelines. However, a home equity calculator can give you a rough idea of how much you can access.
What's the Difference Between a HELoan and a HELOC?
A home equity loan and a home equity line of credit are both secured by your home equity, but there are some important differences.
A HELoan is disbursed as a one-time lump sum, often with a fixed interest rate and payments on a set schedule each month after that until the loan is repaid.
A HELOC functions more like a credit card, although you don't receive a physical card. Instead of a lump sum, you have a credit limit and can draw funds up to that limit. It usually has a variable interest rate. During the draw period, you can access funds up to the amount you were approved, and as you pay that down, you can even re-access those funds. You only pay interest on the amount you use. Once the draw period ends, you enter the repayment period, during which you can no longer access the funds and pay down any remaining loan balance on a fixed payment schedule.
The Advantages and Disadvantages of a Home Equity Loan
Is a home equity loan right for you? Would a HELOC be a better option? It all depends on your unique situation and needs! Let's look at some home equity loan pros and cons.
Pros of a Home Equity Loan
Fixed interest rate: Most HELoans often have a fixed rate, which is a rate set at the time of the loan that doesn't change for the life of the loan (so long as you make payments on time). The main advantage of a fixed-rate loan is that the borrower is protected from sudden and potentially significant increases in monthly payments if interest rates rise.
Lower interest rates: Your home equity loan is backed by your house, which means you'll generally receive lower interest rates than credit cards or other unsecured loan types.
Lump sum: With a HELoan, you receive a lump sum after closing on the loan. This makes a HELoan perfect for large renovation projects, medical bills, and other scenarios where you need a fixed, large sum of money.
Potential home value increases when used for home improvement: Tapping your home equity to pay for home improvements is a great move when those home improvements increase the value of your home! Thoughtful use of your home equity loan funds can boost your profit if and when you resell your home, helping you maximize your investment.   
Possible tax benefits: In some cases, you can deduct home equity loan interest from your taxes. We recommend consulting a tax professional or accountant before claiming your interest on your taxes, as this deduction only applies in certain circumstances.
Keeping your existing mortgage: Home values have risen significantly—and so have interest rates. This means a cash-out refinance may not currently be the most viable borrowing tool. With a HELoan, you can keep your favorable mortgage and still access up to 95% of your home's value, without refinancing.
Cons of a Home Equity Loan
Home as collateral: Home equity loans are secured loans that utilize your house as collateral. A failure to keep up with payments can lead to foreclosure.
Closing fees: As a type of second mortgage, home equity loans require time and effort and often involve an upfront cost. The application and funding process requires paperwork and is often a slow process. In addition, it includes many of the same closing fees you'd pay for a mortgage.
Reduced equity availability: Your home equity is the percentage of the home you own. Taking out a home equity loan reduces your available equity.
Fixed interest rate: A fixed interest rate is a double-edged sword. A variable rate may go down or up depending on market conditions. Fixed rates insulate you from rate increases and provide greater cost certainty but may cost more depending on market conditions.
Would a HELOC be a better option? HELOCs have many of the same pros and cons. The main difference is that HELoans usually have a fixed interest rate and are disbursed as a lump sum instead of a draw period in which you can draw funds at will (up to the credit limit).
Is a Home Equity Loan the Best Choice for You?
Is a home equity loan the best option for your circumstances? Only you can answer that question.
However, home equity loans through Prosper offer some great features, like a low fixed rate, approval of amounts up to $249K based on the information you provide in your home equity application, and term options of 5–30 years.
The online application is quick and painless, allowing you to see your fixed rate and the amount you can borrow in minutes without impacting your credit score. Closing is also a quick process, with access to your HELoan funds as fast as 11 days from application.*

Read more
Eligibility for a home equity loan or HELOC up to the maximum amount shown depends on the information provided in the home equity application. Depending on the lender, loans above $250,000 may require an in-home appraisal and title insurance. Depending on the lender, HELOC borrowers must take an initial draw of $50,000 at closing; subsequent HELOC draws are prohibited during the first 90 days following closing; after the first 90 days following closing, subsequent HELOC draws must be $1,000, or more, except in Texas, where the minimum subsequent draw amount is $4,000.
The amount of time it takes to get funds varies. It is measured from the time the lender receives all documents requested from the applicant and depends on the time it takes to verify information provided in the application. The time period calculation to get funds is based on the first 4 months of 2023 loan fundings, assumes the funds are wired, excludes weekends, and excludes the government-mandated disclosure waiting period.
For Texas home equity products through Prosper, funds cannot be used to pay (in part or in full) non-homestead debt at account opening.
Depending on the lender, qualified home equity applicants may borrow up to 80% – 95% of their primary home's value and up to 80% – 90% of the value of a second home. In Texas, qualified applicants may borrow up to 80% of their home's value. HELoan applicants may borrow up to 85% of the value of an investment property (not available for HELOCs).
Home equity products through Prosper may not be available in all states.
All home equity products are underwritten and issued by Prosper's Lending Partners. Please see your agreement for details.
Prosper Marketplace, Inc. NMLS# 111473
Licensing & Disclosures | NMLS Consumer Access