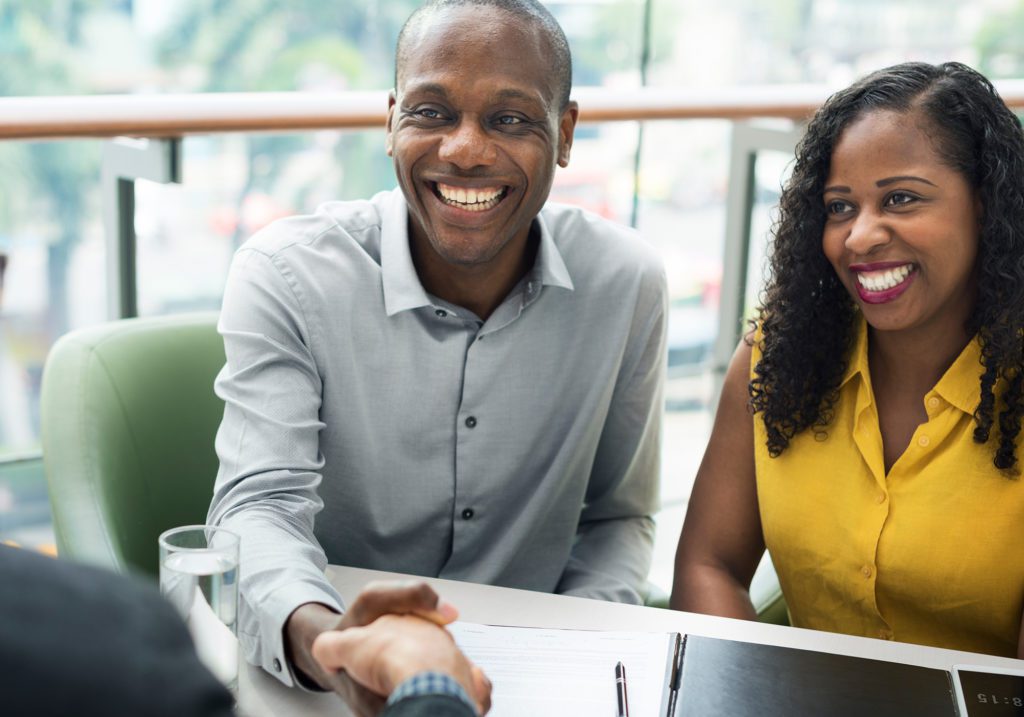 For many families, homeownership is an investment for the future. Buying a home is the largest and longest financial commitment most of us will ever make in our lives, so it can be a bit intimidating. Refinancing is not only a tool to modify the terms of your commitment if circumstances change in your life — it can also be an important tool to leverage the investment you made in your home.

Whether you're looking to refinance your home or refinance a home equity line of credit (HELOC), the refinance process can be confusing — but it doesn't have to be. Wondering where to start? We'll walk you through the entire process.
Refinancing can help you take advantage of market changes to lower your interest rate, use the equity you've earned to consolidate debt, or shorten your loan term. Let's talk about what refinancing can do for you, and how to make it happen.
What Is Home Refinancing?
When you refinance your home, you simply take out a new mortgage on your home. That mortgage pays off the original loan, leaving you with just one loan and one payment.
In some situations, a refinance might be solely to replace an existing mortgage with one at a better interest rate. In others, if your home has appreciated in value since the original mortgage or if you've accumulated sufficient equity in the home, you might take out a larger mortgage instead of a HELOC or HELOAN which replaces the existing mortgage and gives you extra cash to use. This type of "cash-out" refinancing is a popular option to finance big-ticket items like a home renovation.
Just as you did when taking out your initial mortgage, you're still required to qualify for the loan and undergo the underwriting and closing process — with all the associated costs. The good news is that since this mortgage is a new loan, you have the option to use a different lender from your original mortgage. If you weren't satisfied with the service you received from your lender, refinancing is a great time to switch providers.
How Do I Refinance My Home?
Refinancing a home is a very similar process to buying a home. However, it's less complicated since you already own your home. Let's go through the steps.
Applying
Applying to refinance a home is much like applying for your original mortgage. The lender will ask for the same information they needed when you initially bought the house. They'll also review your income, assets, debt and credit report.
As such, you'll need to provide documentation to support your application for all parties that will be on the new mortgage. This includes:
2–3 months' worth of pay stubs
2 most recent W-2s
2–3 months' worth of recent bank statements
Additionally, if you have significant freelance or self-employment income, you will be required to provide your two most recent tax returns.
Lenders usually set the interest rate at closing based on the rates at that time, but some lenders will offer you the option of locking in a rate when you apply. This locked rate is good for 15 to 60 days, depending on your lender. Alternatively, you could let your rate 'float' until closing. If interest rates are rising or you believe they will rise in the future, then locking your rate is a good idea. However, floating your rate could pay off if interest rates drop in the interim.
Underwriting
Once you've applied for refinancing and submitted documentation, the lender will begin the underwriting process. During this phase, the lender will verify your financial information, pull your credit and make sure that the data is accurate. They'll also verify the value of your home, since it serves as collateral for the refinanced mortgage, just as it did for the initial mortgage.
This could affect your refinancing plans. For example, if you're looking to get some extra cash from refinancing, this will determine the size of the loan you are eligible to receive. If you're trying to lower your mortgage payment, the home's current value can play a part since the home's current value will determine your equity.
Preparing for the Appraisal
Even though your home was appraised as part of the initial loan, the lender will conduct another appraisal to verify the home's current value.
This is an opportunity for you to maximize your home's current value. Your mortgage provider conducted the initial appraisal before you moved in, but with some preparation, you can ensure the best possible valuation for your refinancing. Make sure you're putting your best foot forward for the appraiser with these simple steps:
Tidy up the interior.
Complete any minor repairs necessary.
Make sure the yard is in tip-top condition.
Compile a list of upgrades you've made to your home.
Finish any projects you're working on that will improve your home's value.
Maximizing Value
You don't have to wait for the market to rise or fall to improve your home's value. By making the right upgrades and renovations to your home, you can make it more valuable, increasing your equity! Best of all, projects don't need to be big and expensive to add value.
While no project is guaranteed to add value, here's a list of projects that have a great track record of strong returns on investment.
Window replacement: Replacing old and dingy windows with new, modern vinyl or wood windows not only increases curb appeal, it may save money on your AC and heating bills.
Deck addition: Building a deck or expanding your current one creates a new or improved social area for your family and for entertaining friends.
Smart home technology: Adding smart home devices like Nest or Ring improve value by adding modern functionality that a prospective buyer expects in a new home.
Landscape/outdoor lighting: Adding dramatic and/or functional lighting to your landscaping, deck, and garden improves the look and feel of your home and can even make it safer at night. Best of all, this is an inexpensive project many homeowners can tackle themselves.
Garage door replacement: The garage door is one of the largest elements of many home facades, but it doesn't have to be merely functional. Replacing an old and ugly door with one that accents the rest of your home's facade can greatly improve your home's curb appeal.
Should I Refinance My Home?
From shortening your loan term to gaining a lower and/or more consistent payment, refinancing can help you tailor your mortgage to fit your financial needs and goals. Here are six key reasons to refinance your home.
1. Lower your interest rate
If rates have fallen since you took out the original mortgage, the savings can often be significant. For example, if you owe $100,000 on your home, a 1% drop in interest rate might save you around $200 a month on your payment. That's $68,000 in interest over the life of the loan!
2. Renegotiate your loan term
While a 15-year mortgage is significantly less expensive than a 30-year mortgage in the long run, many first-time homebuyers choose a 30-year mortgage to keep payments down. If you can afford a higher payment than when you initially bought your house, refinancing to a 15-year term can get you a better interest rate and save on interest costs in the long-term. Also, if rates are lower on the refinance, you could conceivably end up with a payment similar to the payments on your initial 30-year mortgage.
For example, if you owe $100,000 on your home and you refinance with an interest rate 1% lower than your current rate, you can switch to a 15-year mortgage for a payment of less than $100 more than your current rate. You'll pay off your house quicker and save over $100,000 in interest over the life of the loan
This is especially advantageous if you're currently several years into your existing mortgage. Refinancing into a new 30-year mortgage can mean you'll pay more in interest in the long term, and extend the time it takes to gain equity in your home. A 15- or 20-year term may make more sense for you even if it doesn't result in a lower payment each month.
3. Gain payment consistency
Many people choose to switch from an adjustable-rate mortgage to a fixed-rate mortgage when interest rates are volatile. This allows you to lock in a consistent rate and monthly payment. If you plan on staying in your home for a long time or will [PW1] be shifting to a fixed income or expect interest rates to go up significantly, switching to a fixed-rate mortgage may be a great move even if you don't save much on your payments compared to your current rate.
4. Adjust to a change in your family
Refinances are often necessary for major life changes, such as a divorce. For example, if you have cosigned on a mortgage with your partner and you or your partner wish to no longer be responsible for it, the other must refinance the mortgage in their own name. You'd also need to refinance to add someone to your mortgage.
5. Get cash
Refinancing can provide cash for home improvement projects or to consolidate debt from credit cards or unsecured loans. The opportunity to tap your home equity for major expenses is one of the most important benefits of being a homeowner. Another benefit is the convenience of having a single monthly payment instead of taking out a separate loan.
6. Cancel mortgage insurance
Homebuyers who are unable to make a down payment of at least 20% of the home price are often required to carry private mortgage insurance (PMI), which is built into the mortgage payment. Once a homeowner has at least 20% equity in their home, PMI is no longer required. You must refinance your mortgage to drop PMI, but it can be worth it in many cases for the savings on your monthly payment.
How Much Does It Cost to Refinance a Home?
There are some situations where a borrower needs to refinance whether or not it's the most advantageous time, like a divorce. If you're refinancing by choice, though, it pays to consider your individual circumstances.
Since you're taking on a new mortgage, most of the same closing costs will need to be paid to refinance, such as origination, application, closing fees and title insurance. You'll also need to gather all the same documentation and go through the entire process again, which requires a significant investment of time and energy.
To make sure you make the right decision, here are five questions to ask yourself before refinancing your home:
1. Can you afford closing costs?
Closing costs often total 3–5% of the total mortgage cost. While many mortgages allow you to roll those costs into the mortgage, that may cancel out any savings you might gain from refinancing.
2. How long do you plan on staying in your home?
Due to the costs of refinancing, it only pays to refinance if you'll be paying on it long enough to break even, which can take a few years. It's probably best to avoid refinancing if you're likely to be selling your house soon.
3. Can you handle a potential short-term hit to your credit?
As with any new loan, there's often a short-term adverse effect on your credit, especially since the lender has to pull your credit to make their decision. If you have other credit needs in the near future, such as a car purchase, you should take those into account.
4. Will you save enough money to make up for the costs?
When deciding to refinance, it's important to subtract the closing costs and any other fees from the projected savings to determine what you'll actually be saving. Ask yourself whether the actual amount you'll save is worth the effort to refinance.
5. Does your current mortgage have an early repayment fee?
Some mortgages have a penalty for early repayment. They're not common and only apply within the first three to five years, but this could make a big difference in whether a refinance would be worth it for you.
When Should I Refinance My Home?
The best time to refinance your home depends on your individual circumstances. However, there are a few things you should consider when deciding the best time to refinance.
Your credit score
Your credit score plays a big part in the potential refinance terms. This can work both ways. If you've recently taken out a new loan, made a late payment, or increased your credit card balances, then it may be wise to wait a few months to let your credit score come back up. If you've recently seen your credit score increase but you expect a negative impact on your credit score in the future (such as a new car note), this may be the perfect time to refinance.
Rates and market trends
One of the primary reasons people refinance is a lower interest rate. When rates are low, there's always an increase in interest in refinancing. However, while mortgage rates are influenced by the short-term rates published by the Federal Reserve, they don't move in lockstep.
Avoid getting caught up in what you read about or see ads for. Mortgage refinance rates change daily, and as noted previously, are influenced by your credit and overall financial health.
Depending on the rate you already have, even a historic low in mortgage rates may not be enough to make a refinance worth it. The traditional rule of thumb is that a 1% drop in mortgage rates is enough to make refinancing worth it, but, like the 20% down payment rule, this is overly general and often considered outdated. For some customers, a half-percent drop might make it worth it. For others, it might take a 2% drop to make a refinance worth it.
If rates are continuing to drop, it may be worth holding off on refinancing until they drop even lower. There is a risk, though; you could miss out on the best rate you could get if rates rise again.
How Often Can I Refinance My Home?
In most cases, there's no legal limit on how many times you can refinance your mortgage. Some lenders do enforce a "seasoning" period between the closing of one loan and a new refinance, usually about six months, but they can't stop you from refinancing with a different lender.
However, there are some practical considerations when deciding whether to refinance multiple times. Every time you refinance, there are closing costs and fees involved. Even if your interest rate will be significantly lower than the original mortgage, you'll need to stay in your home long enough for the savings to outweigh the up-front cost of refinancing.
Certain types of loans may have additional rules regarding how often one can refinance, such as VA or FHA loans. There are also certain restrictions regarding cash-out refinances, since those are dependent on the equity you've built up in your home.
Refinancing Your HELOC
A home equity line of credit (HELOC) is a fantastic vehicle for flexible access to funds at reasonable interest rates, but there are several compelling reasons to refinance a HELOC. When interest rates are fluctuating or when your draw period is ending, refinancing a HELOC can lower your monthly payment — or give you additional flexibility.
What is a HELOC?
A home equity line of credit is a type of secured loan that allows you to tap the equity you've earned in your home to access cash at a competitive interest rate.
When you apply for a HELOC, the lender calculates the amount you may be eligible to borrow based on your equity and loan-to-value ratio. Most lenders allow you to use 80-90% of your home's equity.
The lender then determines the HELOC refinance rate you'll receive based on prevailing market rates, your credit score, and your overall financial health.
To qualify for a HELOC (or refinance), applicants usually need to meet the following criteria:
Debt-to-income ratio of 40% or less
A credit score of 620 or higher
A home value at least 15% higher than the amount of the mortgage
There are two phases to a HELOC. During the draw period, which typically lasts 5–10 years, you can borrow funds up to the credit line established by the lender. Most HELOCs feature an interest-only minimum payment during this draw period. However, you can pay toward the principal if you wish.
At the end of the draw period, the repayment period begins. During the repayment period, you're no longer able to borrow against the credit line, and you must make payments on your outstanding balance until it's paid off. The repayment period usually lasts 10–20 years, and since most HELOCs have a variable interest rate, the payment can often fluctuate significantly based on prevailing market rates.
Should You Refinance Your HELOC?
A HELOC is an attractive option for many homeowners because you can leverage home equity for a lower interest rate. However, since your home secures the loan, failure to keep up with the payments can lead to foreclosure.
Most HELOCs have a variable interest rate. While this may mean a low payment when prevailing interest rates are low, it's easy to get in over your head when rates go up.
Also, while HELOCs give you the flexibility to make interest-only payments during the initial draw period, doing so means the payment will jump significantly when you enter the repayment period.
Can you refinance a HELOC? Yes! Refinancing allows you to:
Lower your monthly payments: Depending on your repayment period and HELOC refinance rates, refinancing could allow you to lower your monthly payment.
Lock in a fixed rate: If you refinance a HELOC with certain types of loans, you can lock in a fixed interest rate, making it easier to budget each month.
Access additional funds: Once you've entered the repayment period of your HELOC, you can no longer access funds from it. If your home's value has increased, however, refinancing may allow you to access more of your home equity while paying off your previous HELOC.
How to Refinance Your HELOC
Whether you want access to more cash, a longer repayment term, or a more predictable, fixed payment, there are options out there for you. Let's look at a few options to refinance your home equity line of credit.
Work with Your Lender
Many lenders offer home equity assistance programs to assist consumers who are struggling to pay off their home equity line of credit. If you're suffering from financial hardship or otherwise having difficulty making your HELOC payments, check with your lender. You may be able to convert your HELOC to a fixed-rate loan, or to adjust your loan period or interest rate.
Apply for a New HELOC
A new HELOC means a new draw period. While this option gives you the flexibility of a new loan, the volatility of interest rates means it can end up costing you more in the long run. However, if you plan on staying in your home for a long time, this can be a solid option. Best of all, if you've generated additional equity in your home, you may pay off your existing HELOC and still tackle other financial goals with the additional funding.
Pay Off Your HELOC with a Home Equity Loan
A home equity loan (HELOAN) differs from a HELOC since you receive a lump sum from the lender instead of a revolving source of credit. If your primary goal is to pay off your HELOC and you don't mind tapping your home equity for a competitive rate, the fixed rates and payment terms offered by HELOANs are a smart way to do so. Keep in mind that your specific state's law may prohibit your ability to refinance your HELOC with a HELOAN and vice versa.
Refinance Your Mortgage
If you're considering refinancing your mortgage, tapping your equity to pay off your HELOC at the same time provides the convenience of a single monthly payment. If you're looking to refinance both your home and your HELOC and you have enough available equity in your home to do a cash-out mortgage, this option can save you money (since you'll only have one set of closing costs.) This option also leaves you with a single monthly payment, which is always a plus.

Refinancing Your HELOC or Home: The Right Move?
For many families, refinancing is a smart move. It can help you take advantage of lower interest rates or pay off a HELOC with more advantageous terms. Is refinancing right for you? Only you can answer that question, but we've given you the tools you need to make your best decision and reach your financial goals.Read more
Read more
---
Eligibility for a home equity loan or HELOC up to the maximum amount shown depends on the information provided in the home equity application. Depending on the lender, loans above $250,000 may require an in-home appraisal and title insurance. Depending on the lender, HELOC borrowers must take an initial draw of $50,000 at closing; subsequent HELOC draws are prohibited during the first 90 days following closing; after the first 90 days following closing, subsequent HELOC draws must be $1,000, or more, except in Texas, where the minimum subsequent draw amount is $4,000.
The amount of time it takes to get funds varies. It is measured from the time the lender receives all documents requested from the applicant and depends on the time it takes to verify information provided in the application. The time period calculation to get funds is based on the first 4 months of 2023 loan fundings, assumes the funds are wired, excludes weekends, and excludes the government-mandated disclosure waiting period.
For Texas home equity products through Prosper, funds cannot be used to pay (in part or in full) non-homestead debt at account opening.
Depending on the lender, qualified home equity applicants may borrow up to 80% – 95% of their primary home's value and up to 80% – 90% of the value of a second home. In Texas, qualified applicants may borrow up to 80% of their home's value. HELoan applicants may borrow up to 85% of the value of an investment property (not available for HELOCs).
Home equity products through Prosper may not be available in all states.
All home equity products are underwritten and issued by Prosper's Lending Partners. Please see your agreement for details.
Prosper Marketplace, Inc. NMLS# 111473
Licensing & Disclosures | NMLS Consumer Access