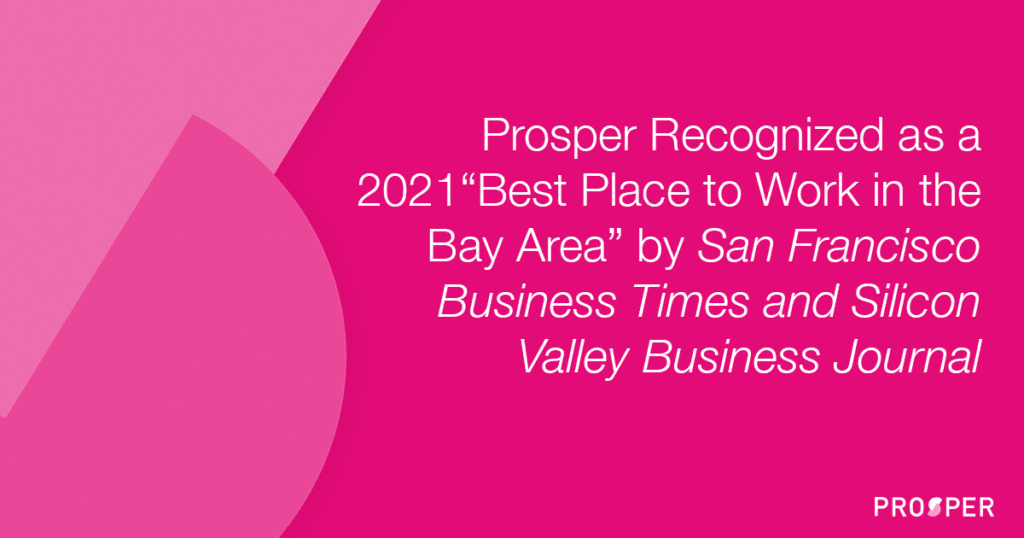 We are pleased to announce that the San Francisco Business Times and Silicon Valley Business Journal recognized Prosper as a 2021 Bay Area Best Places to Work for medium-sized companies. The annual awards shine the spotlight on 125 local companies whose employees rate them as exceptional.
"This award highlights what makes Prosper so special – our people. As we continue to expand our business and hire new colleagues, our team and culture remain critical to our success," said Jared Brown, VP of People and Places at Prosper Marketplace. "We are dedicated to investing our energy and resources to create an employee-focused culture that makes Prosper a place people want to work."
Bay Area award applicants were evaluated through an independent survey conducted by Quantum Workplace and ranked across five categories based on employee number. Winning organizations are honored for having created exceptional workplaces that their employees highly value, such as collaborative culture, solid compensation and benefits offerings, management practices, other amenities.
To address the evolving needs of employees, Prosper implemented several innovative programs in 2020:
With an emphasis on mental health, Prosper has offered a number of free online classes on yoga, meditation, and other wellbeing topics.
To give people mental and physical health support whenever and wherever they need it, Prosper provided free access to apps like Headspace, Ginger IO, Aaptiv, and Physera.
Prosper has emphasized supporting caregivers throughout the pandemic and plans to continue many of those benefits beyond the pandemic, including online tutoring for school-aged children.
Prosper also provided free memberships to meal delivery services (DoorDash) and credits throughout the year to take the place of some of our food and snack services offered in the office.
The 2021 Bay Area Best Places to Work rankings and winners can be found at https://www.bizjournals.com/sanjose/best-places-to-work
Interested in being a part of our team? Come Prosper with us! Visit our career opportunities.