Peer-to-peer lending pioneer expands suite of home equity products amid strong performance, supporting more customers across the credit spectrum
In times when interest rates are expected to continue rising, a HELoan through Prosper offers customers peace of mind and stability with a fixed rate that won't increase.
Expansion of Prosper's home equity line of products builds on its accelerated year-over-year growth and commitment to deliver value for customers and investors.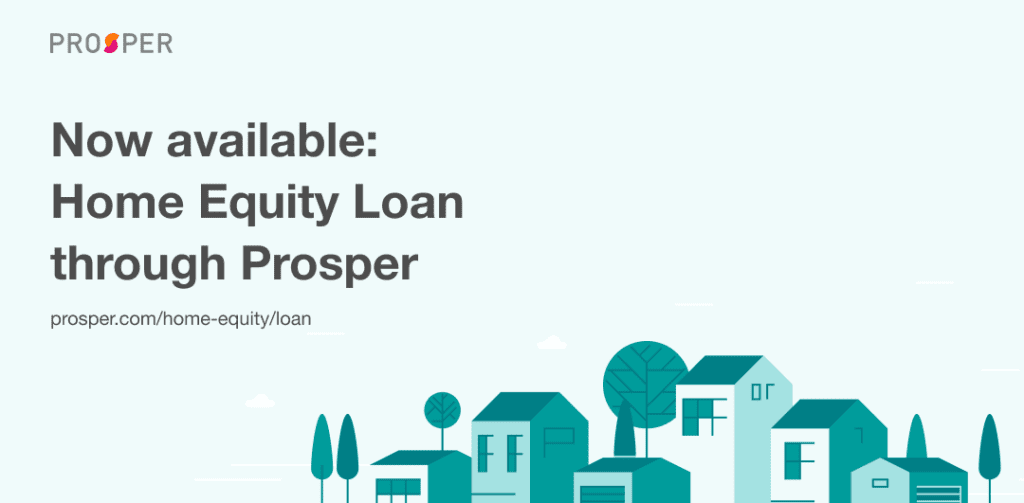 SAN FRANCISCO – October 24, 2022 – Prosper Marketplace today announced access to a new fixed-rate Home Equity Loan (HELoan) product for its customers in select US markets†, following the lending platform's strong performance in personal loan origination last quarter. This new product complements Prosper's suite of home equity products and resources and allows homeowners to leverage the equity in their home to secure a loan up to $249,0001.
Pandemic-driven demand sent home values soaring over the last few years, resulting in U.S. home equity hitting a record $27.8 trillion dollars in June 2022, according to the Federal Reserve.* Meanwhile, interest rates are expected to continue rising throughout the remainder of the year, causing many homeowners to seek alternatives to cash-out refinancing.
Unlike a traditional home equity line of credit (HELOC), a HELoan lets homeowners tap into their home's equity with an interest rate that remains stable. Homeowners can access HELoan funding to invest in the home improvement projects they've always dreamed of, to make a significant purchase like a new car or truck, to consolidate debt***, or to meet any of the unexpected needs that life may bring.
"Inspired by our customers' interest in a fixed rate home equity product, we are thrilled to offer the HELoan alongside our existing lineup of home equity, personal loan, credit card, and investment products," said David Kimball, CEO of Prosper Marketplace. "Building on the momentum we gained in the first half of 2022 with the launch of the Prosper credit card and strong performance in personal loan origination, we are continuing to look for opportunities to diversify our offerings, increasing the value we deliver to our customers and investors."
Backed by the strength and stability of Prosper and supported through personalized customer service, homeowners interested in a HELoan can secure an instant offer through Prosper's easy online application and receive cash in hand in as little as 11 days.**
The launch of Prosper's HELoan product comes at a time of immense year-over-year growth for the company. Last year, Prosper launched its first credit card product, securing over 100,000 customers within the first six months. Supported by a strong executive team and with over $22 billion dollars in personal loans originated to date, Prosper continues to serve and empower its customers across the credit spectrum, even through fluctuating market environments.
"This is an exciting time for Prosper," said Kimball. "Driven by our noble mission to advance financial wellbeing, coupled with our passionate employees and an enhanced product mix, we're poised to be there for our customers and investors for decades to come."
Prosper has been recognized as a Bay Area Best Place to Work by the San Francisco Business Times and Silicon Valley Business Journal and continues to expand its workforce with a number of open roles. Prosper recently welcomed a number of new executives to its leadership team, including Ashish Agarwal, Chief Marketing Officer; Pete Woodhouse, Chief Technology Officer; and Jeff Killian, Executive Vice President of Operations.
To learn more about Prosper Marketplace, including its HELoan offering, visit Prosper.com.
†HELoans through Prosper are currently available in select states, with additional states launching later this year.
* According to a release distributed by the Federal Reserve on June 9, 2022. Source: https://www.federalreserve.gov/releases/z1/20220609/z1.pdf
**The time it takes to get cash is measured from the time the Lending Partner receives all documents requested from the applicant and assumes the applicant's stated income, property and title information provided in the loan application matches the requested documents and any supporting information. Spring EQ borrowers get their cash on average in 26 days. The time period calculation to get cash is based on the first 6 months of 2022 loan fundings, assumes the funds are wired, excludes weekends, and excludes the government-mandated disclosure waiting period. The amount of time it takes to get cash will vary depending on the applicant's respective financial circumstances and the Lending Partner's current volume of applications.
***Spring EQ cannot use a borrower's home equity funds to pay (in part or in full) Spring EQ non-homestead debt at account opening.
. Eligibility for a home equity loan or HELOC up to $500,000 depends on the information provided in the home equity application.
Home equity products through Prosper may not be available in all states. Please carefully review your home equity credit agreement for more information.
All home equity products are underwritten and issued by Spring EQ, LLC, an Equal Housing Lender. NMLS #1464945. Prosper Marketplace, Inc. NMLS# 111473
Licensing & Disclosures | NMLS Consumer Access
About Prosper Marketplace
Prosper offers accessible, personalized financial solutions that empower customers as they move across the credit spectrum. A purpose-driven pioneer of peer-to-peer lending, Prosper has helped over 1.3 million people, and counting, achieve financial well-being.
With the right strategy, passionate employees, and broad product mix, Prosper is poised to scale – and to be there for its customers and investors for decades to come.
We can Prosper together.
Prosper Funding LLC
221 Main Street, Suite 300 | San Francisco, CA 94105
6860 North Dallas Parkway, Suite 200 | Plano, TX 75024
© 2005-2022 Prosper Funding LLC. All rights reserved.