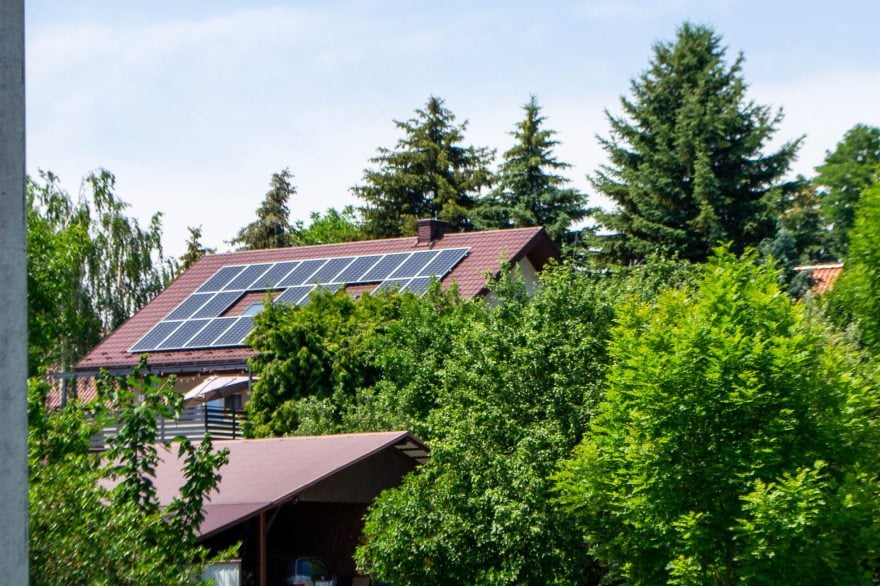 Homeowners choose to tackle home improvement projects for a variety of reasons. One popular reason is to create a more eco-friendly house. While your heart might be guided by doing a good deed for the planet, going green can lead to savings.
Many eco-friendly home improvement projects lead to a smaller carbon footprint. But selecting the right projects can help you offset the cost through tax credits. Specifically, opting for home improvements that qualify for funding from the Inflation Reduction Act can pay off.
A little bit of research can go a long way. Luckily, you'll find some of the top eco-friendly home improvements below.
Install solar panels
When you think of an energy-efficient home, your mind might jump to solar panels. The upfront cost of solar panels can easily reach several thousand dollars. However, you can reap the benefits of lower energy costs for years to come.
In addition to incentives from the federal government, some utility companies offer rebates to homeowners who install solar panels.
Energy Star appliances
Energy Star appliances offer a way to tap into energy savings through an efficient appliance. Popular Energy Star appliances include refrigerators, windows, water heaters, washers, dryers, and more. If you want to upgrade your appliances, looking for the Energy Star label can lead to long-term energy savings.
Choose a programmable thermostat
A programmable thermostat is an eco-home improvement option. Essentially, a smarter thermostat allows you to save money on heating and cooling when you aren't home. After installation, you can either set up temperature settings to vary throughout the day or control the temperature from your smartphone.
Depending on the model you choose, it might qualify for the Energy Efficient Home Improvement Credit.
Install a tankless water heater
Opting for a tankless water heater is a green home improvement opportunity. Instead of using energy to heat an entire tank of water, you can cut back on energy use through an on-demand tankless water heater.
Tankless water heaters are a bit more expensive than traditional water heaters. However, the upfront costs might be outweighed by the energy savings.
Upgrade your plumbing
Older toilets, installed before 1994, tend to use a lot of extra water. With that, you are literally flushing unnecessary water and money down the toilet.
If you opt to install a more resource-efficient toilet with a WaterSense label, you can often reduce your toilet water use by up to 60%. The switch can lead to over $140 in savings each year.
Switch to LED lightbulbs
If you are looking for a relatively easy eco-friendly home improvement option, switching to LED lightbulbs might be the right fit for you. You don't have to replace all of your lightbulbs at once. Instead, start replacing your current lightbulbs as they burn out.
LED lightbulbs are more expensive upfront. But they offer a longer lifespan and increased energy efficiency.
Upgrade your windows
If you are up for a relatively major green home renovation, upgrading your windows might be a good option. In terms of energy use, heating and cooling your home tends to take up a lot of power. If you have older windows, that energy might be seeping through the cracks. Ultimately, inefficient windows can force you to use more energy to keep your home at a comfortable temperature.
If properly sealed, upgrading to dual-paned windows can lower your energy costs. Replacement costs vary based on your unique situation. But according to Angi's List, you can expect to spend around $279 per window.
Improve your home's insulation
Another source of energy seepage is through your home's inefficient insulation. Many older homes don't have the upgraded insulation to keep your heated and cooled air safely ensconced in your home.
According to the National Association of Realtors (NARs) April 2022 Remodeling Impact Report, homeowners spend around $2,500 to upgrade insulation. Over time, you might recoup these costs through energy savings.
Install an energy-efficient ceiling fan
The environmental and monetary costs of constantly running your air conditioning unit can add up quickly. In some situations, a fan can help you stay cool with a fraction of the carbon footprint. Consider installing an Energy Star ceiling fan to complement your air conditioning use.
How to save on eco-friendly home improvements with the Inflation Reduction Act
The Inflation Reduction Act was enacted in 2022, with a significant focus on making eco-friendly home improvements more affordable for homeowners. Specifically, the bill includes many tax rebates and incentives to make energy-efficient upgrades an attractive choice.
Here's a closer look at some of the home energy rebates and tax credits available.
Energy efficient projects tax credit
Throughout 2023, households will be able to tap into tax credits to cover up to 30% of select efficiency improvements. One big ticket opportunity is a tax credit to cover 30% of the cost of installing rooftop solar panels.
Additionally, homeowners can claim up to $1,200 in credits for upgrading insulation or installing more efficient windows. If you want to tap into these credits, confirm your project qualifies before getting started.
Home energy rebates
Through the Inflation Reduction Act, state programs will be able to offer rebates to homeowners for select home appliances. Currently, low and moderate-income households can tap into up to $8,000 in rebates. All households can get up to $4,000 in rebates.
When considering eco-friendly home improvements, check out the rebate opportunities. You might find significant savings.
Of course, the rebates and tax credits might not be enough to cover your green home renovation. Beyond tapping into savings, you might need to find other financing solutions. Luckily, there are plenty of choices, including a home improvement loan through Prosper, HELOC or HELoan.
Go green and tap into savings
If you have a long list of home improvement ideas, opting for an eco-friendly choice can come with multiple benefits. Not only can you enjoy the feeling of a lower carbon footprint, but potentially create more flexibility in your monthly budget.
When mapping out your costs, consider the current tax credit and rebate opportunities. The upfront savings could put a green project within reach.
---
Written by Sarah Sharkey
Sarah Sharkey is a personal finance writer who enjoys diving into the details to help readers make savvy financial decisions. She lives in Florida with her husband and dogs. When she's not writing, she's outside exploring the coast. You can connect with her on her blog Adventurous Adulting.
---
Read more:
All personal loans made by WebBank.
Eligibility for a home equity loan or HELOC up to the maximum amount shown depends on the information provided in the home equity application. Depending on the lender, loans above $250,000 may require an in-home appraisal and title insurance. Depending on the lender, HELOC borrowers must take an initial draw of $50,000 at closing, except in Texas, where the minimum initial draw at closing is $60,000; subsequent HELOC draws are prohibited during the first 90 days following closing; after the first 90 days following closing, subsequent HELOC draws must be $1,000, or more, except in Texas, where the minimum subsequent draw amount is $4,000.
The amount of time it takes to get funds varies. It is measured from the time the lender receives all documents requested from the applicant and depends on the time it takes to verify information provided in the application. The time period calculation to get funds is based on the first 4 months of 2023 loan fundings, assumes the funds are wired, excludes weekends, and excludes the government-mandated disclosure waiting period.
For Texas home equity products through Prosper, funds cannot be used to pay (in part or in full) non-homestead debt at account opening.
Depending on the lender, qualified home equity applicants may borrow up to 80% – 95% of their primary home's value and up to 80% – 90% of the value of a second home. In Texas, qualified applicants may borrow up to 80% of their home's value. HELoan applicants may borrow up to 85% of the value of an investment property (not available for HELOCs).
Home equity products through Prosper may not be available in all states.
All home equity products are underwritten and issued by Prosper's Lending Partners. Please see your agreement for details.
Prosper Marketplace, Inc. NMLS# 111473
Licensing & Disclosures | NMLS Consumer Access