We're excited to announce Prosper has surpassed $5 billion in loans originated through its platform since inception. This follows a record quarter with $1.070 billion in loans through the platform, as well as a record daily average. It was only a year ago we crossed the $2 billion mark, and I know I speak for many at Prosper when I say we are humbled by the growth of our community in such a short period of time. And while this $5 billion milestone is a landmark for us internally, what is really important to see is how marketplace lending is completely changing lives and helping advance their financial well-being.
We've seen mothers being able to give daughters their dream wedding, college students turn their passions into prospering businesses, people getting their financial life back on track by consolidating high-interest debt. These are the stories that inspire us to continue connecting borrowers and investors and help people advance their financial well-being.
Hundreds of thousands of people have turned to Prosper for access to a loan. Debt consolidation continues to be the most frequent use case, with approximately 288,000 loans taken for this purpose. Here are some additional insights into our community since inception:
Home Improvement: People have been turning to us for spring cleaning and summer renovations — we have seen loans through the Prosper platform for home improvement projects such as remodels, renovations and home repair.
Many people are also taking out loans to pay for elective medical procedures such as LASIK, bariatric, dental and cosmetic surgery.
Consumers also continue to come to Prosper to borrow on their personal credit for purpose of a small business.
While it represents a small percent of our overall community, we're proud to say that we've seen loans through our platform for babies and adoption—helping people realize their dreams of starting a family.
More recently, Prosper Marketplace has also pursued strategic partnerships and acquisitions to expand the company's reach. Last month Prosper Marketplace announced that it will acquire BillGuard. The transformative acquisition is the first time that marketplace lending and personal finance management have come together to create a full suite of tools to help people make smarter financial decisions. It will be an important step in truly empowering and educating consumers to be financially secure and successful.
Since Prosper Marketplace acquired American Healthcare Lending in January (now Prosper Healthcare Lending), we've also seen how personal loans can positively impact the lives of people undertaking elective medical procedures, an industry traditionally characterized by high rates and few options. Prosper Marketplace has also forged partnerships with banks, including Radius Bank, a full-service bank with a virtual banking platform, and Western Independent Bankers, a consortium of small community banks to make taking out loans through Prosper even more seamless.
We've accomplished a lot on the path from $1B to $5B – you can check out all of Prosper Marketplace's major milestones over the past few years in this infographic (below)
Thank you to all of our customers for helping us get here. Here's to the next $5B!
All loans through Prosper made by WebBank, a Utah-charted industrial bank, member FDIC.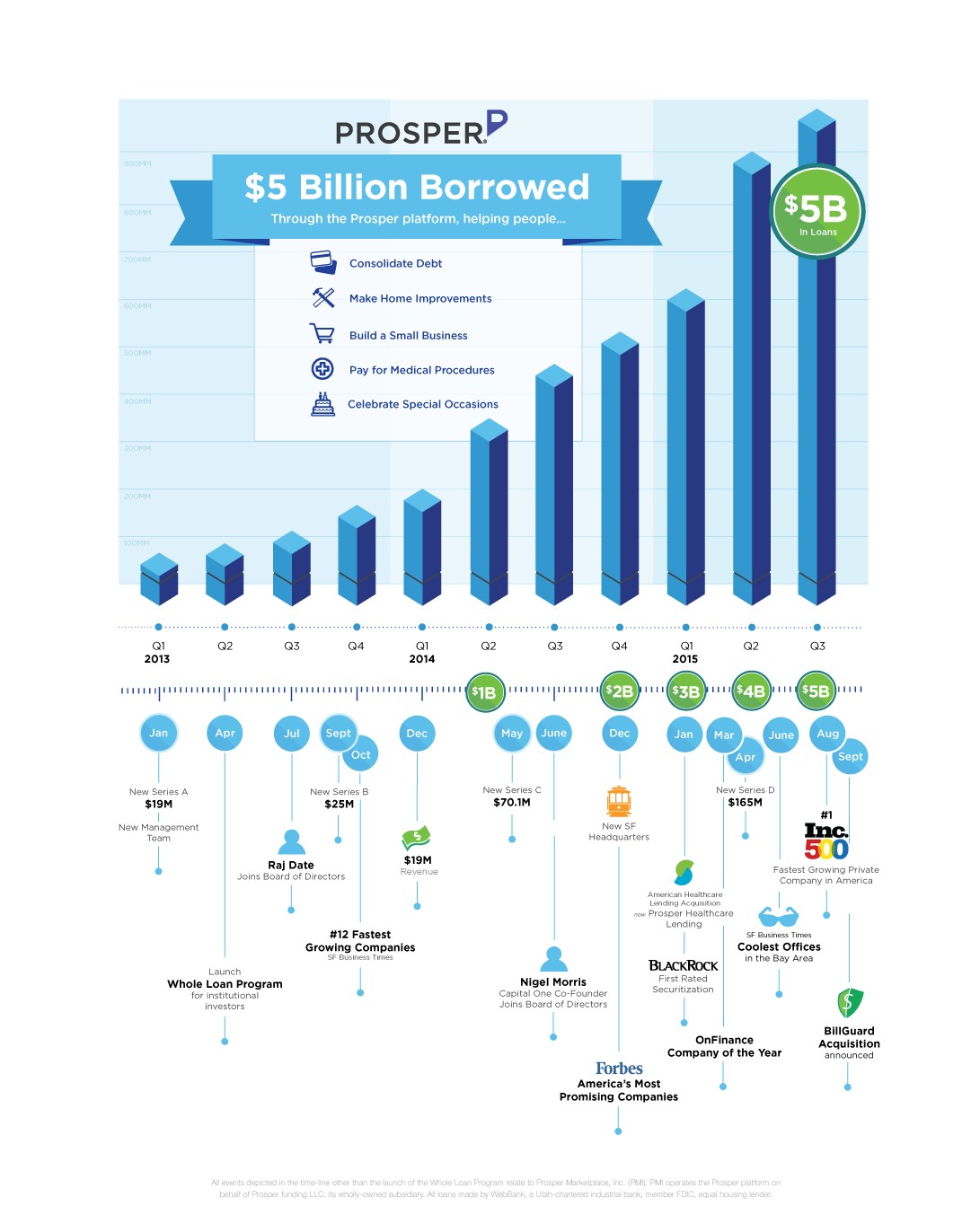 Read more