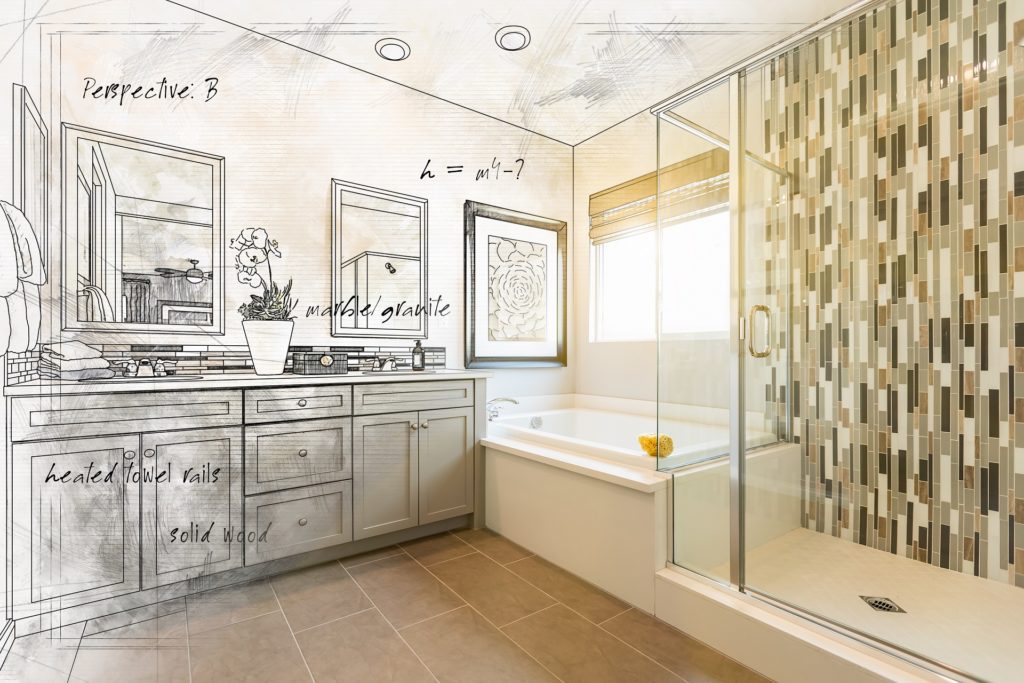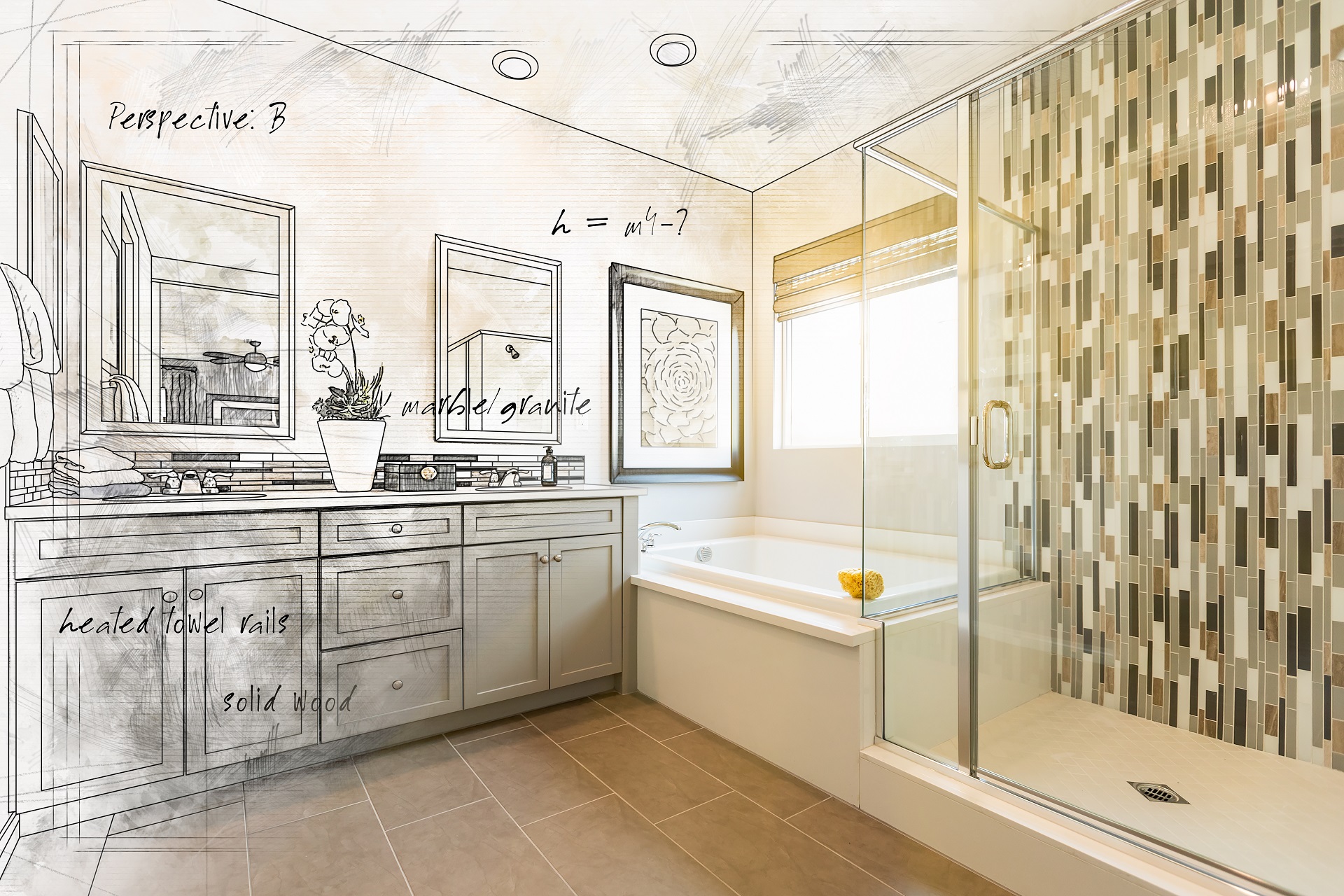 One of the biggest reasons to remodel or add to your home is to improve its resale value. Many renovations and remodel projects show a solid average return on investment (ROI.) While opinions vary on whether adding a bathroom is a smart way to boost a home's value, a bathroom addition can often have a very good ROI if done thoughtfully.
A bathroom addition may not be the right call for every home, but for some homes, even a small bathroom can increase your home's value. For other homes, a fancy owner's bathroom may be the selling point your home needs. So, while a bathroom addition can be an expensive project, it can improve your quality of life at home and pay for itself in home equity and resale value. 
The Right Bathroom For The Right House
The first step is deciding whether an additional bathroom is worth the expense. Bathroom additions aren't cheap, and there may be more valuable ways to use the money or space. But there are several use cases where a bathroom addition can really improve a home's livability and value.
Older Homes
Older homes often only have 2 bathrooms, one in the owner's suite and one shared by the other bedrooms, plus sometimes a half-bath for guests. For larger families, this can lead to a bottleneck as kids get ready. Turning a 4 bedroom / 2 bath into a 4 bedroom / 3 bath can improve your quality of life, make your house competitive with newer homes that include more bathrooms.
Basements Without Bathrooms
A finished basement has one of the highest returns on investment of any remodel or renovation. But without a bathroom, its usefulness is constrained. A bathroom makes your basement a far more livable space. Additionally, you can add a kitchenette and turn it into a living area for older teenagers or in-laws. With housing prices at record highs, this is a desirable option; a basement apartment can provide a home for post-college children still trying to start a life on their own, or in municipalities that allow it, allow the homeowner to rent it out to cover their housing costs.
Don't Over-Upgrade or Under-Upgrade
An upscale, luxury new bathroom can be the crowning jewel of an owner's suite. Adding opulent features like granite counters, high-end tile, or top-notch lighting serve as a sophisticated selling point, while a garden tub or jacuzzi, standalone shower stall, and fancy new sink can add functionality and luxury.
In a high-end neighborhood, older homes without the latest luxury touches may not stand out against homes with renovations, but a luxury bathroom makeover can help your home's value keep up with the pack!
How Much Will A Bathroom Addition Cost?
A bathroom addition isn't cheap. Remodeling Magazine reports that the average midrange bathroom addition costs $49,596, while an upscale luxury bathroom will average around $91,287.
However, there are many variables in the equation. The cost of a bathroom addition depends on:
Where you live: The cost of materials, labor, and permits varies widely depending on your location.
Existing footprint or new addition: Installing a bathroom inside your home's existing footprint (such as in the basement) means not adding onto your foundation and doing exterior construction. Anytime you add on to the footprint of your house, costs go way up. It may be worth adding to the home's footprint, however, if you have an older home that's already cramped.
Scope of work: Adding a half-bath (toilet and sink) is significantly less expensive than adding a full bath with a bathtub or shower. Also, adding a bathroom to a part of your home that doesn't already have plumbing installed will add to the expense. For example, if you are adding a bathroom to your basement, planning for it to go underneath your bathrooms on the other floors will reduce the length of plumbing that needs to be installed.
Materials: Needless to say, luxury finishings cost more than standard fixtures. This can give you some wiggle room in making a project fit within your budget. However, make sure you select the appropriate materials for the project. For example, a basement bathroom for your kids' play area may not need granite countertops, but a luxury en suite will likely not be a selling point if you use basic linoleum.
Labor Costs
While many people enjoy do-it-yourself projects, hiring professionals for electrical and plumbing work is a good idea. In many places, you'll need professionals to be certain your work is up to code, and professionals will also ensure you have the proper permits. Make sure you include labor costs in your planning, as trying to do the work yourself may be attractive from a budget perspective but can cost you a lot of money in the long run.
Bathroom Features to Add Value
Here are some tips for creating a bathroom that will add lasting value to your home and provide the best chance of a strong return on investment.
En Suite: From an ROI perspective, adding an owner's bathroom to a home that doesn't have one is often a win, where possible. And since the people making the homebuying decision will typically live in the owner's suite, a full luxe bathroom with walk-in closets and upscale features can be a big selling point. However, keep in mind your home's neighborhood and likely buyers. You don't want to pour money into a luxury upgrade that may not fit the price range of your neighborhood.
Free-standing tub: Most homebuilders use tub/shower inserts that connect to the wall, as they're less expensive. However, a free-standing tub is an eye-catching feature that can make your bathroom pop!
Keep it neutral: Homebuyers always want a home they can see themselves in or redecorate to fit their preferred aesthetic. Therefore, a neutral palette will appeal to most potential buyers, as they won't have to retile or renovate the bathroom to change a bold color scheme they dislike.
Paying For Your Bathroom Addition
There are many great tools to finance home improvement projects, such as a bathroom addition. Tapping your home's equity to pay for improvements that enhance that equity is always a smart play.
Home Equity Loan (HELoan)
A Home Equity Loan uses the equity you've built in your home as security for the loan, usually resulting in a lower interest rate than an unsecured loan.
Home Equity Line of Credit (HELOC)
A Home Equity Line of Credit also uses your home equity as security which may also provide a lower interest rate than unsecured loans. However, a HELOC is a revolving credit account, unlike a HELoan. A HELoan is typically disbursed as a lump sum, whereas a HELOC, like a credit card, allows you to borrow up to the credit limit and then borrow again as you pay it down. A HELOC is a popular option as it allows you to pay off part of a project and re-access those funds again for additional home improvements.
Personal Loans
are offered for a variety of purposes, including home improvement. These loans provide quick funding and customizable terms, and there's no pre-payment penalty, so if your project comes in under budget, you can return your unused funds with no hassle!
Building Your Dream Bathroom
Bathroom additions may not be the cheapest project to improve your home, but when you have clear plans and thoughtful decisions, they can have a strong return on investment and improve your home's equity. And in the meantime, you get the benefit of having a new bathroom in your home!
All personal loans made by WebBank.
IMPORTANT INFORMATION ABOUT PROCEDURES FOR OPENING A NEW ACCOUNT.
To help the government fight the funding of terrorism and money laundering activities, Federal law requires all financial institutions to obtain, verify, and record information that identifies each person who opens an account.
What this means for you: When you open an account, we will ask for your name, address, date of birth, and other information that will allow us to identify you. We may also ask to see your driver's license or other identifying documents.
Eligibility for a HELOC up to $500,000 depends on the information provided in the HELOC application. Borrower must take an initial draw of $50,000 at closing. Subsequent draws are prohibited during the first 90 days following closing. After the first 90 days following closing, subsequent draws must be $1,000 or more (not applicable in Texas). Loans above $250,000 require an in-home appraisal. Loans above $250,000 require title insurance.
The time it takes to get cash is measured from the time the Lending Partner receives all documents requested from the applicant and assumes the applicant's stated income, property and title information provided in the loan application matches the requested documents and any supporting information. Spring EQ borrowers get their cash on average in 18 days. The time period calculation to get cash is based on the last 6 months of 2021 loan fundings, assumes the funds are wired, excludes weekends, and excludes the government-mandated 3-day right of rescission grace period. The amount of time it takes to get cash will vary depending on the applicant's respective financial circumstances and the Lending Partner's current volume of applications.
Spring EQ cannot use a borrower's home equity funds to pay (in part or in full) Spring EQ non-homestead debt at account opening. Minimum draw in Texas is $4,000. To access HELOC funds, borrower must request convenience checks.
Interest rates may be adjusted based on factors related to the applicant's credit profile, income and debt ratios, the presence of existing liens against and the location of the subject property, the occupancy status of the subject property, as well as the initial draw amount taken at the time of closing. Speak to a Prosper Agent for details.
Qualified applicants may borrow up to 90% of their home's value (not applicable in Texas). This does not apply to investment properties. For Texas HELOCs, qualified applicants may borrow up to 80% of their home's value.
HELOCs through Prosper may not be available in all states. Please carefully review your HELOC credit agreement for more information.
All HELOCs are underwritten and issued by Spring EQ, LLC, an Equal Housing Lender. NMLS #1464945.
Prosper Marketplace NMLS Prosper Marketplace, Inc. NMLS# 111473
Licensing & Disclosures | NMLS Consumer Access 
Prosper Funding LLC
221 Main Street, Suite 300 | San Francisco, CA 94105
6860 North Dallas Parkway, Suite 200 | Plano, TX 75024
© 2005-2022 Prosper Funding LLC. All rights reserved.

Read more