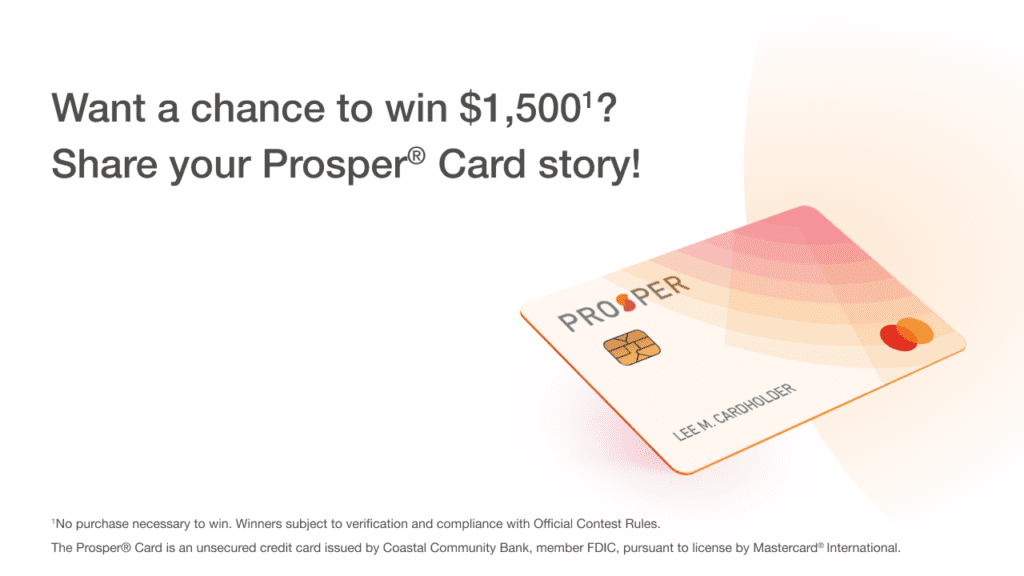 NO PURCHASE NECESSARY TO ENTER OR WIN. A PURCHASE WILL NOT IMPROVE YOUR CHANCES OF WINNING.
DISPUTE RESOLUTION NOTICE: BY ENTERING, TO THE FULLEST EXTENT PERMITTED BY APPLICABLE LAW, YOU AGREE THAT DISPUTES BETWEEN YOU AND ANY PROMOTION ENTITY WILL BE RESOLVED BY BINDING, INDIVIDUAL ARBITRATION AND YOU WAIVE YOUR RIGHT TO PARTICIPATE IN A CLASS ACTION LAWSUIT OR CLASS-WIDE ARBITRATION. See Disputes/Arbitration provision.
TIMING: The #MyProsperStory Contest (the "Contest") is presented by Prosper Marketplace, Inc. (the "Sponsor" or "Prosper"). The Contest begins at 12:00:01 AM Pacific Time ("PT") on Monday, August 17, 2022 and ends at 11:59:59 PM PT on Saturday, August 27, 2022 (the "Contest Period"). Sponsor's computer is the official timekeeping device for this Contest.
ELIGIBILITY: The Contest is open to legal residents of the 50 United States and the District of Columbia, age 18 or older at time of entry who are borrowers with a Prosper Credit Card in good-standing, as of July 31, 2022, at 11:59:59 PM PT (The Prosper® Card is an unsecured credit card issued by Coastal Community Bank, member FDIC, pursuant to license by Mastercard® International.). Employees of the Sponsor and each of their respective subsidiaries, affiliates, advertising and promotion agencies (collectively, "Contest Entities"), and the immediate family members of, and/or those living in the same household of each Contest Entity, are not eligible to enter or win. By participating in the Contest each entrant (the "Entrant") unconditionally accepts and agrees to be bound to these official rules ("Official Rules", available at www.prosper.com/blog/share-your-prosper-card-story/), the Sponsor's privacy policy ("Privacy Policy", available at https://www.prosper.com/plp/legal/privacy-policy), and the decisions of the Sponsor which are final and binding.
HOW TO ENTER: To enter the Contest:
Visit https://www.prosper.com/blog/share-your-prosper-card-story  and follow the instructions to access the #MyProsperStory Contest app page (the "Contest Site")
Complete the entry form in its entirety
Provide a response to the question posed by the Sponsor about your experience with Prosper, in approximately 350 words and include #HowIProsper hashtag.
Check the box to confirm you agree to be bound to these Official Rules, that you are18 or older and a U.S. resident, and a borrower with a credit card through Prosper during the Contest Period. Click the "Enter" button to enter ("Entry"). Entries must be received during the Contest Period. Incomplete, invalid or non-compliant Entries/entrants will be disqualified and are void.
Limit: One (1) Entry per person.
The Contest Entities will review all submitted Entries and reserve the immediate right without notification or warning in their sole and absolute discretion to reject, disqualify and/or remove any Entry. Winning Entries may but without obligation be posted to the Contest Site after conclusion of winner verification.
---
Contest entry form
[formidable id="1″]
---
All of the terms and conditions as described herein apply to the format of the Entry submission. Commercial Entries are not accepted. Multiple Entrants are not permitted to share the same account, device, email address. Any suspected attempt by any Entrant to cheat, engage in artifice or fraud, spamming, phishing, or to obtain more than the stated number of Entries by using multiple/different email addresses, identities, accounts, equipment, IP addresses, registrations and logins, or any other method will void Entry and any Entrant suspected of using/benefitting from such methods will be disqualified. Use/suspected use of any bot, robotic, or automated system to participate is prohibited and will result in disqualification. In the event of a dispute as to any Entry, the authorized account holder of the email address used to register will be deemed to be the Entrant. The "authorized account holder" is the natural person assigned an email address by an Internet access provider, online service provider or other organization responsible for assigning email addresses for the domain associated with the submitted address. Each potential winner may be required to show proof of being the authorized account holder.
ENTRIES POSTED TO THE CONTEST SITE ARE THE VIEWS/OPINIONS OF THE INDIVIDUAL ENTRANT WHICH MUST BE BASED ON THEIR PERSONAL EXPERIENCE, ACCURATE AND TRUTHFUL, AND DO NOT REFLECT THE VIEWS OF SPONSOR IN ANY MANNER. PLEASE NOTE, AND PLEASE INFORM OTHERS, THAT YOU ARE ENTERING THIS CONTEST AND COMPETING FOR A PRIZE FROM SPONSOR IN RETURN FOR PROVIDING SPONSOR AN ELIGIBLE ENTRY FEATURING SPONSOR'S PRODUCTS/SERVICES.
All Entries, in whole and in part, must comply with the following minimum guidelines to be eligible:
Cannot contain content that is irrelevant to the purpose of the Contest.
Cannot be profane, pornographic, sexually explicit or suggestive or contain nudity or similar or dissimilar inappropriate material or activities.
Cannot be violent or promote firearms/weapons.
Cannot include or in any way promote/reference alcohol, illegal or dangerous drugs, or tobacco.
Cannot defame, misrepresent, or contain discriminatory remarks about people, brands, products or companies, including but not limited to the Sponsor's brand, products and services.
Cannot be obscene or offensive, endorse any form of hate or hate group, or be derogatory to any sexual, ethnic, racial, gender, religious, professional, age group or any other group.
Cannot reference or contain materials embodying patented, trademarked, or copyrighted images, names, likenesses, or other indicia identifying any brand, products, company, or person, living or dead, without permission.
Cannot communicate messages or images inconsistent with the positive images and/or goodwill to which Sponsor wishes to associate.
Cannot depict illegal, dangerous, or unsafe activity and cannot itself be in violation of any law.
Cannot in any way reference persons, venues, or organizations without written permission from any person, venue owner, or organization whose name, image or likeness is used.
Cannot include images of a known celebrity, famous or well-known person or any image which violates the right of privacy or publicity of any person.
Cannot include images or references to minors unless the parent/adult legal guardian of the minor has provided Entrant express written consent to the entry and its submission into this Contest; Sponsor reserves the right to require written evidence of such consent.
Sponsor reserves the right in its sole and absolute discretion to immediately and without notification or warning reject, disqualify and/or remove any Entrant/Entries that violate these Official Rules or are otherwise non-compliant, ineligible or inappropriate, and to require immediate prize return if applicable.
By submitting an Entry, Entrant (or parent/legal guardian if Entrant is 18 years of age or older but still deemed a minor in his/her state of residence) warrants, represents and covenants that: (a) it is the Entrant's original work and has been legally created, specifically for this Contest; (b) it has not been previously published or distributed in any media; (c) it has not been entered in or won previous contests or awards; (d) it complies with these Official Rules; and (e) To the fullest extent permitted by applicable law, Entrant will indemnify and hold harmless the Sponsor, and related entities, agents and assigns from any threatened or actual actions, claims, liabilities, settlements (whether or not litigation is commenced) and damages (including reasonable attorneys' fees) arising from or relating to the breach or alleged breach of your representations and warranties herein, the Entry, or Entrant's conduct in creating the Entry, participation in the Contest, and/or the acceptance or use/misuse of any prize, or any other element in connection with this Contest.
Sponsor reserves the right to request proof of written permissions relating to any of the above. By participating, Entrant grants Sponsor permission to use his/her name and hometown, for future advertising and publicity purposes in connection with the Contest in any and all media now known or hereinafter developed without additional compensation, notification or permission. Upon submitting an Entry, and whether or not your Entry is disqualified or selected as a finalist or winner, you grant to Sponsor an unlimited, royalty-free right and license in and to the Entry, in whole and in part, and all the intellectual and other property rights therein including but not limited to the right to make derivative works, and to commercially exploit the Entry in connection with Sponsor's brands, goods and services, through-out the world, and further agree to execute all documents and perform all acts deemed necessary by Sponsor to protect Sponsor's license in the Entry and intellectual property rights associated therewith. You will not now nor in the future be paid for your Entry or granting any of these rights.
Entries made by any other individual or entity that is not the person named on the submitted Entry or made in any manner inconsistent with these Official Rules will be declared invalid and disqualified from this Contest.
JUDGING: All eligible Entries received during the Contest Entry Phase will be judged by the Sponsor based on the following judging criteria. Judging will begin on/around August 29, 2022 and be completed on/around Wednesday, September 7, 2022, or may be extended due to exigencies of the circumstances:
A) A response that is authentic, inspiring and/or humorous as to how a credit card through Prosper has helped you to stay on top of your finances
B) Entry originality/uniqueness
C) Entry quality and expressiveness
Winners will be notified via email. Entries become sole property of Sponsor and none will be acknowledged or returned. Nothing in these Official Rules shall obligate Sponsor to post, publish or otherwise disclose any Entry submitted in connection with this Contest.
WINNER DETERMINATION & ANNOUNCEMENT: Eighteen (18) potential winners will be selected by the Judges based on highest scores, and prizes awarded accordingly (First- Third, and Runner-ups). Scores will not be made public at any time. Scores and potential winners are not final unless and until finally verified by Sponsor. Winners may be announced by the Sponsor, along with the winner's nameand all or any portion of any Entry submitted by a Winner, on the Contest Site or on other social media sites, including but not limited to Facebook, Instagram, Twitter, and LinkedIn, for an indefinite period of time.
PRIZES/APPROXIMATE RETAIL VALUE ("ARV"): The following prizes are available to be awarded, subject to verification and compliance, and assuming sufficient eligible Entries are received:
First Prize (1): USD$1,500 (awarded in the form of a check).
Second Prize (1): USD$1,250 (awarded in the form of a check).
Third Prize (1): USD$1,000 (awarded in the form of a check).
Runner-Up Prizes (15): USD$75 (each awarded in the form of a gift card).
WINNER NOTIFICATION: On or about Thursday, September 15, 2022, potential winners will be notified via email and/or phone, and will be required to sign, have witnessed and return, within seven (7) days of notification, a Declaration of Eligibility, a Liability Waiver, a W-9 Form and where allowable, a Publicity Release (collectively, "the Release"). The Release will require the Winner to furnish his/her Social Security Number for the sole purpose of tax reporting, as required by law. Noncompliance will result in disqualification, forfeiture of prize, and an alternate winner may be selected. The prize package will be awarded within approximately 45 days after the winners are verified. If a winner is otherwise eligible under these Official Rules, but is nevertheless deemed a minor in his or her state of primary residence, the prize will be awarded to and in the name of winner's parent or legal guardian who will be required to execute, sign, and return the Releases on minor's behalf. Noncompliance will result in disqualification and an alternate winner may be selected.
Non-winning Entrants will not be notified. If Releases or any prize notification is returned, unclaimed, misdirected (including into spam/junk folders), or otherwise undeliverable or if the selected potential winner cannot accept, refuses the prize for any reason, fails to timely respond, or is ineligible or not in compliance with these Official Rules, this may result in disqualification and the next highest scoring Entry will be notified and will be deemed the winner, if qualified. If this additional attempt to award the respective prize is unsuccessful, that prize will remain unawarded.
PRIZE CONDITIONS: All expenses related to the acceptance or use of the prize are the sole responsibility of a prize winner. Limit one (1) prize per person.
Prize is non-assignable and non-transferable. No substitution is permitted except at the sole discretion of the Sponsor in which case a prize of equal or greater value will be awarded. In no event will Sponsor be responsible for awarding more than the stated number of prizes, or the stated monetary values. Winners are responsible for all federal, state, local, income and any other taxes associated with winning prize. Any winner's Entry and acceptance of a prize awarded constitutes permission for the Sponsor to use the winner's name, image, photograph, likeness, statements, biographical information, voice and address (city and state) commercially or non-commercially, in all forms of media known or unknown, in perpetuity, worldwide, without notice or further compensation, except where prohibited. None of the information submitted by the Entrant will be treated as trade secrets, confidential information or as protected data under any obligation. No patent, copyright or other intellectual property rights or licenses are granted to any Contest Entrant. Potential Entrants do not receive by way of or under the Contest any intellectual property or other rights in any copyrights, patents, trademarks, trade names, technology, trade secrets or know-how of either the Sponsor or any third party.
GENERAL: Incomplete, corrupted, or untimely Entries; or any Entry generated by a script, macro or other automated means are void and will be disqualified. Sponsor and its agencies are not responsible for lost, incomplete, corrupted or untimely Entries, or for incomplete, lost, interrupted or unavailable network, server or other connections, miscommunications, computer or software malfunctions or telephone transmission problems or technical failures, garbled transmissions, damage to a user's computer or device or other equipment (software or hardware) or other errors or malfunctions of any kind whether human, mechanical, electronic or otherwise. Proof of sending an Entry will not be deemed to be proof of receipt by Sponsor or eligibility. Sponsor, its affiliate companies, parents, subsidiaries, officers, directors and agents are not responsible for any incorrect or inaccurate information, including, without limitation, caused by Contest Site users or by any of the equipment or programming associated with or utilized in the Contest or by any technical or human error which may occur in the processing of submissions in the Contest. Sponsor assumes no responsibility for any loss, error, omission, interruption, deletion, defect, delay in operation or transmission, communications line failure, theft or destruction or unauthorized access to, or alteration of, Entries, nor for the failure to capture or collect any information.
If, for any reason, the Contest is not capable of being conducted as planned, including but not limited to infection by computer viruses, bugs, tampering, unauthorized intervention, fraud, technical failures or other causes beyond the control of Sponsor which impair the integrity, fairness or proper play of the Contest or any element thereof, Sponsor reserves the right at its sole discretion to cancel, terminate, modify or suspend the Contest and determine winners from eligible non-suspect Entries received if feasible and equitable.
By participating in the Contest, Entrant agrees to be bound by these Official Rules, including all eligibility requirements, and agrees to be bound by the decisions of Sponsor, which are final and binding in all matters relating to the Contest. Failure to comply with these Official Rules may result in disqualification.
Sponsor is not responsible if the Contest cannot be implemented or prize cannot be awarded due to delays or interruptions due to acts of God, acts of war, strikes, governmental action, natural disasters, weather or acts of terrorism, epidemic or pandemic, or any other similar or dissimilar event beyond Sponsor's reasonable control.
LEGAL WARNING: ANY ATTEMPT BY AN INDIVIDUAL, WHETHER OR NOT AN ENTRANT, TO DELIBERATELY DAMAGE, DESTROY, TAMPER OR VANDALIZE THIS CONTEST SITE OR INTERFERE WITH THE OPERATION OF THE CONTEST, IS A VIOLATION OF CRIMINAL AND CIVIL LAWS AND SPONSOR RESERVES THE RIGHT TO SEEK DAMAGES AND DILIGENTLY PURSUE ALL REMEDIES AGAINST ANY SUCH INDIVIDUAL TO THE FULLEST EXTENT PERMITTED BY LAW.
DISPUTES/ARBITRATION: Sponsor's decisions are final and binding in all matters and disputes relating to this Promotion, including, but not limited to, interpretation and application of these Official Rules. For greater certainty, such matters and disputes are to be resolved in Sponsor's sole discretion. By entering, to the fullest extent permitted by applicable law, Entrants waive all rights to jury trial, class-action lawsuit, or class-wide arbitration in connection with these Official Rules, including, without limitation, the Promotion. To the fullest extent permitted by law, for any controversy or claim arising out of or relating to these Official Rules and/or the Promotion, Entrants and Sponsor submit and consent to binding, exclusive arbitration before a neutral one-person arbitrator located in San Francisco, CA. THESE OFFICIAL RULES AND THE INTERPRETATION OF ITS TERMS SHALL BE GOVERNED BY AND CONSTRUED IN ACCORDANCE WITH THE LAWS OF THE STATE OF CALIFORNIA WITHOUT REGARD TO CONFLICT OF LAW DOCTRINES.
The remedy for any claim shall be limited to actual damages, and in no event shall any party be entitled to recover punitive, exemplary, consequential, or incidental damages, including attorney's fees or other such related costs of bringing a claim, or to rescind this agreement.
PRIVACY: By entering and providing the required entry information, Entrants acknowledge that the Sponsor may also send information, samples or special offers it believes may be of interest to Entrant, or other information or goods offered by its marketing partners. Personal information collected from online Entrants is subject to the Prosper Privacy Policy, which can be found at https://www.prosper.com/legal/privacy-policy.
WINNER CONFIRMATION: Confirmed Contest winners will be announced on the Contest Site.
SPONSOR: Prosper Marketplace, Inc., 221 Main Street, 3rd Floor, San Francisco, CA 94105
Important: This Contest is not in any manner sponsored, endorsed, administered by or associated with Coastal Community Bank.