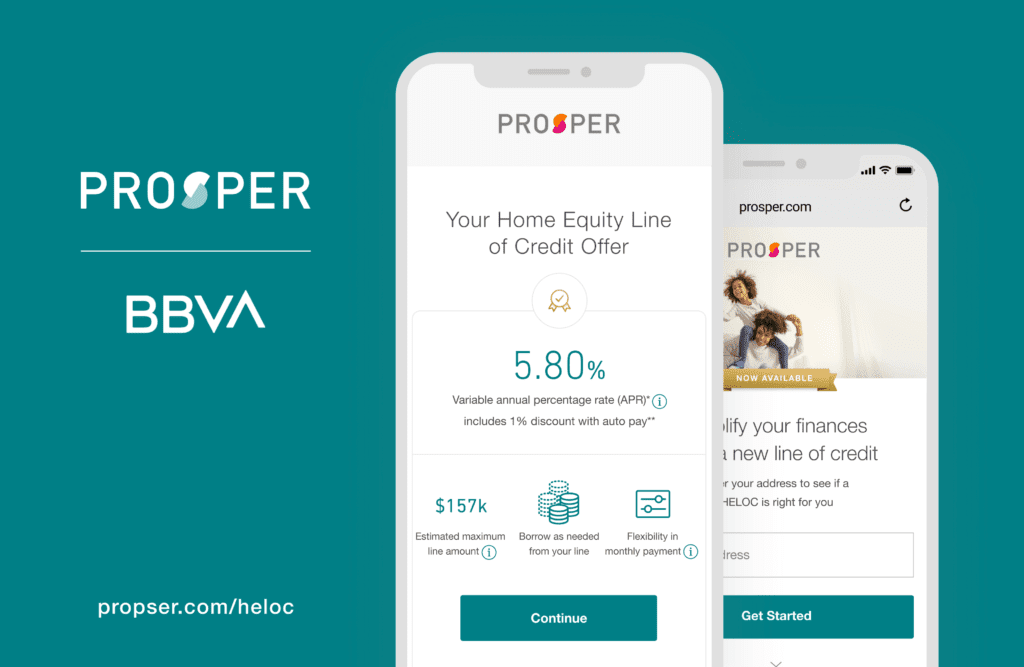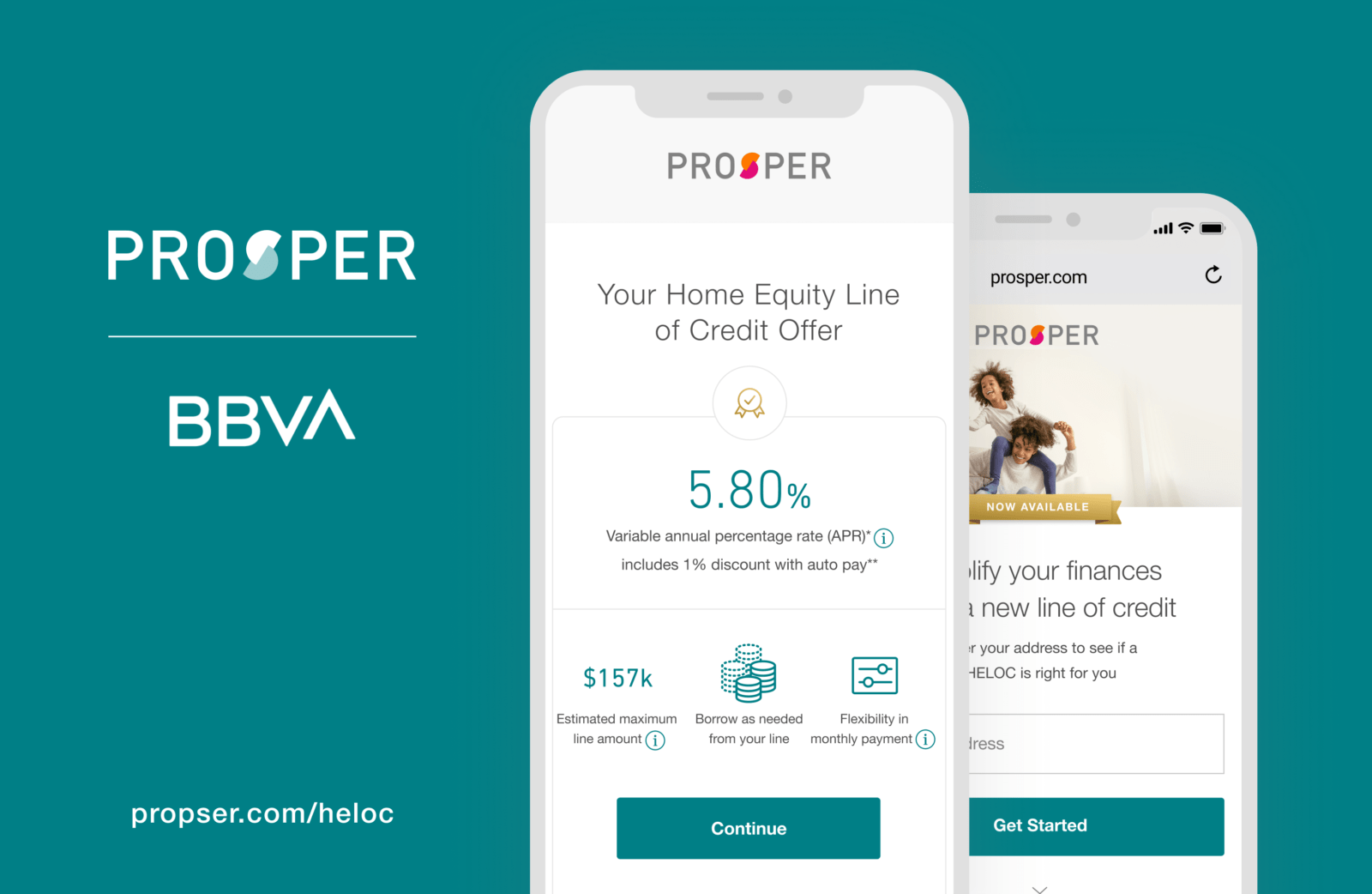 Leading Marketplace Lending Platform and Top 25 U.S. Bank Bring Together Strengths in Fintech and Digital Banking to Dramatically Improve the Home Equity Line of Credit (HELOC) Experience for Homeowners
HELOC Platform Now Available to Customers in Alabama, Arizona, Florida and Texas via Prosper's website and available soon to a select group of BBVA USA customers via a BBVA branded version of the platform
Prosper, a leading online marketplace lending platform connecting borrowers and investors, together with the U.S. subsidiary of Madrid-based BBVA, announced their collaboration in providing a Home Equity Line of Credit (HELOC).

Prosper and BBVA USA have worked closely together to build an end-to-end HELOC solution that allows customers to complete an online application in minutes and receive an instant pre-qualification. The digital platform saves customers weeks compared to the traditional application process and offers HELOC consumers access to competitive rates and no origination fees.
How Our Exclusive Partnership Works
BBVA USA is Prosper's exclusive bank partner in the bank's main footprint states of Alabama, Texas, New Mexico, Colorado and Arizona, and also worked side-by-side with Prosper, lending equity product knowledge and expertise as the digital solution was developed. The bank will soon offer the digital HELOC to a selected group of its own customers via a BBVA branded version of the platform.
We are thrilled to have a partner like BBVA that believes, as we do, in the power of technology to improve efficiency and deliver a great customer experience," said David Kimball, CEO, Prosper Marketplace.
"Working closely with BBVA, we're excited to be able to offer our customers the opportunity to quickly and easily apply for a HELOC online, which can be a smart and affordable financing option for things like home improvement and debt consolidation. We look forward to expanding this product offering to more states and continuously improving the experience."
"BBVA is the leader in digital banking globally, and as such, we're focused on a transformation that leverages digital to help us drive growth and improve the banking experience for our customers," said BBVA USA Head of Retail Banking Çağri Süzer. "The digital HELOC with Prosper is reflective of the type of transformation we think will carry us into the future, but more than that, we're excited to work with a fintech stalwart like Prosper to help people quickly and easily access the equity that they have built up in their home."
How Teaming Up Helps the HELOC Process
Available home equity reached an all-time high of $6.3 trillion in the second quarter of 2019.[1] While many homeowners have equity available, the traditional process of getting a home equity line of credit has been a confusing, lengthy and cumbersome process.
Prosper has used its expertise in technology and consumer loans to create a fast and simple process for obtaining a HELOC, while BBVA is using its extensive experience in equity lending to deliver knowledge and a great customer experience to HELOC borrowers. The partnership is a unique example of how a fintech and bank are working together to provide a long-term relationship product like HELOC to customers with ease and efficiency.
How the Digital Platform Works
The platform recently launched in a limited number of states including Alabama, Arizona, Florida and Texas, and will roll out to additional states in the coming months. Key benefits of the HELOC platform include:
An online application that can be completed in minutes with instant offers and information about rate and pre-qualification status
Competitive rates with bank-paid closing cost offered by BBVA
Flexible monthly payments and the opportunity to access to a line of credit in weeks versus the months it traditionally takes
Access to a dedicated client services team that can help users get immediate answers to their questions and understand the benefits of getting a HELOC
Confidence of having a HELOC originated and serviced by a reputable lender like BBVA
About Prosper Marketplace
Prosper's mission is to advance financial well-being. The company's online marketplace lending platform connects people who want to borrow money with individuals and institutions that want to invest in consumer credit. Through Prosper's flagship personal loan marketplace, borrowers get access to affordable fixed-rate, fixed-term personal loans. Investors have the opportunity to earn solid returns via a data-driven underwriting model. To date, over $16 billion in personal loans have been originated through the Prosper platform for debt consolidation and large purchases such as home improvement projects, medical expenses and special occasions. Through its new digital HELOC platform, Prosper is using its expertise in consumer loans to improve the process of applying for and securing a home equity line of credit, as well as deepening its commitment to simplifying consumer finance and advancing financial well-being.
Prosper Marketplace, Inc. was founded in 2005 and is headquartered in San Francisco. The platform is owned by Prosper Funding LLC, a subsidiary of Prosper Marketplace, Inc. Personal loans originated through the Prosper marketplace are made by WebBank, member FDIC.
About BBVA USA
In the U.S., BBVA is a Sunbelt-based financial institution that operates 642 branches, including 330 in Texas, 89 in Alabama, 63 in Arizona, 61 in California, 45 in Florida, 37 in Colorado and 17 in New Mexico. The bank ranks among the top 25 largest U.S. commercial banks based on deposit market share and ranks among the largest banks in Alabama (2nd), Texas (4th) and Arizona (6th). In the U.S., BBVA has been recognized as one of the leading small business lenders by the Small Business Administration (SBA) and ranked 8th nationally in terms of dollar volume of SBA loans originated in fiscal year 2018.

Read more
---
---
IMPORTANT INFORMATION ABOUT PROCEDURES FOR OPENING A NEW ACCOUNT.
To help the government fight the funding of terrorism and money laundering activities, Federal law requires all financial institutions to obtain, verify, and record information that identifies each person who opens an account.
What this means for you: When you open an account, we will ask for your name, address, date of birth, and other information that will allow us to identify you. We may also ask to see your driver's license or other identifying documents.
Eligibility for a home equity loan or HELOC up to $500,000 depends on the information provided in the home equity application.  Loans above $250,000 require an in-home appraisal and title insurance.  For HELOCs borrowers must take an initial draw of $50,000 at closing. Subsequent HELOC draws are prohibited during the first 90 days following closing. After the first 90 days following closing, subsequent HELOC draws must be $1,000 or more (not applicable in Texas).
The time it takes to get cash is measured from the time the Lending Partner receives all documents requested from the applicant and assumes the applicant's stated income, property and title information provided in the loan application matches the requested documents and any supporting information. Spring EQ borrowers get their cash on average in 26 days. The time period calculation to get cash is based on the first 6 months of 2022 loan fundings, assumes the funds are wired, excludes weekends, and excludes the government-mandated disclosure waiting period. The amount of time it takes to get cash will vary depending on the applicant's respective financial circumstances and the Lending Partner's current volume of applications.
Spring EQ cannot use a borrower's home equity funds to pay (in part or in full) Spring EQ non-homestead debt at account opening.  For HELOCs in Texas, the minimum draw amount is $4,000. To access HELOC funds, borrower must request convenience checks.
Interest rates may be adjusted based on factors related to the applicant's credit profile, income and debt ratios, the presence of existing liens against and the location of the subject property, the occupancy status of the subject property, as well as the initial draw amount taken at the time of closing. Speak to a Prosper Agent for details.
Qualified applicants may borrow up to 95% of their primary home's value (not applicable in Texas) and up to 90% of the value of a second home. Home equity loan applicants may borrow up to 85% of the value of an investment property (not applicable for HELOCs).
All home equity products are underwritten and issued by Spring EQ, LLC, an Equal Housing Lender. NMLS #1464945.
Prosper Marketplace NMLS Prosper Marketplace, Inc. NMLS# 111473
Licensing & Disclosures | NMLS Consumer Access  
Prosper Funding LLC
221 Main Street, Suite 300 | San Francisco, CA 94105
6860 North Dallas Parkway, Suite 200 | Plano, TX 75024
© 2005-2022 Prosper Funding LLC. All rights reserved.