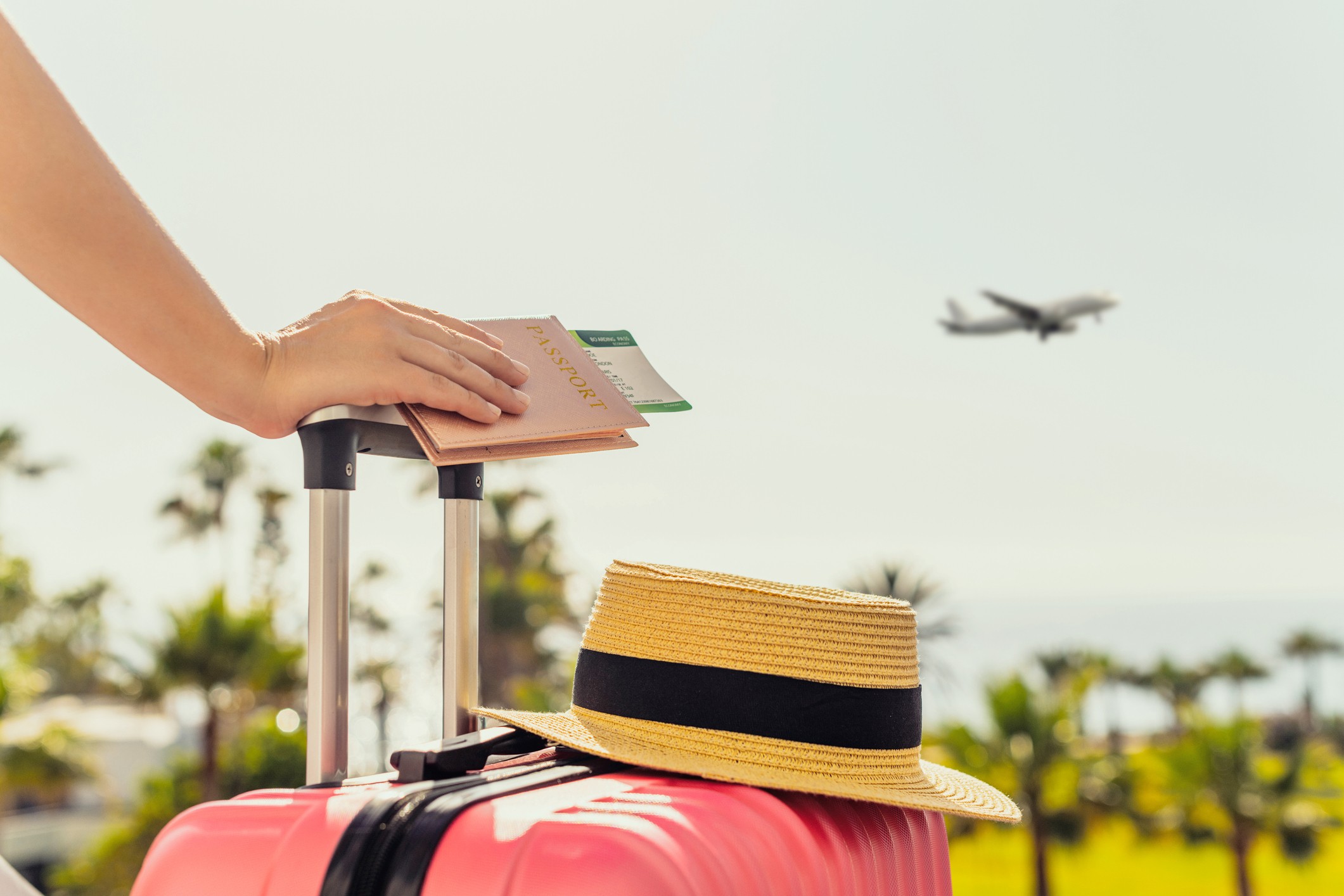 If you're like many Americans, your desire to travel far exceeds your budget. Prosper has the cure for your wanderlust with some affordable travel tips to help you save on airfare, lodging, and all other expenses. We've even got some suggestions on how to pay for your trip!
1. Budget for a stress-free vacation
In a 2022 survey, CreditDonkey found that the average family of four spent over $4,580 for a typical vacation.
With rising prices over the last few years, a vacation has become unaffordable for even more American families.
However, some prior planning and flexibility can pay big dividends! If you're a financially empowered Prosper blog reader, chances are you're already maintaining a household budget. If not, no worries, there's no better time to start than now!
Add a line item to your budget to save for your next vacation and make monthly contributions. You'll have a nest egg in no time!
2. Be flexible on timing
You can get better deals on lodging, vacation, and attraction tickets if you're flexible on timing. For example, booking your vacation during the off-season.
Hotel operators and attractions often run killer deals during this time rather than let rooms and rides go empty. By researching the slow times of the year for your dream destination and being flexible, you can craft the vacation of a lifetime.
3. Frugal flights
Airfare carries major sticker shock, and planning a multiple-leg air trip to a foreign destination can be complex. Luckily, there are booking resources to navigate journeys abroad and make affordable travel possible.
If building an itinerary gives you nightmares, turn to companies like Air Treks that specialize in planning and booking multi-stop international flights. They also provide helpful money-saving tips such as following the equatorial rule: limiting the number of equator crossings, which can add $1,000-$1,500 to your trip every time you do.
Many traditional websites like Expedia, Kayak, Orbitz, and Priceline aggregate flight options for discounts. Subscription-based sites like Next Vacay scour the Internet for unbeatable deals, which are then conveniently sent to you via daily alerts.
Scott's Cheap Flights is another popular resource. Fair warning, you must act quickly, as these deals typically vanish within 24 hours.
4. Power to the guest
Name-brand hotels provide familiarity and consistency when traveling in unfamiliar lands. Still, services such as Airbnb, VRBO, FlipKey, HomeAway, and HouseTrip provide comparable or lower prices to standard hotels and resorts.
For travelers looking to connect with the locals, Couchsurfing consists of individuals and families worldwide who host guests in their homes for free.
Don't turn your nose up to hostels, either. They are far cheaper than hotels and offer unique ways to mingle with other travelers.
5. Know your financing options
Many Americans choose to finance part or all of their vacation. However, some are hesitant to use high-interest financing options such as a credit card to finance a vacation.
Using a credit card for overseas purchases is a smart move, thanks to their anti-fraud protections. The Prosper® Credit Card is a great card for travel purposes. With no ATM cash withdrawal fee,1 it offers great flexibility, but it does have a 1% foreign transaction fee. If you're financing your vacation over time, you want to make sure you're getting the most advantageous interest rate.
Consider getting a personal loan through Prosper to pay for your vacation expenses. You can borrow whatever amount you need, from $2,000 to $50,000 and get your funds in as soon as one business day.* And with no prepayment penalties, you can even take out a little extra and pay it back after your vacation if you don't need it.
6. Use public transit
There are several perks to using public transit to get around. Using public transit is generally much cheaper than cabs or ride-share services. Plus, as long as it's safe, public transit can be a great way to experience your destination like a local.
7. Skip the tourist traps
When people think of New Orleans, they think of the French Quarter, Bourbon Street, and the famous landmarks seen on TV. But there's so much more to see!
Doing your research can lead to unforgettable nights in jazz clubs that most tourists never find. And it's much cheaper than the attractions that cater to tourists.
It's like that in almost every major tourist destination. Find the places that the locals know about but tourists don't. You'll discover hidden gems and save money while you're at it.
8. Explore your event ticketing options
A good hotel concierge can find you even the most in-demand event tickets—for a price. So can ticket brokers. But don't wait until the last minute!
Consider buying tickets in advance once you've confirmed your travel dates. If that's not an option, many locales and attractions work with various discount services. For example, TKTS in New York City offers discounted theater tickets to same-day shows at 20% to 50% off their typical prices.
Travel affordably with Prosper by your side
With prior planning, flexibility, and the right tools, you can take the vacation of your dreams at an affordable price. Make this the year you take off for an exotic destination without breaking the bank, with Prosper!
Read more:
The Prosper® Credit Card is an unsecured credit card issued by Coastal Community Bank, member FDIC, pursuant to license by MasterCard® International.
1Third party atm fees may apply.
The Prosper® Card cannot be used for balance transfers.
Eligibility for personal loans up to $50,000 depends on the information provided by the applicant in the application form. Eligibility for personal loans is not guaranteed, and requires that a sufficient number of investors commit funds to your account and that you meet credit and other conditions. Refer to Borrower Registration Agreement for details and all terms and conditions. All personal loans made by WebBank.
*You may receive your funds one business day following your acceptance of the loan offer, completion of all necessary verification steps and final approval. One business day funding is also dependent on your bank's ability to quickly process the transaction.