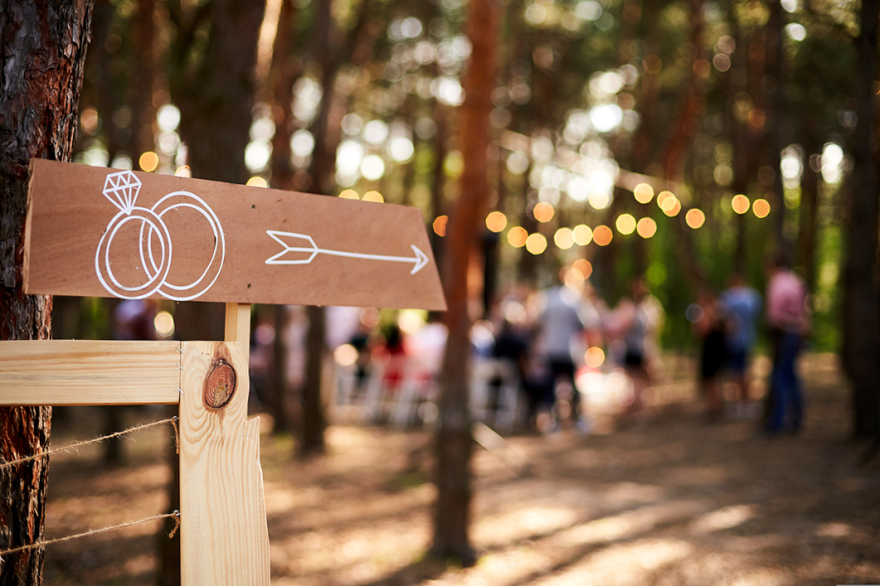 Your wedding is a significant milestone to look forward to and celebrate. It's a day of joy, celebration, and love. Wedding planning, on the other hand, can be incredibly stressful. Because weddings are known to be such a special day, many couples feel enormous pressure to have a "perfect" wedding – especially with the rise of social media.
In 2021, the average American couple spent $28,000 on their wedding, $34,000 counting the engagement ring. That's a lot of money, especially considering most people get married in their twenties when they're just starting out.
No matter how special your wedding day is, you don't want to start your life together deep in debt. Arguing about money is the #1 predictor of an eventual divorce. Fortunately, you can throw the wedding of your dreams without breaking the bank, with careful planning and a clear vision.
Wedding planning 101: Set a budget
The first step is figuring out what you can afford. If you're fortunate enough that your family is paying for the wedding, congratulations! You'll still want to talk to them about your plans and ensure you're on the same page.
If you're planning on paying for the wedding yourself, or at least part of it, you'll want to do some legwork to make sure you have the memorable day you've been dreaming of, without a financial nightmare after the honeymoon.
What's your financial situation?
Before determining how much you can spend on your wedding, you should know how much debt you and your partner have. This will help you make educated decisions on whether it's wise to go into more debt to pay for a wedding or how much you can afford to spend while still paying down the existing debt you have.
Talking about finances with your partner can be tough, especially early in a relationship or if you have a rocky financial past. But it's essential not only for your wedding planning but for starting your marriage on the right foot.
First, list your debts and the payments you must make on those debts. You can use services like Credit Karma to get your credit reports and ensure you've accounted for all debt.
Then, make a household budget listing your household income and expenses. If you expect your costs to change after the wedding (such as if you're just now moving in together,) take that into account. Make sure to include debt payments with your expenses.
This helps you determine how much you can afford to spend on your wedding to make a budget rooted in what you can realistically afford.
Making a budget
The next step of wedding planning is creating a budget. There are a ton of great templates out there. Some people prefer using an Excel or Google Sheets spreadsheet, others may feel more comfortable using pen and paper. What matters is choosing a way that works for you.
How much money will you have to work with? List your savings, any commitments from parents or other relatives to help fund the nuptials, and even use a loan calculator to get a rough estimate of what your payment would be if you finance part of your wedding.
Once you've got an idea of your total budget, you can estimate how much you can spend for each part of the wedding.
Sit down with your partner and talk about your priorities. What are your wedding must-haves? Many couples need to make tough decisions about where to cut costs. Knowing what matters most to you and your partner can determine where you cut to get within your budget—or where you can splurge.
It pays to comparison shop. Get multiple quotes from different vendors; you may be surprised at how much variation there is.
Costs of a wedding
When you're putting together your budget, it helps to know the general costs of each part of a wedding. Each item can vary in price based on the size of the wedding, location, and many other factors.
One important consideration is that booking well in advance can help provide planning time, give you time to save up for big-ticket items, and allow you to lock in the best rates for photographers, caterers, and other professionals.
It also pays to look at weekdays as opposed to weekends, and to consider holding your wedding in the off-season for your area (often the winter months).
Venue
30% of the typical wedding budget is spent on the venue, by far the biggest expense of a typical wedding. Some venues may also require you to use their caterers, photographers, or other vendors, which removes your ability to price-shop for cheaper alternatives.
Make sure you're comparing apples to apples when looking at different venues. You can also trim your guest list to make a smaller venue work or to afford a more luxurious venue than you would otherwise; this is an easy way to cut your budget in other areas.
If you have a close friend or relative with a spacious property, consider an outdoor wedding on their land!
Decor
You don't need to stress out about fancy decor that many guests won't even notice. Put your budget into the details your guests will notice first, and their eyes should be on the bride and groom! Consider using cost-effective flowers such as carnations instead of expensive hydrangeas or peonies.
Avoid putting decoration budget into areas that the guests won't notice as much and splurge on the details that are up close and noticeable. If you've already picked a picturesque venue, you can stress less on decor; it's probably already "Instagrammable" enough as-is!
Strategically spending your budget on the right decor elements saves you from wasting money on items few guests will even notice.
Catering
Catering is another big-ticket item, comprising 23% of a typical wedding budget. Timing matters; an afternoon wedding with light hors d'oeuvre will cost much less than an evening wedding with a full, catered dinner. Some couples even choose a morning wedding and a follow-up brunch!
Many couples choose to use a specialty bakery for their cake, which will run 1-2% of a typical budget. There are many options for a budget-friendly but beautiful wedding cake, including downsizing, a minimalist design, or faux layers. You can even go with an alternative design, such as a tower of cupcakes!
Band/DJ
DJs average around 4% of a wedding budget, while a full band takes up about 7% of the typical budget. But if you're looking to save some money somewhere, Bluetooth speakers aren't expensive, and apps such as Spotify and Tidal allow you to build custom playlists.
Think about the vibe you want at your wedding. If a live band is going to help create your vibe, go for it! If a curated playlist will do the job, then you can allocate some budget money elsewhere. It's all about your personal vision for your wedding.
Wedding rings
The typical couple spends about 7% of their wedding budget on wedding rings and wedding bands. Some couples save money by using family heirlooms. Another way to save money is by choosing a simple and timeless design with fewer expensive jewelry elements.
Photos and videos
A photographer will typically cost around 7% of your wedding budget. Videography accounts for another 6%, on average. One common budget-draining move is to book the hottest photographer you've seen on Instagram or TikTok, when there are lesser-known photographer out there who are just as talented at a fraction of the price.
You get what you pay for with photography, but pay attention to reviews, and go to bridal shows and see samples of photographers' work. Make sure to ask what they include in their packages, such as editing, whether their rates include prints, etc.
A great social media presence doesn't always mean they're the best photographer for your budget. If you have a dream photographer in mind and they're just out of your budget? Consider shortening the time they're documenting.
Getting ready photos can be a nice touch, but focusing on candids with your besties and having the photographer show up only for the ceremony and reception can save you a bundle!
Alcohol
The average couple spends 7% of their wedding budget on alcohol. You have several options varying in cost and complexity.
Professionally staffed open bar: On the plus side, your guests will be thrilled and you won't have to worry about anything but writing a check. This can also help with liability since professional bartenders are usually trained to cut someone off when they've drank too much. But it's the most expensive option.
Professionally staffed cash bar: This shifts the cost burden to your attendees and may help regulate drinking since many people drink more when they're not paying the bill.
DIY bar: This option might not always be available as many venues require a professional bar for liability purposes. But in venues that allow it, a DIY bar can save you a lot of money while still making alcohol available. Also, you can save costs by foregoing a full bar and offering an alcoholic punch made with less expensive liquors.
No bar: You don't need alcohol to have a great time. Skipping the bar not only saves you money, it's more inclusive of friends who don't drink.
Wedding attire
The average couple spends about 6% of their wedding budget on attire, and that's no surprise. Almost every bride dreams of her walk down the aisle in a beautiful, eye-catching dress.
Most grooms rent their tuxedoes. Since most men rarely wear a tuxedo, renting is far more cost effective. For brides, however, rental is usually not an option — but there are ways to save money and still look fabulous on your wedding day. Many bridal stores offer large discounts during the winter and summer, before the next season's designs come out.
It's a smart move to shop early anyway; sometimes it takes time to find the right dress, and this also helps avoid rush costs for customizations and alterations. You can also honor a family member by wearing their wedding dress. While many older dresses may not be up to the current fashion, you can always alter it to make it fit your vision.
You can also peruse used wedding dress stores such as NearlyNewlywed and Stillwhite and get a designer dress for a steep discount.
Wedding planner
Wedding planning can feel like a full-time job, and who has time for that? The answer for busy couples? Hiring a wedding planner! This will run you, on average, about 5% of your wedding budget. However, their expertise and contacts can often save you money. Not only that, but many experienced wedding planners can steer you to the best vendors.
If a traditional wedding planner is a bit too expensive for your budget, consider a coordinator that focuses on the day of the wedding to help things go smoothly. This provides help for the big day so you can enjoy yourself, at a lower price point than traditional all-inclusive wedding planners.
Financing your wedding
Though wedding vows often include 'for richer or for poorer', going deep into debt to finance your wedding can add stress to your relationship. Responsible use of financing can help close any gap between your available funding and the wedding of your dreams.
A personal loan through Prosper provides flexible financing with no prepayment penalty and set terms for repayment. This is a great option to pay for the big-ticket items in your wedding planning.
If you're a homeowner, you may also consider using a HELOC through Prosper or HELoan. As HELOCs and HELoans are secured by your home equity, this can often result in an advantageous interest rate.
A great option for last-minute expenses is The Prosper® Card. The card has no fees for cash advances1. It also has zero fraud liability, so it's a great card to use for potential travel expenses on your honeymoon.
Weddings can be expensive, and wedding planning can be stressful. But don't let social media or other weddings you've attended push you to plan a wedding beyond your means. With careful planning and Prosper on your side, you can get through the hard part and focus on what's important: joining your life with your beloved partner.
Read more:
---
The Prosper® Credit Card is an unsecured credit card issued by Coastal Community Bank, member FDIC, pursuant to license by MasterCard® International.
1Third party atm fees may apply.
The Prosper® Card cannot be used for balance transfers.
Eligibility for personal loans up to $50,000 depends on the information provided by the applicant in the application form. Eligibility for personal loans is not guaranteed and requires that a sufficient number of investors commit funds to your account and that you meet credit and other conditions. Refer to Borrower Registration Agreement for details and all terms and conditions. All personal loans made by WebBank.
Eligibility for a home equity loan or HELOC up to the maximum amount shown depends on the information provided in the home equity application. Depending on the lender, loans above $250,000 may require an in-home appraisal and title insurance. Depending on the lender, HELOC borrowers must take an initial draw of $50,000 at closing; subsequent HELOC draws are prohibited during the first 90 days following closing; after the first 90 days following closing, subsequent HELOC draws must be $1,000, or more, except in Texas, where the minimum subsequent draw amount is $4,000.
The amount of time it takes to get funds varies. It is measured from the time the lender receives all documents requested from the applicant and depends on the time it takes to verify information provided in the application. The time period calculation to get funds is based on the first 4 months of 2023 loan fundings, assumes the funds are wired, excludes weekends, and excludes the government-mandated disclosure waiting period.
For Texas home equity products through Prosper, funds cannot be used to pay (in part or in full) non-homestead debt at account opening.
Depending on the lender, qualified home equity applicants may borrow up to 80% – 95% of their primary home's value and up to 80% – 90% of the value of a second home. In Texas, qualified applicants may borrow up to 80% of their home's value. HELoan applicants may borrow up to 85% of the value of an investment property (not available for HELOCs).
Home equity products through Prosper may not be available in all states.
All home equity products are underwritten and issued by Prosper's Lending Partners. Please see your agreement for details.
Prosper Marketplace, Inc. NMLS# 111473
Licensing & Disclosures | NMLS Consumer Access