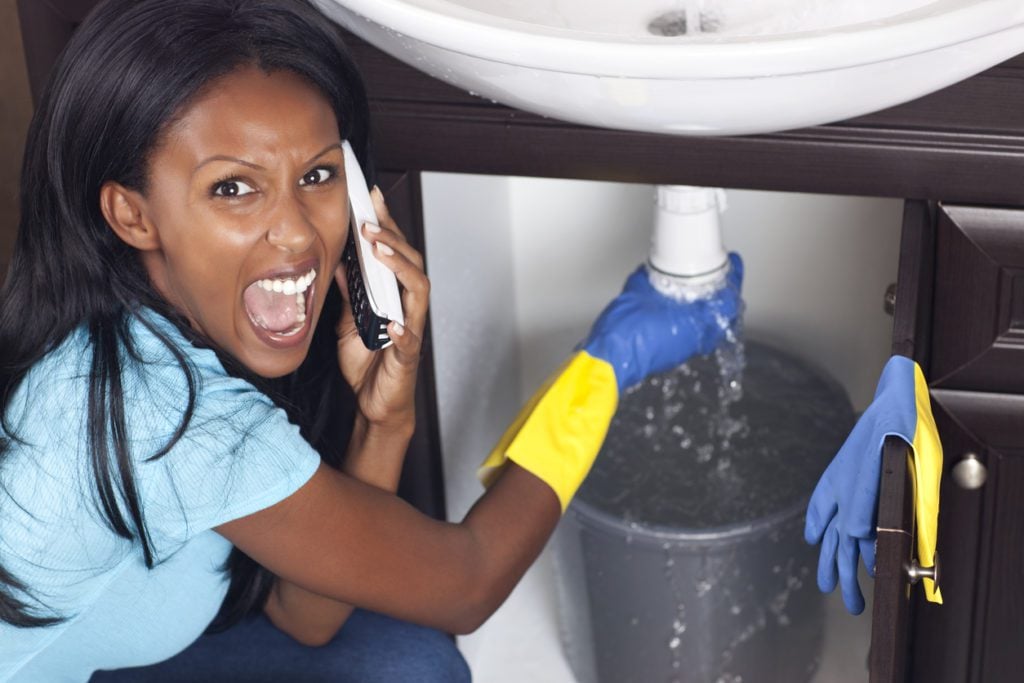 Home ownership is a big part of the American Dream for many families. But, owning a home comes with the possibility of major unexpected expenses when big-ticket items break — and there is no landlord to turn to for repairs.
From water damage to an expanding family that requires a new addition, there is no shortage of ways for a home to strain your wallet. In fact, according the HomeAdvisor, some the most common "unexpected" costs that homeowners face, including A/C replacement, storm/wind damage and a new roof, will set you back over $5,000.
So, what do you do when the worst case scenario becomes reality and you're faced with a major bill?
Start an emergency fund
Ideally, you'll first turn to your emergency fund. While many of the expenses associated with home ownership may qualify as "unexpected," you should plan as if something will go wrong eventually. A dedicated emergency fund for homeowner expenses is a great way to be prepared.
How much should you save in your emergency fund? Certified Financial Planner David Ruedi, himself a new homeowner, told me that each situation is unique, but generally advised that owners of larger homes set aside more. "As a new homeowner, I was surprised how many unexpected expenses came up. I would recommend homeowners prioritize setting aside extra cash for these expenses," Ruedi said.
Set a monthly budget for regular maintenance
Giving yourself a monthly budget for regular maintenance is key If you live in an older home, you should expect to pay more: along with plenty of vintage charm, older homes are more likely to have big-ticket items close to the end of their useful lifespan. Having major appliances routinely serviced and maintaining your home in top working order is a great way to avoid or delay a major problem, so be sure to account for these routine costs in your monthly budget.
Apply for a personal loan
While having an emergency fund for unexpected home costs is the best case scenario, sometimes things happen when we're least prepared. In these situations, many people resort to credit cards to fund a new A/C unit or major repair, but that's usually not the best option because of high-interest rates.
Personal loans are a great option for home repairs because they are fixed-rate, with fixed terms, giving you a clear line of sight to when the debt will be paid off. Additionally, personal loans are unsecured meaning there is no collateral required to qualify and they aren't tied to your personal property. Borrowers with good credit may benefit from exploring online options like a loan through Prosper.
Protect yourself with a home warranty
Another option worth exploring is a home warranty. They don't cover everything and will often place restrictions on how repairs are handled, but home warranties can provide peace of mind for new homeowners that may have spent much of their savings on a down payment. In some cases, home warranties can even be negotiated in the purchase agreement for an older home, buying time for new homeowners to save up a comfortable emergency fund. There are many reputable options available, so speak to your lender or realtor about which home-warranty companies they recommend to clients.
As a homeowner you should expect the unexpected and have a plan to make sure any major expenses don't spell financial trouble. Home ownership is a massive responsibility, but with some financial foresight and careful planning, it can also be incredibly rewarding and an important step toward building wealth. Staying financially prepared for whatever comes your way will ensure that your dream remains stress-free.
Read more
IMPORTANT INFORMATION ABOUT PROCEDURES FOR OPENING A NEW ACCOUNT.
To help the government fight the funding of terrorism and money laundering activities, Federal law requires all financial institutions to obtain, verify, and record information that identifies each person who opens an account.
What this means for you: When you open an account, we will ask for your name, address, date of birth, and other information that will allow us to identify you. We may also ask to see your driver's license or other identifying documents.
Eligibility for a home equity loan or HELOC up to $500,000 depends on the information provided in the home equity application.  Loans above $250,000 require an in-home appraisal and title insurance.  For HELOCs borrowers must take an initial draw of $50,000 at closing. Subsequent HELOC draws are prohibited during the first 90 days following closing. After the first 90 days following closing, subsequent HELOC draws must be $1,000 or more (not applicable in Texas).
The time it takes to get cash is measured from the time the Lending Partner receives all documents requested from the applicant and assumes the applicant's stated income, property and title information provided in the loan application matches the requested documents and any supporting information. Spring EQ borrowers get their cash on average in 26 days. The time period calculation to get cash is based on the first 6 months of 2022 loan fundings, assumes the funds are wired, excludes weekends, and excludes the government-mandated disclosure waiting period. The amount of time it takes to get cash will vary depending on the applicant's respective financial circumstances and the Lending Partner's current volume of applications.
Spring EQ cannot use a borrower's home equity funds to pay (in part or in full) Spring EQ non-homestead debt at account opening.  For HELOCs in Texas, the minimum draw amount is $4,000. To access HELOC funds, borrower must request convenience checks.
Interest rates may be adjusted based on factors related to the applicant's credit profile, income and debt ratios, the presence of existing liens against and the location of the subject property, the occupancy status of the subject property, as well as the initial draw amount taken at the time of closing. Speak to a Prosper Agent for details.
Qualified applicants may borrow up to 95% of their primary home's value (not applicable in Texas) and up to 90% of the value of a second home. Home equity loan applicants may borrow up to 85% of the value of an investment property (not applicable for HELOCs).
All home equity products are underwritten and issued by Spring EQ, LLC, an Equal Housing Lender. NMLS #1464945.
Prosper Marketplace NMLS Prosper Marketplace, Inc. NMLS# 111473
Licensing & Disclosures | NMLS Consumer Access  
Prosper Funding LLC
221 Main Street, Suite 300 | San Francisco, CA 94105
6860 North Dallas Parkway, Suite 200 | Plano, TX 75024
© 2005-2022 Prosper Funding LLC. All rights reserved.