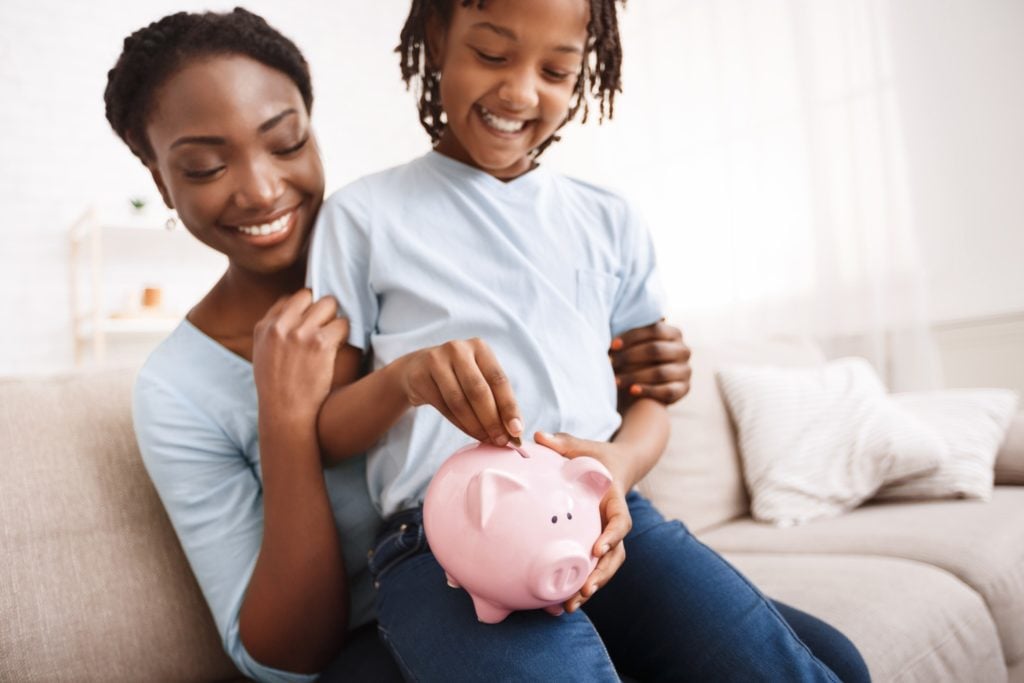 It's important to have a positive money mindset because it may help decrease stress and improve your overall well-being. It's also the first step to becoming financially secure today and in the future.
Creating a healthy mindset starts when you set goals, develop better money habits and define where you want to go financially.
Here are nine steps you can take to develop good financial habits starting today.
1. Visualize Success
What works for athletes and other highly successful people can also work for you and your money habits.
Visualizing accomplishments is the first step in creating a positive money mindset and achieving financial well-being.
Here are some things you can envision before actualizing:
There's a four-figure balance in your savings account … and it's growing!
Your highest-interest credit card is paid off — that zero balance is going to feel amazing!
You have extra money at the end of each month to be charitable.
A comfortable retirement will be a reality because your 401(k) balance is growing with your contributions and the maximum employer match available.
There's money each month for self-care so that you can get your nails done, play a round of golf, or even buy simple things like a new bath bomb or scented candle to enjoy at home.
You're on vacation at a beautiful resort that you saved and paid for in full.

2. Be Hungry to Learn
No matter how you learn — by doing, listening or reading — there are plain-talking financial experts who share their wisdom for free. Absorbing this kind of knowledge regularly can help you develop better money habits.
From personal finance websites and budgeting worksheets for good money habits to the Prosper blog and money-themed podcasts, a wealth of information is available to enhance your budding positive money mindset.
Some other resources you might consider include:
3. Eat Out Less
Is it old fashion? Yes, but eating breakfast at home, making your own coffee, and packing a lunch and snacks are some things that successful people with good money habits do regularly.
This doesn't mean you can never go out to eat with friends or coworkers. Still, when you make your meals at home and brew your own coffee (or tea), you will save a lot of money and be more financially well-off than ever before.
4. Log Into Your Financial Accounts Every Morning
It's a small step while the coffee is brewing, but as they say, knowledge is power. Every morning, bring yourself up to speed on your bank account, personal loan, and credit card balances.
Keep track of incoming income, expenses and bills in a spreadsheet. Doing so will eliminate surprises, reduce stress and give you a clear financial picture to start each day.
This quick and easy routine will go a long way to help you make better decisions and develop a positive money mindset.
5. Weigh Every Decision
It may seem obsessive, but when you think about it, nearly every decision can affect your financial life. This is one of the reasons setting a rolling three-month budget can be helpful.
When you know that sticking to your budget means you'll have a certain amount to put into your savings account, you'll start questioning whether you need to spend extra money on unnecessary items.
6. Save First, Spend Later
People with positive money mindsets and better money habits don't make savings the last item on their budget. Instead, put your savings goals first and foremost, and adjust the rest of your life accordingly.
Do you want to buy a house or car, take that dream vacation or build an emergency fund? Dedicate money monthly to those savings goals first, then list all your fixed debt obligations (rent, car payment, groceries, utilities, internet and phone bill, etc.) before finally seeing how much you have left for takeout and extraneous spending.
7. Spend and Shop Smarter
One of the better money habits you can have is to shop and spend smarter for everything you want and need.
This means using coupons at the grocery store, comparison shopping online for bigger ticket items, and checking the cashback available through sites like Rakuten before you buy.
Not only will this extra 'effort' while shopping saves you money, but it may also help reduce emotional and impulse purchases, which will save you even more money!
8. Pay Down Your Credit Cards Every Month
Financial stresses most people face are their credit card bills. If you are going to use credit cards, which can be beneficial to maximize cashback bonuses or travel rewards, it's crucial that you learn how to manage credit card debt.
Most importantly, that means spending only what you can afford to pay. Paying on time will not only improve your credit, but it'll also keep late fees away, save you money and reduce your financial stress.

9. Consolidate Your Debt
Learning better money habits today is crucial to a happier life. However, you may still be reckoning with mistakes from your past.
If you have old debt spread over several credit cards, medical bills and other debt, consolidating that debt into one loan with one monthly payment at a lower interest rate may have substantial financial and emotional benefits.
Read more
1  For example, a three-year $10,000 personal loan would have an interest rate of 11.74% and a 5.00% origination fee for an annual percentage rate (APR) of 15.34% APR. You would receive $9,500 and make 36 scheduled monthly payments of $330.90. A five-year $10,000 personal loan would have an interest rate of 11.99% and a 5.00% origination fee with a 14.27% APR. You would receive $9,500 and make 60 scheduled monthly payments of $222.39. Origination fees vary between 1% and 5%. Personal loan APRs through Prosper range from 6.99% to 35.99%, with the lowest rates for the most creditworthy borrowers. 
2  Eligibility for personal loans up to $50,000 depends on the information provided by the applicant in the application form. Eligibility for personal loans is not guaranteed, and requires that a sufficient number of investors commit funds to your account and that you meet credit and other conditions. Refer to Borrower Registration Agreement for details and all terms and conditions. All personal loans made by WebBank.