Waking up to start your workday on camera from the kitchen table is an adjustment. But for many of us, there are benefits of working from home, from our finances to our lifestyle and even health.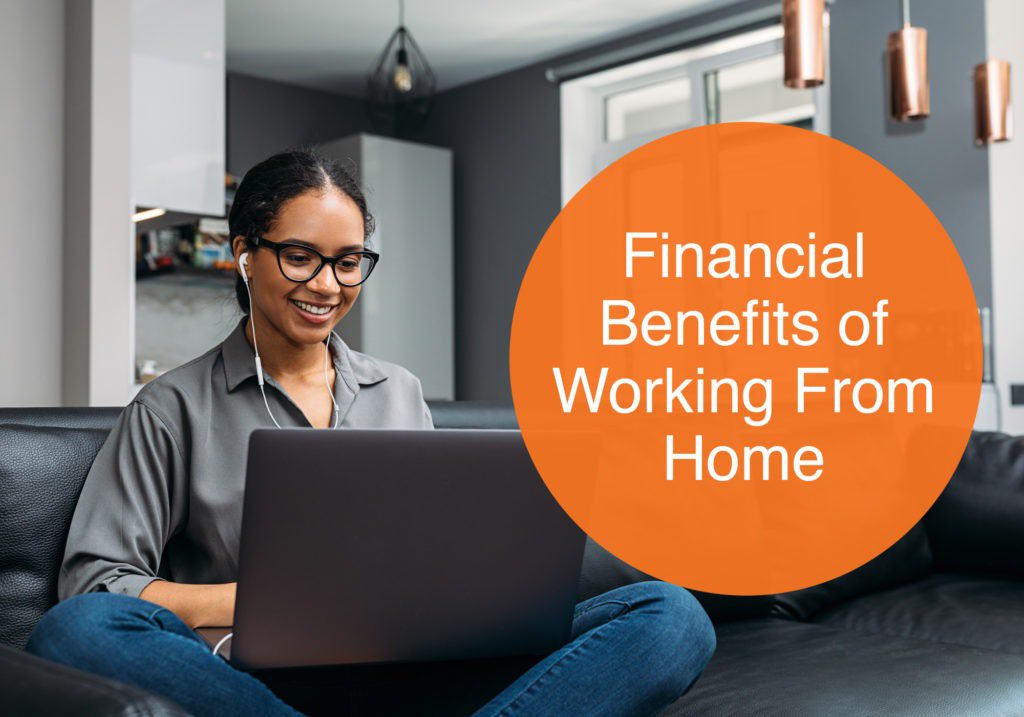 What Are the Financial Benefits of Working From Home?
There are many benefits to working from home. Some are expected while others may surprise you. Here's a look at seven ways you'll spend less while away from the office.
1. You'll Save Big on Your Commute
Commuting is more than just the price at the pump to fill up your car with gas. One of the financial benefits of working from home is reducing or eliminating your commuting costs.
Gas
If you usually drive to and from work, you'll be less stressed by the ebb and flow of gas prices while working from home.
How much can I save on gas?
Actual savings will vary based on your vehicle's fuel efficiency, length of normal commute, and gas prices in your part of the country but consider that last year the average mpg for a U.S. car was 25 miles per gallon, and currently, the average gas price is $2.14 a gallon. If your daily commute is 50 miles roundtrip, you will save approximately $85 a month in gas expenses.
Tolls
There are no tolls when commuting from the bedroom to the kitchen table! No longer paying to cross bridges, drive through tunnels, and traverse turnpikes is one of the more surprising financial benefits of working from home.
Parking
When your daily commute involves both a vehicle and a big city, it often means parking costs, too. Leaving your car in the driveway doesn't cost a penny and therefore, saves you money while working from home.
Wear and Tear
Less commuting means less wear and tear, fewer oil changes, and less frequent costly car maintenance appointments.
Non-Driver Commuting Costs
Of course, commuting to and from work costs non-drivers, too. Subway fares, train tickets, and more eat into an employee's bottom line. That's why the lack of a commute might just be the biggest of all the benefits of working from home.
2. You'll Buy Less Clothing
When working from home, you may find yourself spending less on clothing. You may no longer need business outfits at all, or could cut your clothing expenses in half by opting only to buy nicer tops and jackets since that's the part of you on camera for Zoom meetings!
3. …and Ditch Dry Cleaning
Similar to the pause on clothes shopping, another benefit of working from home is that you won't need to drop off those blouses, pants, and dress shirts at the dry cleaners. Removing this recurring bill from the budget could save you considerable money every month you work from home.
How much can I save by cutting dry cleaning costs?
Dry cleaning costs vary, so to get an exact number, you'll need to factor in how much your dry cleaner charges, as well as how many pieces you tend to drop off. However, for this example, let's say you typically wear three pairs of slacks and five shirts a week. At approximately $2 a shirt (for men) / $4 a shirt (for women) and $5 per pair of pants, cutting dry cleaning could save you around $100–$140 a month. And that's not even including more expensive items such as suits, sweaters, and dresses.
4. You'll Save a Small Fortune on Childcare
Admittedly, it may be more challenging to be productive and stay on task while working from home when kids are around, but not paying childcare costs could be one of the largest financial benefits of working from home.
How much can I save on childcare?
Typically, the majority of Americans spend 10% or more of their household income on childcare, with that figure being at least $10,000 per year for just about half of U.S. families.
5. Eating at Home vs. Eating Out Will Save You Hundreds
Maybe you tend to sit in the drive-thru lane each morning for a coffee and an egg sandwich and then, midday, head out for a salad with some colleagues. The food costs of working outside the home can add up quickly and quietly. Conversely, one of the benefits of working from home is the reduction in food expenses because groceries are generally cheaper than individual cups of Starbucks coffee, and eating out for lunch or dinners with clients.
How much can I save on food costs?
The simple cost-cutting action of making coffee at home could save you as much as $100 a month! Making breakfast and lunch in your own kitchen should see that figure triple or even quadruple (depending on how often you'd usually eat out for lunch at work in the office).
6. You Might Be Eligible to Lower Your Car Insurance Premiums
Conventional wisdom would say that the less you drive, the less risk you'll be in an accident. This in turn could lead to lower car insurance premiums. Paying less for auto insurance may be one of the surprising financial benefits of working from home.
How much can I save on car insurance?
Over 80% of the largest U.S. auto insurance companies offer low mileage discounts, and a low mileage discount may result in up to 30% off your car insurance premiums.
7. Less Makeup on Your Face Means More Money in Your Pocket
With masks on in-person, you technically only have half a canvas on which to apply makeup but while working from home, attending meetings on Zoom, chances are you'll be less interested in using any makeup at all or at least skip the expensive makeup you usually apply for face-to-face contact. It may surprise you, but spending less on makeup/perfume/cologne could be one of the sneaky financial benefits of working from home.
3 Ways to Get the Most Out of Your Work-From-Home Savings
In addition to cutting down on commuting costs, clothes, and dining out, you may see indirect benefits of working from home. Consider what you could do with the money no longer leaving your checking account to work outside the home.
1. Up the Amount You Add to Your Savings Account
If this year has taught us anything, it's that the future is wildly unpredictable. You could choose to start a new savings account and deposit your usual workday lunch money, parking costs, and other normal work-life expenses. Soon, you'll have a tidy little rainy day fund to help you through the next rough patch.
2. Increase Your Retirement Savings Contribution
With less money being spent on eating out, commuting, and makeup and clothes, consider increasing your retirement savings contribution percentage. If you're not maxing out on your employer's 401(k) matching program already, go at least that high with your own contribution percentage. The ability to save more than ever before could be one of the best long-term financial benefits of working from home.
3. Set Aside Money for Future Education Costs
As you increase your personal savings and retirement contribution percentage, consider how working from home might benefit your children's future education. In saving hundreds of dollars each month by brewing your coffee at home and not spending $10 to launder a single cashmere sweater this winter, you could jumpstart your kiddo's 529 college savings plan.
Read more