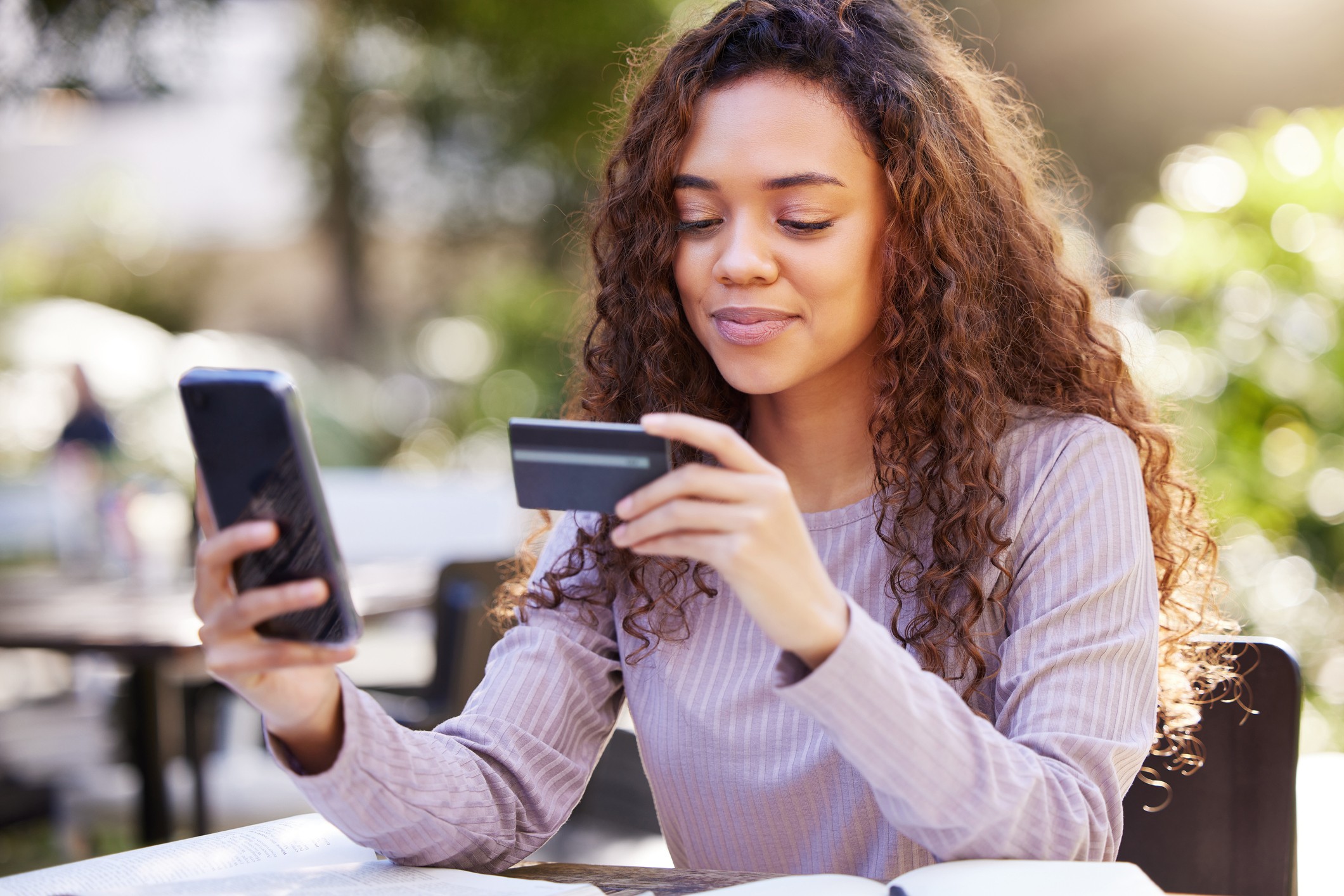 Your first credit card is an essential step on the path to financial empowerment. It can help you develop critical financial skills, establish your credit score, and give you financial flexibility.
In addition, responsible use of a credit card is an important stepping stone toward gaining access to other types of credit, especially if you have no credit history.
Selecting the right credit card helps ensure you get off on the right foot, and we're here to help! Let's look at some of the things you should look for when selecting your starter credit card.
Understand How Credit (and Credit Cards) Work
The first step is familiarizing yourself with how credit cards work.
Credit Scores and Credit History
Your financial history is maintained in a file known as your credit report. There are three credit bureaus that maintain a credit report on each American who has a credit history.
The credit bureaus collect the following information on individuals:
Personal information: Your name, current and former addresses, social security number, date of birth, and employment information. (Note: This information does not affect your credit score or credit history, it's present for identification purposes only).
Credit accounts: Lenders report what accounts you have with them to the credit bureaus. Not all lenders report to all three credit bureaus, so your credit history may vary between them. Information reported about each account includes:

Credit limit
Payment history
Type of account
Date account was opened
Account balance

Credit inquiries: Lenders also report when they access your credit history. A 'soft' or informational query does not count against you, but 'hard' inquiries, such as when you're applying for a loan, can lower your credit score if too many of them occur in quick succession.
Public records and collections: Credit histories include bankruptcies, tax liens, and collections activity from overdue debt (such as medical or student loan debt).
Most items aren't on your credit report forever. For example, bankruptcies stop counting against you after 7 or 10 years, depending on the type. Payment history also only goes back a few years.
This information is used to produce a credit score. Lenders use a formula to distill this information into a 3-digit number between 350-850, representing your creditworthiness, or the likelihood of you repaying your debt.
It's important to note that your credit score is not affected by your income, employment, or savings, only by the information in your credit history.
Credit Invisibility: Options for Credit Building
26 million Americans have credit invisibility. Credit invisibility is when the credit bureaus either don't have a credit history for an individual or that credit history does not have sufficient information to make a credit decision.

This creates a paradox; one must have a credit history to get credit, but one cannot develop the credit history without credit.
If you run into this issue while applying for your first credit card, there are a few things you can do to start building a credit history.
Become a cosigner or an authorized user on an existing account: A family member or friend can add you to their existing account as an authorized user on their account. This allows you to benefit from their payment history, but that's a double-edged sword as if they miss a payment, it counts negatively against you.
Open a secured credit card: Secured cards are an excellent option for someone looking to obtain their first credit card. The difference between your typical credit card and a secured credit card is that with a secured card, you must put down a security deposit when opening the card. The deposit acts as collateral if you ever miss a payment. Experts recommend using a secured card for everyday purchases and paying the bill in full each month to build a strong history.
Open a store card: Store cards are usually easier to qualify for and often come with benefits, like store discounts and sign-up rewards. However, they are generally only good for the store that issues them and often have higher interest rates than other cards.
Get credit for the bills you are already paying: Some rent-reporting services, such as Rental Kharma and LevelCredit, can add your payments to a credit report, helping to establish creditworthiness and build a history of on-time payments. Additionally, Experian Boost does the same thing with your utility bills.
3 Features to Look for
When selecting a credit card, it's important to research and look at all the fees, interest rates, and terms and conditions associated with the card.
Interest Rates
The first thing to consider is interest rates. Interest is the money you pay a bank for borrowing money from them; this is assessed as a percentage of the total loan and is usually expressed as an Annual Percentage Rate or APR.
Of course, a lower interest rate is better, but many cards offer introductory promotional rates that go up when the introductory period ends. It's a good idea to keep your first credit card for a while, as the age of your credit accounts does factor into your credit score.
For many people, a lower interest rate for the long term may be better than an introductory rate that then becomes a higher interest rate. However, that depends on the rates. Do your research and choose what's right for you.
Most credit cards offer a grace period. If you make purchases with the card and then pay your balance in full each month when you receive your bill, interest won't accumulate.
Interest begins accruing only if you fail to pay the full balance before the due date. With your first credit card, only using the card for everyday purchases you can pay off immediately is an excellent strategy.
This builds a strong, consistent payment history for your credit future, as long as you pay off your bill as soon as you get it.
Fees
Another thing to compare between credit cards is the fee structure. Some cards have an annual fee, while others don't. Even beyond the annual fee, different cards may have different fee structures.
For example, most cards have a cash advance fee to access cash, while the Prosper® Card1 doesn't. Others may have higher or lower late fees.
Benefits
Some cards offer rewards points, frequent flyer miles, or cash back for using the card. You get free rewards for spending money you were already planning to spend, so long as you're diligent with payments.
While rewards cards are more likely to have an annual fee than other types of cards, it may be worth it depending on the fee and the benefits you're likely to receive.
Your First Credit Card
One great option to start off your credit journey is the Prosper® Card. It's a great card to help you establish good financial habits.
Prosper offers AutoPay and waives the $39 annual fee for the first year if you opt-in to AutoPay before your first bill2. The Prosper® Card also offers no security deposit and no ATM cash withdrawal fees1.
You're eligible for a starting credit limit from $500-$3000, with automatic credit limit reviews based on your credit behavior3. Your Prosper® Card also includes access to free financial education materials to help you seek financial empowerment.
The Prosper® Card is a great option, but we recommend doing your research and making a selection based on what works for your unique circumstances.
Financial empowerment starts with knowledge and research, and we want you to start off strong on your financial journey. Responsible use of your first credit card can give you the boost you need to achieve your goals, and as always, we'll be here to help!

Read more
The Prosper® Credit Card is an unsecured credit card issued by Coastal Community Bank, member FDIC, pursuant to license by MasterCard® International.
1 Third party atm fees may apply.
2 The annual fee for this credit card is $39, which will be waived for your first year if you are approved and sign up for AutoPay before we issue your first statement. See details for additional information about rates, fees, and other terms.
3Automatic credit line increases: Your account will be reviewed automatically for credit line adjustments. 
Your credit line can increase or decrease, or not change at all, depending on your payment history and eligibility.
The Prosper® Card cannot be used for balance transfers.
The Prosper® Card may only be used for personal use and cannot be used for business purposes.