Since the federal government reacted to the arrival of COVID in early 2020 and to the rampant unemployment and financial strife that followed, more than 20 million people with student loan debt have been allowed to pause their payments. President Biden even extended this postponement of payments through September 2021, offering an elongated breather to borrowers. Sadly for borrowers, this economic olive branch does not include private student loan relief.
With a 102% rise in private student loan debt over the past decade, CNBC reports that outstanding student loans account for over $1.7 Trillion of the total consumer debt in the U.S — second only to home mortgages.
You might think then that some consideration has been or will be given to those in need of private student loan relief. At present, this does not appear to be the case.
Will There Be Private Student Loan Relief?
Throughout all of the stimulus and economic relief discussions, private student loan relief has received merely one mention in Washington, D.C., chambers. It came about during an October 1, 2020, update of the relief proposals for the HEROES Act. That measure would have paid off $10,000 of loan debt for economically distressed private student loan borrowers, but the proposal failed to register with lawmakers and therefore didn't become a part of the December 2020 relief package. Private student loan relief is also a noticeable absentee in President Biden's most recent proposal for tackling and possibly canceling student loan debt in 2021.
5 Ways to Manage Student Loan Debt During COVID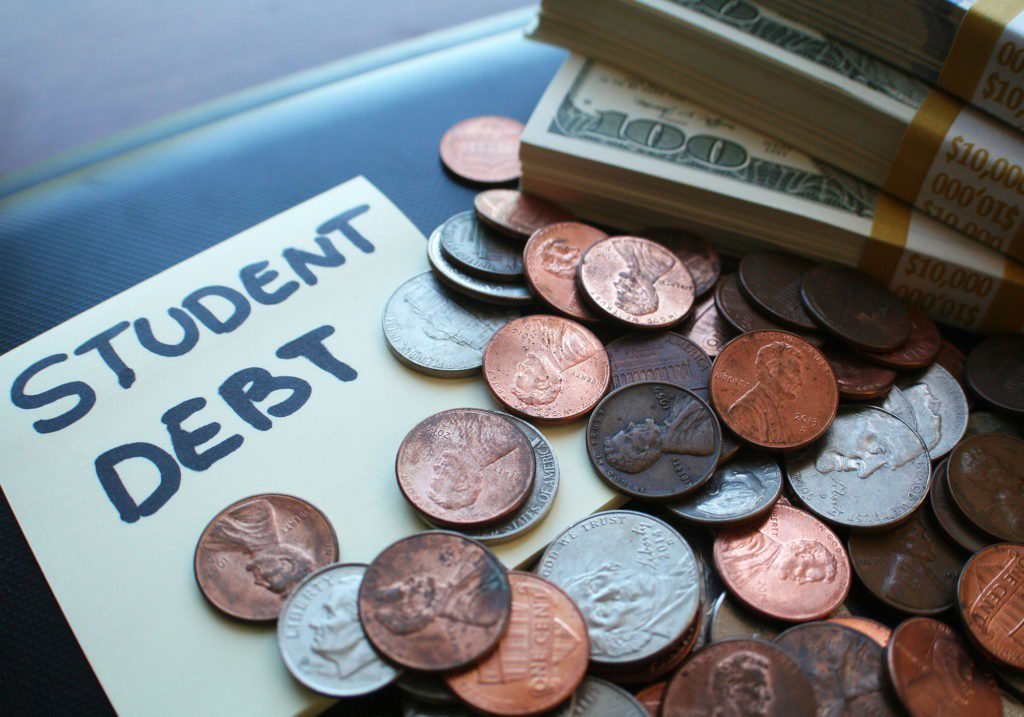 While those carrying federal student loans have been granted more relief in 2021, Betsy Mayotte, president and founder of The Institute of Student Loan Advisors, says borrowers with private student loan debt shouldn't expect any relief from Congress. In lieu of assistance from the federal government, it will be up to individuals to manage their student loan debt.
Student loan debt doesn't just impact recent college graduates, either. There are millions of people well into their 30s and 40s who are still paying off their student loans. Additionally, some adults and parents who have cosigned for these private student loans are stressed about the ability to make payments during the pandemic because they now may be responsible should their kids not be able to keep up with their loans. There are, however, some financial tools that may help.
1. Contact Your Lenders
The first step in managing your private student loan debt during the pandemic should be to reach out to your lenders. As these are unprecedented times, some are offering relief programs for borrowers. According to the APA, "The most common relief is called forbearance, meaning your private student loan payments would be postponed for a short period of time – typically three months for COVID-19 relief."
2. Redo Your Budget
By redoing your budget, you may be able to find more money each month to help you make your student loan payments. As you dig into where you money goes each month, ask yourself these questions:
Am I spending less on gas/commuting because of COVID?
Can I pull back some of my non-grocery food spending?
With all the streaming services, can I cut cable?
Do I use/need all these streaming subscriptions right now?
Even if temporarily, you may be able to tighten the belt on your spending to free up money in your budget to cover your monthly debt obligations.
3. Open a HELOC
If, in the years since graduation, you have bought a home, you may have equity that can help you manage your private student loan debt during these difficult times. A HELOC is a line of credit drawn from the equity you have built up in your home from making principal payments and/or from an increase in the value of your property.
It is important to understand that a home equity line of credit is revolving debt, much like a credit card, with more money becoming available as you make your payments, only with your home as collateral. Additionally, using a HELOC to pay off private student loans means that you'll be moving from unsecured debt to debt secured by your home. With that comes the risk of losing your home if you default on your home equity line of credit.
Thanks to low, interest-only payments during the home equity line of credit draw period, a HELOC could offer you some private student loan relief. Learn more about how a HELOC works and how to access your home's equity during COVID.
4. Refinance Your Mortgage
Mortgage interest rates are still at or near all-time lows. By refinancing, you may be able to save hundreds of dollars each month — money that could go toward your or your child's private student loan payments. A refinance is when your current mortgage is paid off with a new mortgage, at a new term and/or at a new interest rate. Low rates like we are seeing right now usually represent a good time to think about refinancing your mortgage. Because not only could you decrease your monthly payment and the total interest you'll pay over the life of the loan, you may also be able to move from a 30-year mortgage to a 15-year, allowing you to achieve outright home ownership at a younger age.
5. Debt Consolidation Personal Loan
With different lenders often responsible for loan programs every semester, it's possible that you're juggling monthly payments on several student loans, both private and federal. Consolidating your highest-interest private student loans into one new personal loan may be a way to manage your student loan debt during COVID. A debt consolidation personal loan can pay off all of your high-interest private student debt, leaving you with just one loan and one monthly loan payment. If this sounds like a more manageable way to pay down your private student loan debt, debt consolidation may be the right option for you.
Read more:
---
HELOCs through Prosper may not be available in all states. Please carefully review your HELOC credit agreement for more information.
All HELOCs are underwritten and issued by Spring EQ, LLC, an Equal Housing Lender. NMLS #1464945.
Prosper Marketplace NMLS
Prosper Marketplace, Inc. NMLS# 111473
Licensing & Disclosures | NMLS Consumer Access
Prosper Funding LLC
221 Main Street, Suite 300 | San Francisco, CA 94105
6860 North Dallas Parkway, Suite 200 | Plano, TX 75024
© 2005-2021 Prosper Funding LLC. All rights reserved.
---