We wanted to get a good look at Credit Card Debt in America. How much would you be willing to give up for instant credit card relief? Not dining out for 10 years? 20 years of gym membership? Never getting to see the final Game of Thrones episode? Listening to one band for the rest of your life? A survey commissioned by Prosper Marketplace reveals some interesting findings about how people are planning to tackle debt and what sacrifices they're willing to make to get out of the red.
The survey also found that credit card debt is not just a generational problem. Millennials, baby boomers and seniors alike are dealing with credit card debt. In fact, the average American household carries $15,863 of total credit card debt. Increasingly, however, people are realizing there are options for paying off debt and getting their financial life back on track so they can get back to doing things that give them pleasure. One of the options that people are using to consolidate debt is alternative lending services such as loans through Prosper.
For example, Sarah Thomas, a single mother who pursued a Master's in nursing, consolidated her financial debt and got her finances under control with lower interest and better terms. While Sarah is still paying off debt, a loan through Prosper gave her access to a loan that was fixed-term and fixed-rate, so she has an easy, streamlined way to deal with her debt and a clear path to relief.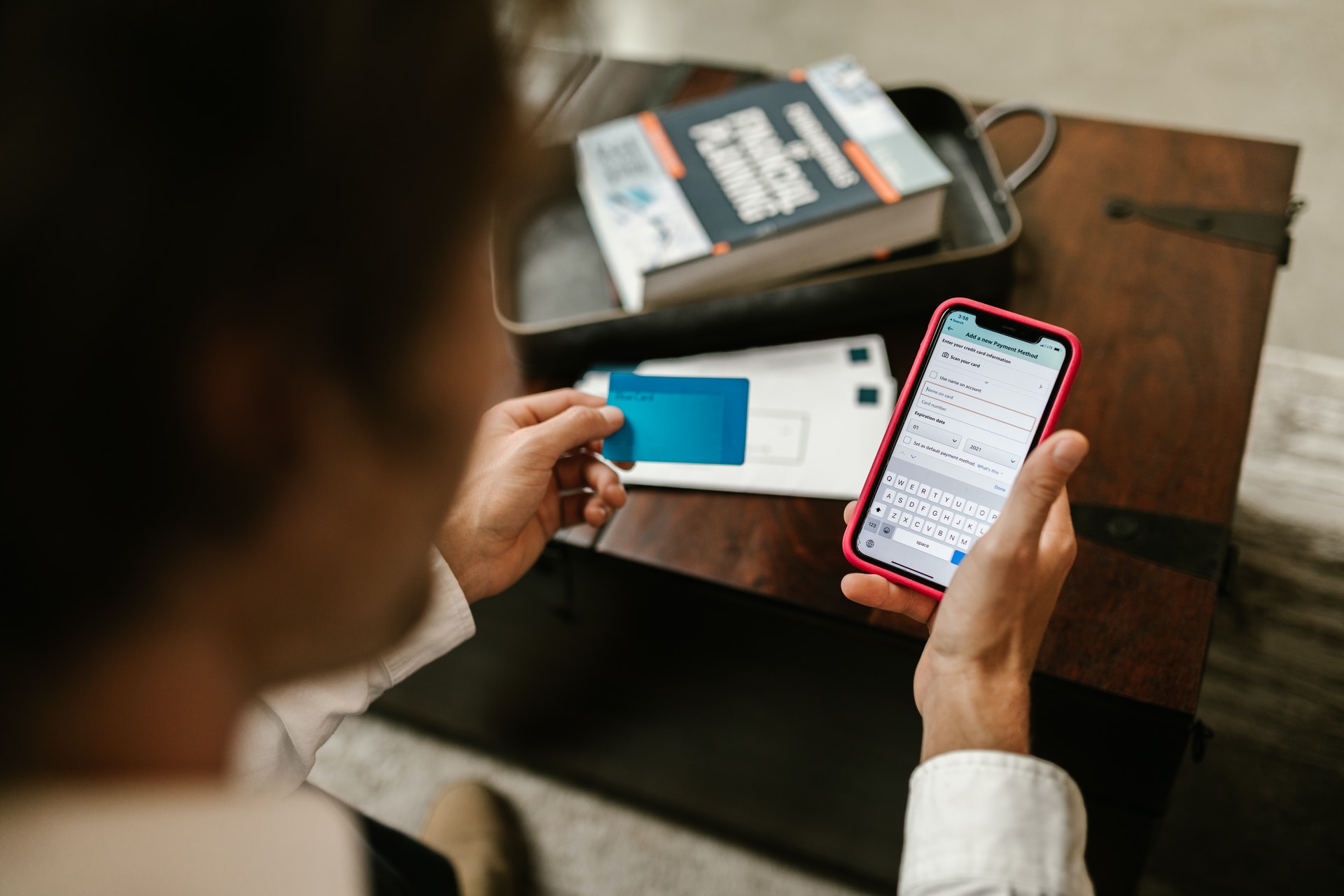 Some of the other key findings in the Credit Card Debt in America survey include:
Credit card debt is a major stress factor, with 19.5 percent saying it's higher stress than their jobs and 9.9 percent of people saying it's more stressful than personal health issues.
13.7 percent of people have no plan for tackling credit card debt.
Only about half of credit card holders pay their balance in full.
More than one in ten people would be homeless for one year if it meant they could immediately get out of their current debt.
30.2 percent of people said they would never get a credit card again if it meant they could be absolved of credit card debt. And almost 5 percent would end their current romantic relationship.
Better yet, 15.3 percent would get no closure on "Game of Thrones" if their credit card debt vanished.
Marketplace lending is opening the doors for more people to consolidate debt and pay it off faster. Read on below for a more comprehensive overview of our findings.
All loans through Prosper made by FDIC-member banks.
---
Debt Consolidation in the United States
OVERVIEW
From July 10-13, 2015 Prosper Marketplace commissioned a Google survey that polled 517 adult Americans about their credit card debt to get some context around the existing statistics. The survey looked at how much debt people have, how they plan to tackle it, and how far they would go to rid themselves of it.
CONTEXT
The average American has four credit cards, and the average American household carries $15,706 of total credit card debt. Given that large amount, more consumers are looking to alternative lending channels for debt consolidation. Prosper Marketplace wanted to better understand how people are managing that debt, from a tactical and emotional perspective.
Key Findings
CREDIT CARD DEBT TRANSCENDS DEMOGRAPHICS
Credit card debt seems to be a universal problem: There was no statistical difference between the responses received from respondents of various age and income groups, showing that earning levels have minimal bearing on this problem.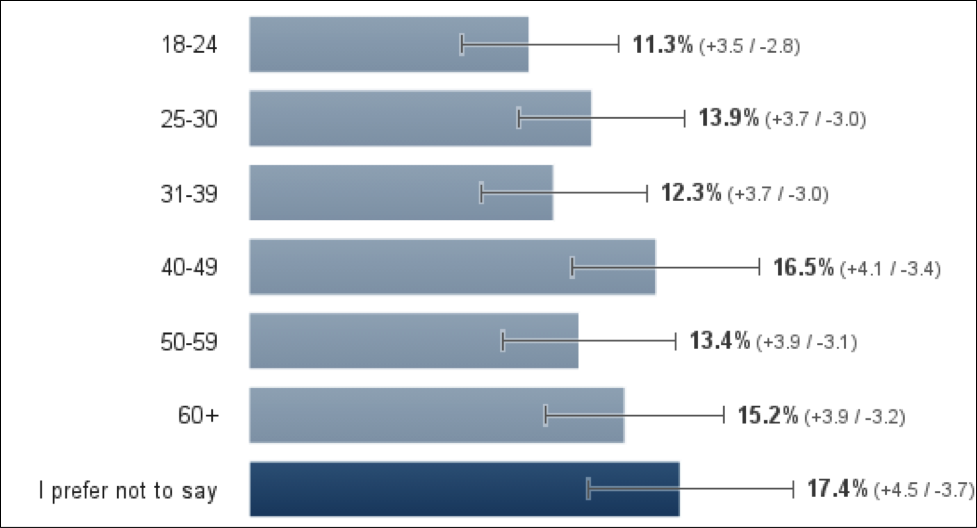 Age groups of respondents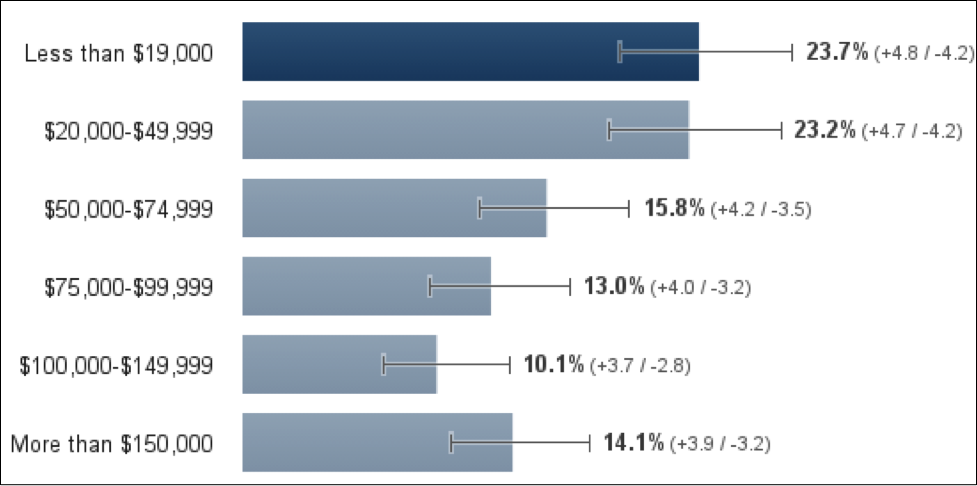 Income groups of respondents
ONLY ABOUT HALF OF CREDIT CARD HOLDERS PAY THEIR BALANCE IN FULL
When it comes to how much of their balances people pay and how they do it, 15.9 percent pay the minimum balance owed on their credit card, while 17.3 percent pay whatever they can afford that month. 37.4 percent of those who have a credit card pay the statement balance or current balance month to month, showing that the majority of respondents are carrying at least some of their balance over to the next month on a regular basis.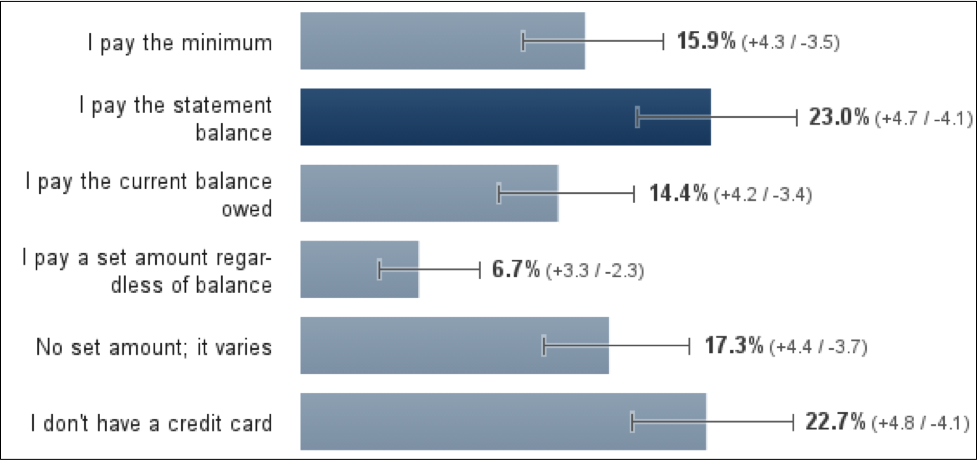 How people handle their credit card payments
MORE PEOPLE ARE FAMILIAR WITH INTEREST RATES THAN ANNUAL FEES
A majority of the respondents (48 percent) knew what their credit card(s) interest rate(s) was, but only about 14 percent knew what their annual fees where.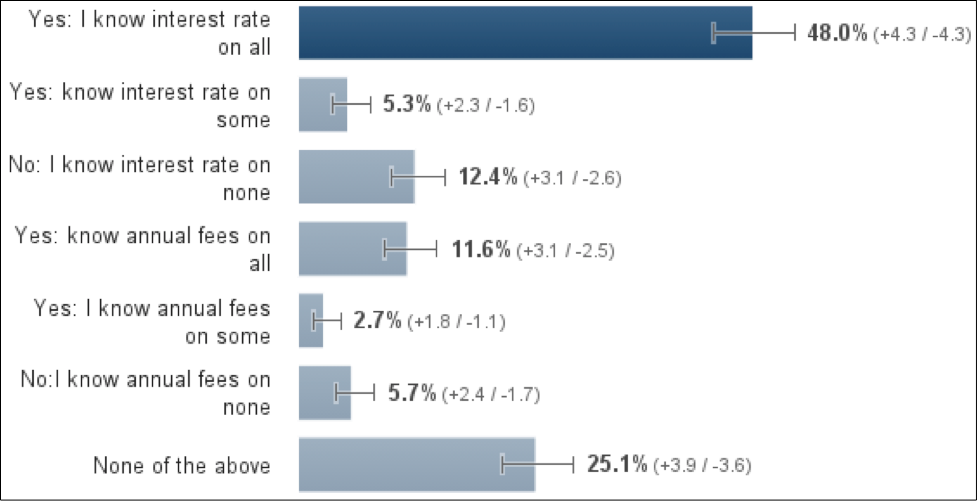 Familiarity with credit card interest rates and annual fees
MOST PEOPLE WANT TO PAY OFF EACH CC INDIVIDUALLY
36.5 percent said their plan for getting out of debt was paying off each credit card individually, while 13.7 percent had no plan for tackling their credit card debt. Only 1.8 percent said they would consolidate their debt by transferring balances to another card.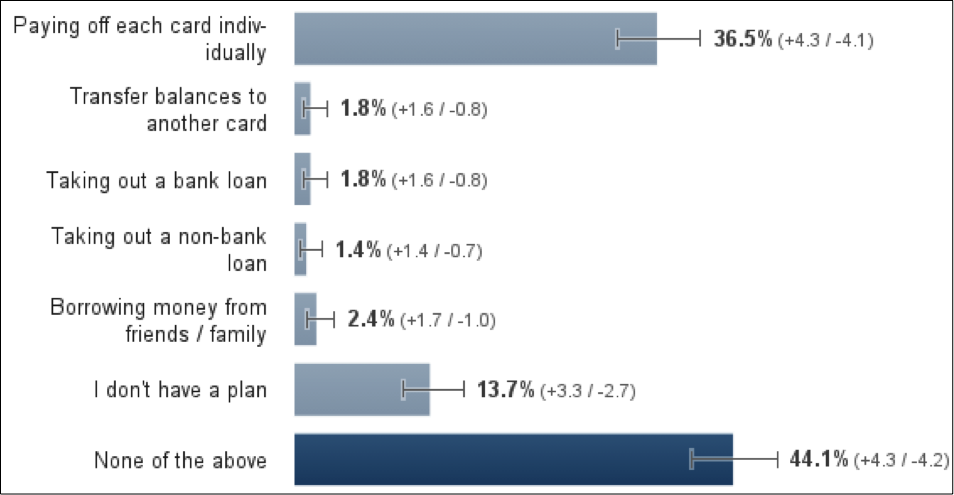 Preferred plan of action for tackling credit card debt
PEOPLE WANT TO BE OUT OF DEBT BUT DON'T WANT TO SACRIFICE LUXURIES
Prosper Marketplace asked people what luxury – of comparable monetary value – they would consider doing or not doing, if it meant they could immediately get out of their current debt. A majority of the respondents (46.3 percent) were not willing to give up any of these luxuries. Highlights include:
Only 27.3 percent people would not take a vacation for the next 5 years
16.1 percent would not go to the gym for 20 years
14.5 percent would not dine out for the next 10 years
Note: These figures are based on the average amount spent annually by Americans on each category (housing costs, insurance expenditures, amount spent on vacations, etc.), and extrapolated to equal $15,706 (source: Federal Reserve). They are as follows:
Housing: $1,200 monthly (CBS MoneyWatch)
Insurance: $6,025 annually (Kaiser Family Foundation)
Vacation: $1,200 annually (American Express)
Dining Out: $1,500 annually (Forbes)
Gym Membership: $660 annually (U.S. News and World Report)
Alcohol Expenditure: $400 annually (Bureau of Labor and Statistics)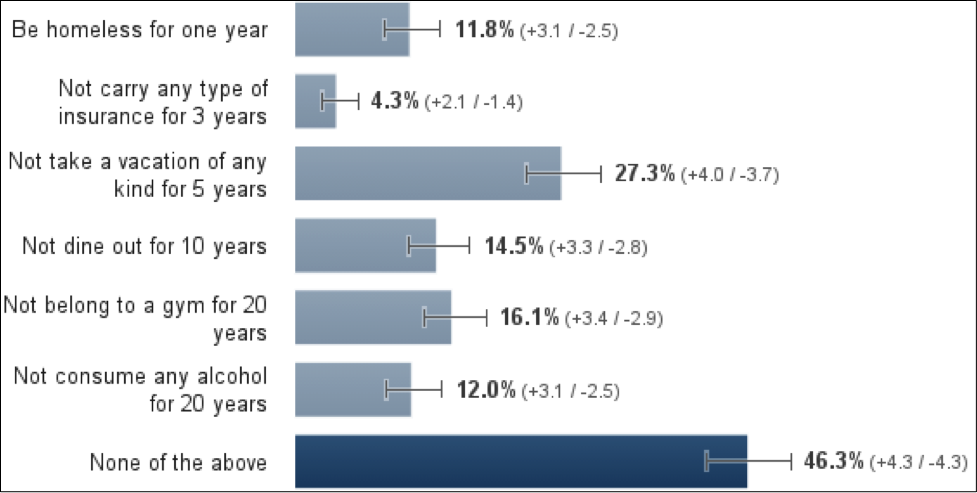 Luxuries people are willing to give up to get out of current debt
Prosper Marketplace also asked people if they would be willing to do any of the following activities if it meant they could be absolved of credit card debt immediately. 30.2 percent said they would never get a credit card again, yet 70 percent of people in debt would still want the purchasing power of a credit card. 8.3 percent said they would be willing to listen exclusively to Nickelback for the rest of their lives, while only 2.9 percent said they would sacrifice a limb, if their debt vanished.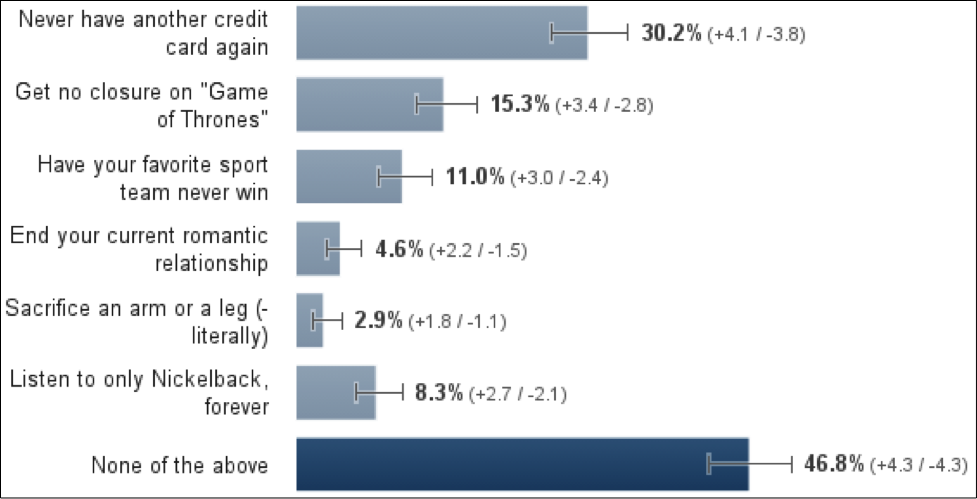 Activities people would do if their credit card debt vanished
DEBT IS A MAJOR STRESS FACTOR
Credit card debt tops the list of stress factors in many respondents' lives. 19.5 percent said credit card debt was more stressful than their jobs, while almost 10 percent said it was more stressful than the death of a pet or personal health issues.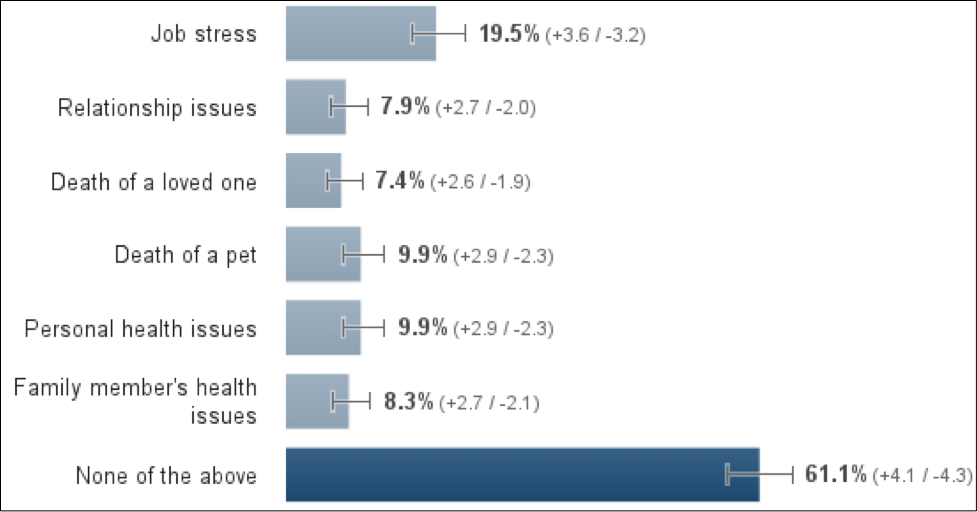 Level of credit card stress compared to other stress factors
Read more