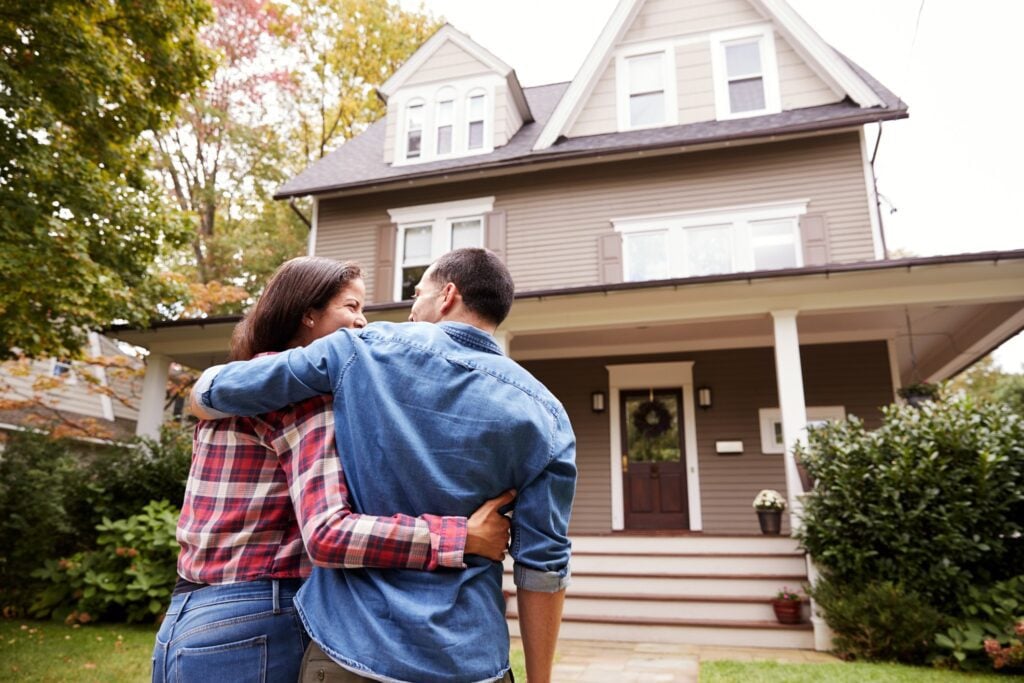 When your home has equity—meaning it's worth more than you owe on your mortgage—you can potentially qualify for a home equity line of credit (HELOC). But how does a HELOC affect your credit? Like any financing, HELOCs can have a major impact on your score, and when used wisely they can be a great tool for gaining points.
What is a HELOC?
HELOCs saw a increase in popularity in 2022, but even if you've had a family member or a neighbor use one of these financial products, you might still be wondering, "How does a HELOC work?" 
A HELOC is essentially a line of credit that you qualify for based on your home's equity. Similar to a credit card, a HELOC allows you to spend up to a set limit and then pay off the balance. But HELOCs also have substantial differences from credit cards.

For one, HELOCs have draw periods, meaning there's a set time frame where you can draw money from the account, typically 10 years. After the draw period, you'll pay back the balance in monthly installments. It's also common for HELOCs to have variable interest rates, which means your minimum monthly payment can fluctuate.
Other HELOC features to be aware of:
Interest-only payments may be required during the draw period
The draw period is followed by a repayment phase, often 10 to 20 years
Your home is collateral, so missing a payment can put you at risk of foreclosure
Each lender has their own HELOC credit score requirements and eligibility
HELOC vs. HELoan: What's the difference?
Another way to tap into your home's equity is through a home equity loan, also known as a HELoan.
HELoans are like traditional loans or mortgages: you get a lump sum of cash up-front and then pay it back in monthly increments, usually at a fixed interest rate.
If you need to borrow a set dollar amount for an upcoming expense, a HELoan might be a more affordable choice than a HELOC, since the interest won't fluctuate and you'll avoid interest-only payments. But if you need money for an open-ended project with ongoing costs, like remodeling your home, a HELOC could be the better option.
How applying and using a HELOC affects your credit
Opening a HELOC can impact your credit score in a few different ways. Here's what you can expect to happen to your credit score when you take on a HELOC:
Credit applications: Every time you apply for new financing, whether it's a credit card, a student loan, a HELOC or otherwise, the resulting "hard inquiry" to your credit can potentially cost you up to roughly five points from your credit scores. You'll gain those points back over the course of a year.
More available credit: If your HELOC application is approved, you'll have more credit available to you. Having higher credit limits (while keeping low balances) helps reduce your debt-to-credit ratio (DTC) and can improve your credit score. By contrast, your credit score will decrease as your HELOC balance increases or when the account closes.
Shorter length of credit history: A small part of your credit score (15%) is based on the average age of your debt accounts. The longer you've had them open, the better, so opening a new account can cause a loss of points in this area. You can regain those points by keeping the account open over a long period of time.
Payment history: Making on-time debt payments is the single most important factor in determining your credit score. If you miss a HELOC payment by 30 days or more, it could cause a substantial loss of points. On the other hand, staying current on your payments can help you make small but long-lasting improvements to your score.
Tips to minimize the negative impact on your credit
Any time you open a new credit card or a loan, you risk damaging your credit. Fortunately, there are ways to minimize the loss of points up-front and long-term. Here's what you can do:
Use the rate-shopping window
Shopping around for a good rate can decimate your credit score if you lose points for every loan application. But if timed correctly, you can limit the loss of points while you shop around for your HELOC. Here's what you need to know:
Multiple applications for a HELOC only count as one if they're all made within a 14-day period, also known as the "rate-shopping" window.
New applications don't impact your credit score for 30 days.
Stick to soft inquiries
Another way to limit the loss of points is to look for lenders who use a "soft inquiry" when preapproving you. Some lenders and loan marketplaces like Prosper conduct soft inquiries into your credit when you apply for a loan, which, unlike hard inquiries, have no impact on your score.
Limit your HELOC spending
Racking up debt not only puts you at risk of falling behind on bill payments, but it also hurts your credit score. One of the best ways to keep your credit score up is to keep your HELOC balance as low as possible.
If you need to make a big purchase, whether through a HELOC draw or otherwise, make sure you have a plan for how you'll pay the debt back.
Never miss a monthly payment
The fastest way to damage your credit score is to fall behind on a debt payment by 30 days or more.
Just one missed payment can cost you hundreds of points, and your credit may need years to recover from the loss. Protect your credit score by setting up calendar reminders for your HELOC payments and by enrolling in AutoPay.
Getting the most out of your HELOC
Anyone who takes out a HELOC will notice a change in their credit score. You may see a loss of points initially, but your score can recover and grow if you use the account responsibly.
With good credit habits, like making your payments on time and keeping your balance to a minimum, your HELOC can be a tool for helping improve your credit score.

---
Written by Sarah Brady
Sarah Brady is a financial writer and speaker who's written for Forbes Advisor, Investopedia, Experian and more. She is also a former Housing Counselor (HUD) and Certified Credit Counselor (NFCC).
---
Read more:
---
IMPORTANT INFORMATION ABOUT PROCEDURES FOR OPENING A NEW ACCOUNT.
To help the government fight the funding of terrorism and money laundering activities, Federal law requires all financial institutions to obtain, verify, and record information that identifies each person who opens an account.
What this means for you: When you open an account, we will ask for your name, address, date of birth, and other information that will allow us to identify you. We may also ask to see your driver's license or other identifying documents.
Eligibility for a home equity loan or HELOC up to $500,000 depends on the information provided in the home equity application.  Loans above $250,000 require an in-home appraisal and title insurance.  For HELOCs borrowers must take an initial draw of $50,000 at closing. Subsequent HELOC draws are prohibited during the first 90 days following closing. After the first 90 days following closing, subsequent HELOC draws must be $1,000 or more (not applicable in Texas).
The time it takes to get cash is measured from the time the Lending Partner receives all documents requested from the applicant and assumes the applicant's stated income, property and title information provided in the loan application matches the requested documents and any supporting information. Spring EQ borrowers get their cash on average in 26 days. The time period calculation to get cash is based on the first 6 months of 2022 loan fundings, assumes the funds are wired, excludes weekends, and excludes the government-mandated disclosure waiting period. The amount of time it takes to get cash will vary depending on the applicant's respective financial circumstances and the Lending Partner's current volume of applications.
Spring EQ cannot use a borrower's home equity funds to pay (in part or in full) Spring EQ non-homestead debt at account opening.  For HELOCs in Texas, the minimum draw amount is $4,000. To access HELOC funds, borrower must request convenience checks.
Interest rates may be adjusted based on factors related to the applicant's credit profile, income and debt ratios, the presence of existing liens against and the location of the subject property, the occupancy status of the subject property, as well as the initial draw amount taken at the time of closing. Speak to a Prosper Agent for details.
Qualified applicants may borrow up to 95% of their primary home's value (not applicable in Texas) and up to 90% of the value of a second home. Home equity loan applicants may borrow up to 85% of the value of an investment property (not applicable for HELOCs).
All home equity products are underwritten and issued by Spring EQ, LLC, an Equal Housing Lender. NMLS #1464945.
Prosper Marketplace NMLS Prosper Marketplace, Inc. NMLS# 111473
Licensing & Disclosures | NMLS Consumer Access  
Prosper Funding LLC
221 Main Street, Suite 300 | San Francisco, CA 94105
6860 North Dallas Parkway, Suite 200 | Plano, TX 75024
© 2005-2022 Prosper Funding LLC. All rights reserved.