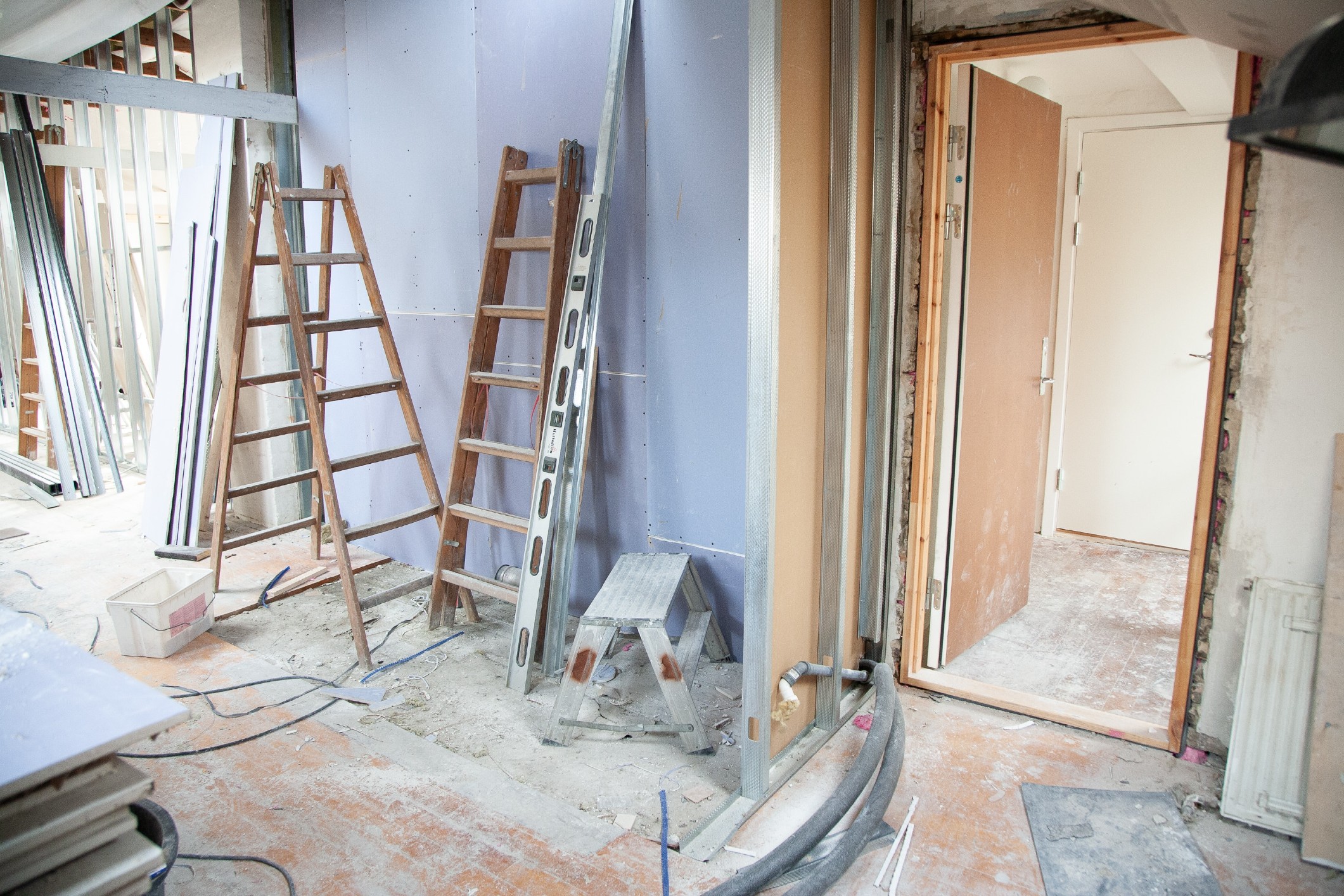 When it comes to home improvement projects, most homeowners have a long list of ideas and a limited budget to dedicate to upgrades. The right project could pay off in the form of increased home equity. But not all projects offer a good return on your investment. So, how can you pick the right home renovation project?
Choosing an ROI-boosting option comes down to doing your research. The reality is that your dream project might not be an ideal move to woo potential buyers.
When it comes time to sell the home, you'll be glad you did your research. Not only will the best projects recoup some of your costs, but targeted upgrades can help your home stand out in a crowded market. With existing home sales declining, the ability to stand out could mean the difference between making the sale or sitting on the market.
Let's explore some of the top improvement projects that can really pay off in the form of a higher home value.
Wood flooring
If you have worn-out hardwood floors, a refinish can transform the space. And it doesn't hurt that you'll more than recoup the project's cost. According to the National Association of Realtors (NARs) 2022 Remodeling Impact Report, homeowners recover 147% of the value of the project.
But not everyone starts out with hardwood floors of any kind. For homeowners looking to install new wood flooring, the effort can pay off significantly. Based on the NAR's report, the project led to a 118% cost recovery.
Insulation upgrade
An insulation upgrade involves making your home more energy efficient. With rising energy costs, future homeowners will likely consider up-to-date insulation a useful feature.
The estimated cost to upgrade insulation is $2,500. But the NAR's report estimates a 100% cost recovery. When weighing out potential home improvement projects, this option packs a punch for your home's resale value.
Converting the basement to living space
Extra living space can go a long way toward making buyers love your home in the future. But even before you put up the for sale sign, your family might greatly appreciate any new living space that can be squeezed out of your home.
In lieu of an addition, converting a basement or attic offers an easier way to access more living space. Either option comes with a relatively hefty price tag. But when it's time to sell, you can often recoup most of these project costs.
Opting for a basement conversion typically offers a higher ROI than an attic conversion. The NAR's report found that homeowners recoup 86% of their remodeling costs, which was an estimated $57,500.
At $100,000, the cost estimate to convert an attic into a living area is almost double that of remodeling a basement. Although the costs are higher, the recouped percentage is lower, with only 75% of the value recovered from the project.
Closet transformation
A closet renovation could transform your storage needs. And for many buyers, ample storage options are a positive feature.
Homeowners who opt for a closet renovation tend to recover 83% of their costs in the form of home value. However, renovating your closet isn't necessarily affordable. According to the NAR's report, completing this project can cost around $6,000.
Kitchen remodel
When you think of a home renovation, your mind might jump straight to the kitchen. After all, an updated kitchen is often the centerpiece of picture-perfect homes.
NARs estimates homeowners recoup 67% of their costs of a kitchen upgrade. But diving into this option isn't for the faint-hearted. The NARs report also calculates the remodel cost to be $45,000. That's a significant chunk of change that makes a kitchen renovation cost-prohibitive to many.
Bathroom revamp
Like a new kitchen, revamping your bathroom can appeal to potential buyers. But the appeal only goes so far. According to the NARs report, homeowners recoup 71% of their bathroom remodeling costs. With a cost estimate of $35,000 for a bathroom remodel, that leads homeowners to a $25,000 value boost.
Roof replacement
Interior home improvement projects aren't the only way to boost your home's value. New roofing is one exterior project that allows homeowners to recoup 100% of their costs. Although new roofing comes with a hefty cost estimate of $12,000, you'll see a comparable bump in value.
How to pay for a home renovation
An optimized approach to home renovations can help you pick financially sound options. But as you narrow the list of home improvement ideas to find the best ROI on home improvements, it's also critical to decide how to pay for the renovation.
You have several funding options. Home improvement loans offer a way to get the funds you need without using your home as collateral. However, homeowners with enough equity might opt for a home equity line of credit or home equity loan.  
The right option varies based on your financial situation. For example, a homeowner with great credit and minimal equity might prefer a home improvement loan. Take some time to weigh your options. If the numbers make sense, dive into the home improvement project you've been waiting for.
---
Written by Sarah Sharkey
Sarah Sharkey is a personal finance writer who enjoys diving into the details to help readers make savvy financial decisions. She lives in Florida with her husband and dogs. When she's not writing, she's outside exploring the coast. You can connect with her on her blog Adventurous Adulting.
---
Read more:
Eligibility for personal loans up to $50,000 depends on the information provided by the applicant in the application form. Eligibility for personal loans is not guaranteed, and requires that a sufficient number of investors commit funds to your account and that you meet credit and other conditions. Refer to Borrower Registration Agreement for details and all terms and conditions. All personal loans made by WebBank.
Eligibility for a home equity loan or HELOC up to the maximum amount shown depends on the information provided in the home equity application. Depending on the lender, loans above $250,000 may require an in-home appraisal and title insurance. Depending on the lender, HELOC borrowers must take an initial draw of $50,000 at closing, except in Texas, where the minimum initial draw at closing is $60,000; subsequent HELOC draws are prohibited during the first 90 days following closing; after the first 90 days following closing, subsequent HELOC draws must be $1,000, or more, except in Texas, where the minimum subsequent draw amount is $4,000.
The amount of time it takes to get funds varies. It is measured from the time the lender receives all documents requested from the applicant and depends on the time it takes to verify information provided in the application. The time period calculation to get funds is based on the first 4 months of 2023 loan fundings, assumes the funds are wired, excludes weekends, and excludes the government-mandated disclosure waiting period.
For Texas home equity products through Prosper, funds cannot be used to pay (in part or in full) non-homestead debt at account opening.
Depending on the lender, qualified home equity applicants may borrow up to 80% – 95% of their primary home's value and up to 80% – 90% of the value of a second home. In Texas, qualified applicants may borrow up to 80% of their home's value. HELoan applicants may borrow up to 85% of the value of an investment property (not available for HELOCs).
Home equity products through Prosper may not be available in all states.
All home equity products are underwritten and issued by Prosper's Lending Partners. Please see your agreement for details.
Prosper Marketplace, Inc. NMLS# 111473
Licensing & Disclosures | NMLS Consumer Access