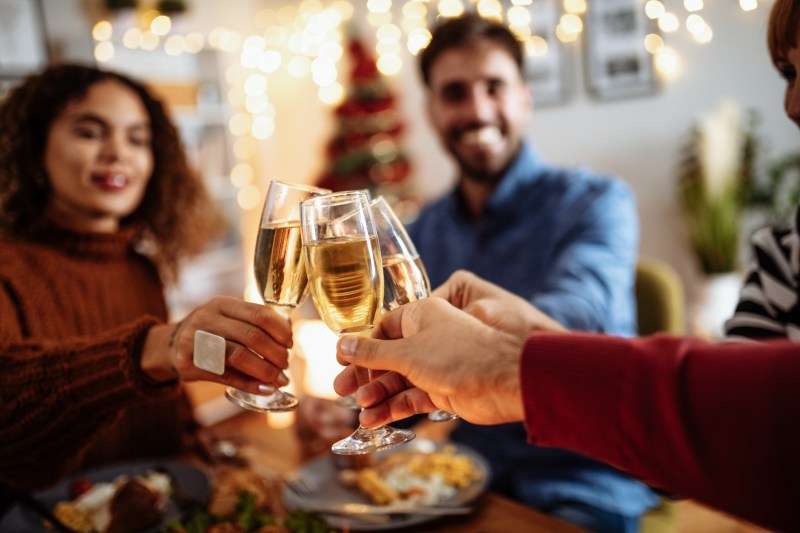 The holiday season is a time for coming together with family and friends to celebrate, but hosting a gathering can quickly add up in terms of expenses.
From decorations to food, drinks, and entertainment, it's easy to find yourself overspending during the most wonderful time of the year.
However, with a little planning and creativity, you can host a memorable holiday gathering without breaking the bank. Here are five tips to help you host a fantastic holiday get-together on a budget. 
1. Plan ahead
One of the most effective ways to keep costs in check is to plan your holiday gathering well in advance. Start by setting a budget for your event, which should include everything from food and drinks to decorations and entertainment.
By having a clear budget in mind, you can make informed decisions about where to allocate your funds.
Planning ahead also allows you to take advantage of sales and discounts on decorations and other party essentials.
2. Embrace DIY decorations
Decorating for the holidays can become a major expense, but it doesn't have to be. DIY (Do-it-yourself) decorations can be both cost-effective and add a personal touch to your gathering.
Get creative with homemade centerpieces, ornaments, and table settings. You can also involve your friends and family in a crafting session to make the process more enjoyable and meaningful.
Use items like pinecones, twinkle lights, and old holiday cards to create festive decor that won't break the bank.
3. Keep it simple
Instead of serving a fancy meal, consider hosting a potluck party or buffet-style dinner where each guest brings a dish to share.
This will not only help you save money but also create a vibrant and interactive atmosphere. 
When sending out invitations, you can suggest a theme or dish to bring, ensuring a diverse and well-rounded menu.
4. Be mindful of drink choices
When it comes to beverages, there are a few ways you can save money and ensure everyone has their favorite drink.
You can create a special holiday punch that's unique to your gathering, or you can suggest that your guests bring their own beverages (BYOB).
This will not only save you money but also ensure that everyone has their preferred drink.
5. Provide entertainment
Entertaining your guests doesn't have to cost a fortune. Consider low-cost or free activities like playing board games, hosting a movie night, or organizing a white elephant gift exchange.
If you have a musically inclined friend or family member, invite them to bring their instrument and lead a holiday sing-along.
These activities can add a fun and personal touch to your gathering without emptying your wallet.
Affordable celebrations, unforgettable memories
Hosting a holiday get-together on a budget doesn't mean you have to sacrifice the quality of your event.
Remember, the holidays are about coming together and making lasting memories with loved ones.
By following these tips, you can host a holiday gathering that's both memorable and affordable without overspending. 
---
Written by Rose Wheeler
Rose Wheeler manages the writing team and creates content strategy for Prosper. With over 15 years of journalism experience, she has covered business and finance topics, including consumer finance, banking, credit, and money management. Rose was previously Editor-in-Chief for Wealth Hub at Future and Deputy Editor at Forbes Advisor. In her free time, she enjoys exploring new places, reading, and playing video games.
---
Read more: