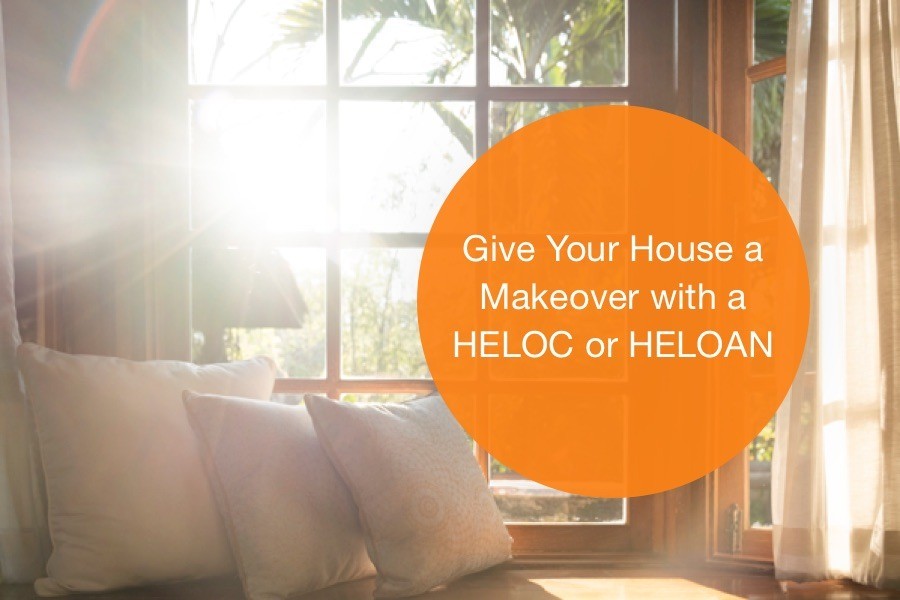 Most of us, at one point or another, have imagined giving your house a makeover, updating our kitchen or bathroom but might not have recognized that we had the opportunity to realize that "pipe dream" with a home equity loan or line of credit. Here's the deal: If you're like most U.S. homeowners, you could be sitting on a sizable nest-egg without even knowing it.
In fact, the average American with a mortgage now has more than $100,000 in home equity. (Home equity is the difference between your home's fair market value and whatever you still owe on your mortgage.)
Unless I'm selling my house, why does home equity matter?
Home equity is more than theoretical wealth hidden somewhere in your basement. It has real value and real-world applications. In particular, millions of Americans are choosing to tap their equity to finance home improvements. Meaning, they're literally charging new appliances and granite countertops to the house.
Why should you use home equity? (Spoiler alert: this is the fun part.)
The beauty of home equity for home improvements is the double returns. Using home equity to improve your house not only helps you create a more wonderful place to live your life, it can also help build your home's value. Just imagine soaking in your brand-new bathtub and knowing that you may have greatly increased the value of the home you love.
Ok, you've got your minimalist modern Pinterest boards ready, so how can you tap into your home equity?
Your two best options for converting home equity into cash to pay for home improvements are a home equity line of credit (HELOC) or a home equity loan (HE-LOAN).
A HELOC lets you use the home equity you've built to access a new line of credit that could have a significantly higher line amount and lower rates than credit cards. With a HELOC, it's important to understand that in exchange for lower rates and higher line amount, your home acts as collateral for the loan. In exchange, you get a versatile financial tool to invest in home renovations—possibly even building more equity for you in the process.
Since it's rarely clear exactly how much a renovation project will cost until it's underway, it's always a good idea to build financial flexibility into your plans.
Here's where a HELOC can really shine: As a revolving line of credit, it gives you the flexibility to borrow as needed and only pay interest on what you use. But unlike your typical credit cards that max out at roughly $8,000, the average American with a HELOC has access to more than ten times that sum, or $90,000.[1]
HELOC Example
You might open a HELOC with a $75,000 limit, but only end up using $25,000 to update your kitchen with new countertops and appliances. You'll only pay interest on the $25,000 and you'll have some easy-to-access cash on hand (to the tune of $50,000) in case your plumber nicks a pipe or your carpenter discovers termites.
A home equity loan is the other way to tap your equity and invest in home improvements. Like a HELOC, a HE-LOAN correlates to the amount of equity you've built and it's secured by your house. As with a HELOC, the bank weighs your creditworthiness and equity to determine how much you can borrow. But that's effectively where the similarities end, since a HE-LOAN is less like a credit card and more like a second mortgage.
HE-LOAN Example
When you take out a HE-LOAN, you receive a lump sum of cash—meaning you'll need to work out your remodeling costs upfront. And while you can usually get a HE-LOAN at a fixed interest rate, a HELOC typically defaults to a variable rate with fixed-rate options you can exercise.
As with your primary mortgage, you'll need to make monthly payments on your total home equity loan regardless of how much you use for your renovation project. In other words, there's less flexibility with a HE-LOAN, but there's also something to be said for the built-in discipline necessitated by the requirement that you start to pay down interest plus principal without delay.
Here's another way to think about it: With a HE-LOAN you'll know what to expect from your expenses as you budget for the future. With a HELOC, you'll be ready to cover expenses as they arise in your future.
Which is better a HELOC or a home equity loan?
The real question is what's more important to you—control or flexibility? If you want more flexibility to cover construction costs as they arise, then a home equity line of credit could be the better bet. On the other hand, if you're worried that a large line of credit could tempt you to overextend yourself, then a home equity loan could be the better way to keep your spending in check.
And some great news that applies to both options is the potential to lower your tax bill. When used for home renovations, the interest you pay on your HELOC or HE-LOAN may very well be tax-deductible![ (Consult a tax advisor regarding the potential deductibility of interest and charges.)
Show Your House Some Love with a HELOC or HE-LOAN
Strategic money talk aside, the idea behind home improvements is pretty simple: It's the kitchen where you make dinner together. It's the family room where you binge Game of Thrones. It's the porch you sit on during summer nights. Home is where life happens.
Use your home equity to make the improvements you've been wanting, and you could increase the value of the home you love—growing that equity-shaped nest egg bigger still.

Read More from Prosper:
What is a HELOC and How Does it Work?
Five Ways to Pay for a Home Improvement Project
---
[1]According to Experian data from 2016, the average credit card limit in December 2016 was $8,071. The HELOC figure comes from TransUnion Financial Services Industry Insight Report, Fourth Quarter, 2018.