Home renovation can be a challenging process, but financing your renovations doesn't have to be. There are many ways to fund your home improvements, and we're going to compare two of the most common so you can make an informed decision. Here, we're discussing everything you need to know about construction loans vs. HELOCs, including the pros and cons of each – and a few additional options to consider.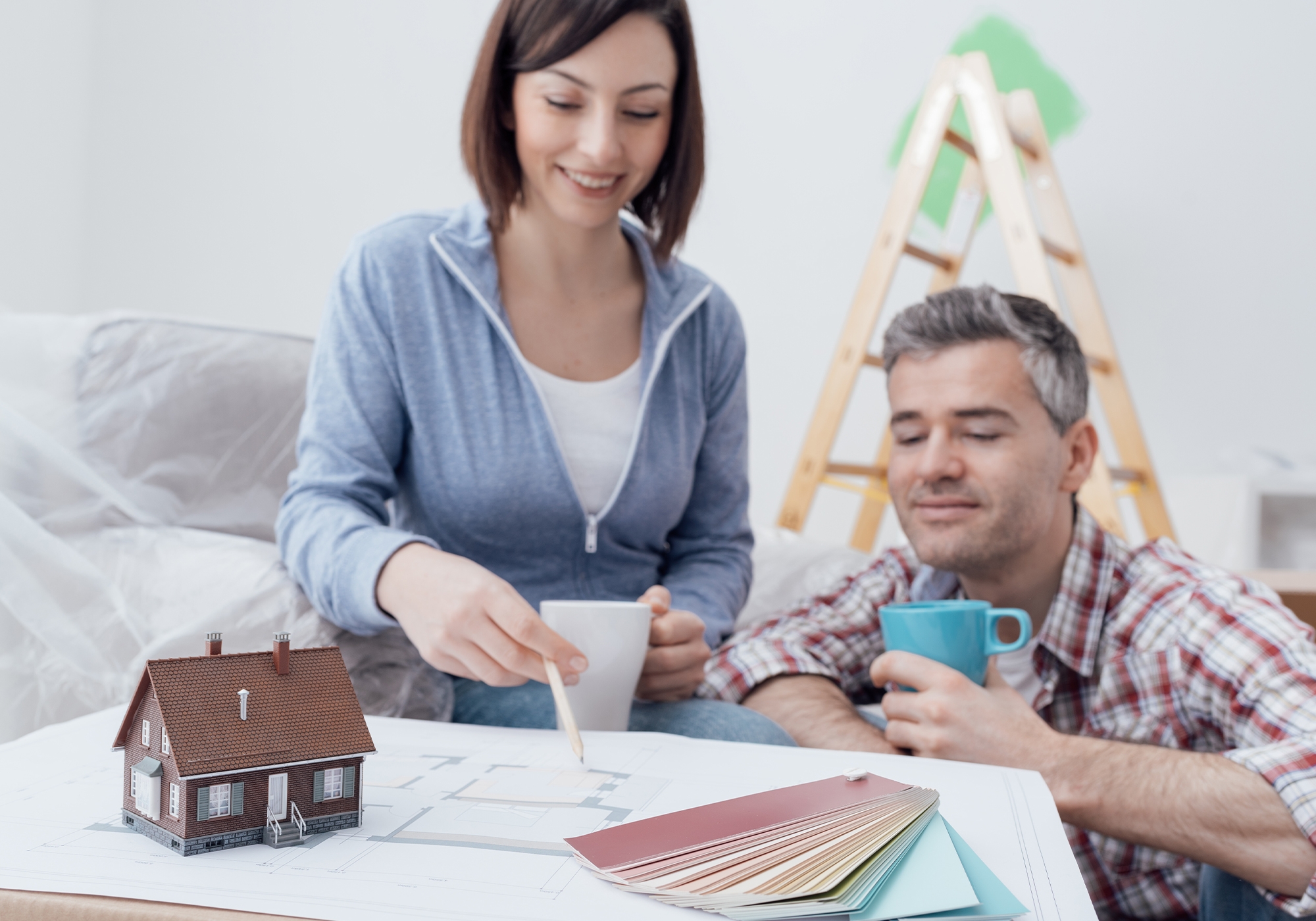 How Do Construction Loans Work?
A construction loan is tied to a specific home construction or improvement project.
With a construction loan, the borrower, lender, and contractor(s) arrange a construction schedule in advance. The lender pays the contractor directly in a series of "draws," or structured payments, at set points through the construction period. These types of loans work best with a major project such as an addition or major renovation.
There are several types of construction loans.
Construction-to-Permanent Loans
A construction-to-permanent loan is used for new construction. The borrower usually makes payments only on the interest during the construction period. Once the construction is complete, the loan automatically converts to a mortgage.
Since there's only one closing, the borrower saves money on closing costs with this type of loan.
Construction-Only Loans
A construction-only loan, also called a standalone construction loan, is another loan type used for new construction, but it's paid off when the construction is complete. The borrower must either pay off the loan with cash or take out a mortgage to pay off the loan. Having separate loans means that savvy borrowers can seek the best terms for each.
The downside is that there will be two closings, each with its own closing costs, so the upfront cost is a little higher than a loan with a single closing.
Renovation Construction Loans
A renovation construction loan is a type of construction loan designated for major renovations. This loan is designed to cover major remodel or renovation projects. A renovation construction loan can either be converted into a mortgage when the project is complete or paid back as a separate loan.
Many lenders will not approve the entire cost of a renovation; the loan will be from 2–8 percent lower than the total renovation cost. When treated as a separate loan, the loan length typically ranges from 3–5 years and may have either a fixed or variable rate.
Getting Your Construction Loan Approved
It's typically more challenging to get a construction loan approved than a mortgage. A mortgage is backed by the value of the existing home. With a construction loan, however, the home or home improvements don't exist yet.
The lender needs firm evidence that the project will not only be completed but in the case of a renovation, will add value to the home. And as with a mortgage, you'll need to have your financial documents in order. Lenders prefer to see a debt-to-income ratio of 45% or lower, a good credit score, and (with new construction loans) a down payment of up to 30%.
You'll also need a detailed plan, budget, and timeline for the project, whether it's a new build or renovation. In some cases, the lender will even want to approve the contractor you hire for the project. Fortunately, most reputable contractors are used to these types of loans and can work with the lender to get the job done.
What Is a Home Equity Line Of Credit?
A home equity line of credit (HELOC) is a revolving funding source that allows borrowers to access the equity in their home. Since HELOCs are secured by your home equity, they often carry very competitive interest rates compared to other funding sources.
HELOCs also provide enormous flexibility for ongoing renovations that may not have a prime contractor or set schedule. As it's a revolving credit line, you can use only the amount you need, and as you pay it back, you can access that amount again at any point in the draw period.
There are two phases to a HELOC loan:
Draw period: During the initial draw period (typically 5–10 years), the borrower has a maximum line amount, which is the total amount they can borrow at any given time. Payments are flexible during this period; you can make interest-only payments if you wish.
Repayment period: When the draw period ends, the remaining balance is paid back over 5–20 years depending on the lender.
Most HELOCs have variable interest rates, but some offer a fixed interest rate as an option. You can generally borrow up to 80–90% of your home equity, although the amount varies from vendor to vendor.
Qualifying for a HELOC
A construction loan is based on the amount you need for a specific project, while a HELOC is based on your home equity and can be used for whatever you want. You can get a quick estimate of how much you may be eligible to receive from a HELOC by using Prosper's HELOC calculator.
The HELOC calculator will take your equity and loan-to-value ratio and calculate the credit amount you may qualify for. When you apply for a HELOC, the lender will run your credit, look at your financial health, and do due diligence regarding your home's value before offering you the amount for which you're eligible.
Construction Loan vs HELOC: Pros and Cons
Would a home equity line of credit or a construction renovation loan be better for your home remodel project? That really depends on your circumstances. They each have pros and cons that come into play based on the scope and type of remodeling projects you wish to complete.
HELOC Pros:
● Flexible access to funds so you can get what you need, when you need it
● Competitive interest rates due to it being a secured loan
● Long repayment terms to keep payments low
HELOC Cons:
● Long-term costs are often higher because of the longer repayment period
● Loan amount limited by home equity amount
● A default on the loan may put your home at risk
Construction Loan Pros:
● Loan amount is based on the project and/or future home value, not available equity
● Short repayment term means lower long-term interest costs
Construction Loan Cons:
● Loan amount set in advance; minimal flexibility for unexpected cost overages
● Higher interest rates than a secured loan
Construction loans are a great option for homeowners who haven't yet built up a significant amount of equity in their homes or who wish to complete projects that will cost more than the amount of equity they're able to tap.
HELOCs provide a lot of flexibility, making them ideal for smaller projects, projects with a flexible budget, or a series of incremental projects. And you only pay interest on the amount you've withdrawn from the HELOC, which keeps your costs down if you're only using a portion of your available funds.

Home Equity Loans, Cash-Out Refinances, and Home Improvement Loans
Construction renovation loans and home equity lines of credit are two of the most popular options to finance a home renovation project, but they're not your only choices. Let's look at three other options to finance your big remodel.
Home Equity Loans
Much like a home equity line of credit, a home equity loan (HELOAN) is a loan that allows the borrower to leverage their equity for a low-interest loan. The primary difference between a HELOC and a HELOAN is that a HELOAN is disbursed in a lump sum with the repayment period beginning immediately.
One advantage of HELOANS is that they normally have fixed interest rates while HELOCs have adjustable interest rates. This means payments stay consistent for the duration of the loan. However, since the funds are disbursed upfront, interest accrues immediately, so a HELOC is still a preferable choice for projects spread over a longer period of time.
A HELOAN can be an attractive alternative to a construction renovation loan when used for a home renovation project with a set budget since it often carries lower interest rates and fewer reporting requirements. The consistent payments also make it a popular option for those on a fixed income, such as retirees.
Cash-Out Refinances
A cash-out refinance is another popular tool for funding remodels or renovation projects. Like a HELOAN or HELOC, a cash-out refinance leverages your home equity to provide low-interest funds.
If you have a lot of equity in your home, you can refinance your home for more than you currently owe and get the difference back in a lump sum of cash. That money can be used for any purpose you wish, but since you're essentially starting over with paying off your home, using those funds to remodel is a smart play.
If you already have a great interest rate or current rates are higher than your original mortgage, this may not be a cost-effective option for you. Also, taking out a new mortgage means paying closing costs all over again.
However, if rates have dropped since your original mortgage, refinancing may save you money. Also, refinancing means you don't have to worry about adding yet another monthly payment.
Home Improvement Loans
A home improvement loan provides a lump sum that can be used for many remodel projects. These types of loans carry a fixed rate and a set repayment term. Since it's a lump sum, you're paying interest on the full amount, but the fixed monthly payments and payoff date provide cost and budget certainty. Most times, you can pay off the loan early with no penalty.
Choosing the Right Home Renovation Loan
There are several great options to finance a remodel or renovation of your home. Which one is best depends on your individual finances and needs. It's also possible to mix and match different financing avenues to meet your needs; you may, for example, take out a construction loan to finance the bulk of the work but also arrange for a HELOC to cover overages, incidentals, and side projects.
Even if you go with a lump sum loan, such as a construction loan or home improvement loan, arranging for a HELOC ahead of time can make financial sense. Unexpected expenses often pop up and you don't want your project to stall in the middle. Without prior planning, it's easy to get into a position where you have to use credit cards or unsecured personal loans to cover those expenses.
As long as you budget carefully and know your options, financing your renovation doesn't have to be stressful. Just weigh your options carefully and pick the methods that fit your individual needs.
How Do I Budget for a Home Renovation?
According to Home Advisor, the average cost of a home remodel project is around $47,000, with a kitchen typically running around $25,000, and even a bathroom averaging $10,000.
Before deciding how to finance your home remodel, make a list of projects you'd like to accomplish. Then prioritize the list in order of what you'd like to get done so that you can make adjustments if you can't do it all at once.
Once you have a list of projects, make a budget for each project. Don't forget to account for the costs of materials and any new appliances or equipment you're adding, plus the cost of labor. It's always a good idea to add 20% to your home renovation budget to account for unexpected issues or overages, changes in material costs, etc.

For larger projects that a contractor will complete, you'll want to get a couple of estimates so you can compare prices (and proposed scopes of work).
Older Houses
Remodel projects on older houses often turn up hidden, potentially expensive problems. In many places, the law requires that buildings be brought up to code during a renovation, which often means replacing plumbing and/or electrical wiring. It's important to account for these costs when budgeting a project. While you're checking on code requirements, also check to see if your city or county requires a building permit.
Read more
---
Eligibility for a home equity loan or HELOC up to the maximum amount shown depends on the information provided in the home equity application. Depending on the lender, loans above $250,000 may require an in-home appraisal and title insurance. Depending on the lender, HELOC borrowers must take an initial draw of $50,000 at closing; subsequent HELOC draws are prohibited during the first 90 days following closing; after the first 90 days following closing, subsequent HELOC draws must be $1,000, or more, except in Texas, where the minimum subsequent draw amount is $4,000.
The amount of time it takes to get funds varies. It is measured from the time the lender receives all documents requested from the applicant and depends on the time it takes to verify information provided in the application. The time period calculation to get funds is based on the first 4 months of 2023 loan fundings, assumes the funds are wired, excludes weekends, and excludes the government-mandated disclosure waiting period.
For Texas home equity products through Prosper, funds cannot be used to pay (in part or in full) non-homestead debt at account opening.
Depending on the lender, qualified home equity applicants may borrow up to 80% – 95% of their primary home's value and up to 80% – 90% of the value of a second home. In Texas, qualified applicants may borrow up to 80% of their home's value. HELoan applicants may borrow up to 85% of the value of an investment property (not available for HELOCs).
Home equity products through Prosper may not be available in all states.
All home equity products are underwritten and issued by Prosper's Lending Partners. Please see your agreement for details.
Prosper Marketplace, Inc. NMLS# 111473
Licensing & Disclosures | NMLS Consumer Access