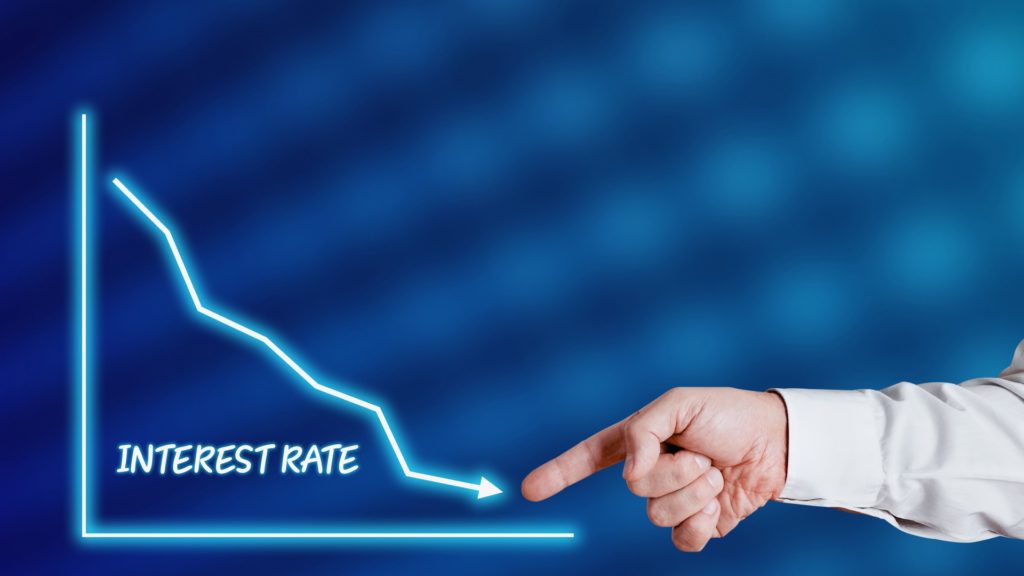 Best Ways to Use Low Interest Rates
To continue to aid in the economic recovery from the coronavirus pandemic, the Federal Reserve maintained its benchmark interest rate near zero. While it did go up as inflation became a concern, it will help to be educated about how to use low interest rates when they come around again – as they always seem to do.

What Do Low Interest Rates Mean For You?
There is good news and bad news, but the bad news isn't terrible. Typically, lower interest rates mean less return on savings. So, if you have a savings account, the interest you're earning is likely going to decrease.
The good news is that borrowers are likely getting some relief. If you're paying off credit card debt or student loans, your interest charges will be smaller. And if you're in the market for something bigger — say, real estate — the interest rate on your new home will be significantly lower than in previous years.
These low interest rates don't necessarily mean you should go out and buy a new home if that wasn't already something you were considering. But Prosper is here to help you understand the ways these low rates can benefit you and fit seamlessly into your life plan.
How to Take Advantage of Low Interest Rates
No matter who you are, there's a few key ways to use these lower interest rates to your advantage and save money:
Refinance loans: If you have a mortgage or student loans, now is a great time to refinance. All that means is that you would pay off your old loan by taking out a new one with a lower interest rate. If your current rate is variable and you're able to qualify for a fixed rate loan, that would save you even more money in the long run.
Consolidate debt: If you're juggling multiple loans, you can get them under control by taking out a consolidation loan. Consolidation loans can help debt become more manageable by combining all your debt into one lump sum — and only one monthly payment. A personal loan through Prosper is one example of this and a great option to get your loans under one roof!
Transfer credit card debt: You can pay off your credit card debt faster by transferring the balance to a card with a lower interest rate. There are a few ways to do this, depending on what you're looking for. One option is to transfer your balance to a credit card that allows balance transfers and has a lower interest rate. You can also go with a balance transfer credit card. One thing to consider is that balance transfer cards typically offer an introductory interest rate for a short period of time before the rate increases. You may only want to go with that option if you're able to pay off the debt within the introductory time frame.
Buy a home: If you're in the market for a new home, now is a great time to dive into the real estate market. Take advantage of these historically low interest rates by taking out a home loan. If you're already a homeowner, you may even want to consider investing in rental or vacation properties.
Take advantage of a Home Equity Line of Credit (HELOC): HELOCs are revolving lines of credit. They utilize your home equity to give you access to cash at a great interest rate with enormous flexibility! Whether you're planning on home improvements, a vacation, or paying down other debt, low interest rates mean there's never been a better time to tap your home equity with a HELOC.

With today's low interest rates, now is a good time to make big financial moves. When it comes to borrowing money, Prosper is here to help. Check us out today and find out the smartest ways for you to take advantage of these low rates and save money. 
Read more
All personal loans made by WebBank, Member FDIC.'
HELOCs through Prosper are currently available only in Alabama, Arizona, California, Colorado, Florida, Illinois, Nebraska, New Hampshire, New Mexico, Oklahoma, Oregon, Pennsylvania, and Texas. Please carefully review your HELOC credit agreement for more information.
All HELOCs are underwritten and issued by Spring EQ, LLC, an Equal Housing Lender. NMLS #1464945.
Prosper Marketplace, Inc. – NMLS #111473, http://www.nmlsconsumeraccess.org
Arizona – Arizona Mortgage Banker License No. BK-0949818
California – Licensed by the Department of Financial Protection and Innovation under the California Residential Mortgage Lending Act (License #41DBO-121778)
In Colorado, regulated by the Division of Real Estate, License #111473
Illinois – Illinois Residential Mortgage Licensee No. MB.6761346
New Hampshire – Licensed by the New Hampshire Banking Department
Oregon – Mortgage Lending License ML-5732
Texas – SML Mortgage Company License #111473
Prosper Funding, LLC
221 Main Street, Suite 300 | San Francisco, CA 94105
6860 North Dallas Parkway, Suite 200 | Plano, TX 75024
© 2005-2021 Prosper Funding LLC. All rights reserved.