Today, Prosper implemented an increase to the rates offered to borrowers through our platform in order to increase returns for its investors. The rate increase demonstrates our commitment to operating a marketplace that balances the economic incentives for both our borrower and investor communities.
This is the second rate increase that we have implemented this year, and follows additional rate increases from August 2015. These changes are a direct result of forward looking credit market and interest rate expectations. We believe that these proactive changes are necessary for us to continue providing a compelling fixed-income product relative to the many alternatives available to our investor community.
Today's rate increase is in anticipation of action by the Fed to raise rates next month, and the expectation of this action is already largely priced into forward curves and swaps. Additionally, we believe that this move is appropriate and makes the risk-reward tradeoff of investing in newly originated loans at least as attractive as purchasing ABS products backed by loans through Prosper in the secondary market.
Pricing Change Impact (March 2016 Loan Simulation):
The table below summarizes the impact of the rate increase as simulated on the March booked loan portfolio. While the exact portfolio composition going forward will be a result of future marketing mix and borrower reaction to the increased prices, we believe this is a fair representation of the potential impact of the changes. As one can see in the table below, the increase in rates is focused on the higher risk grades.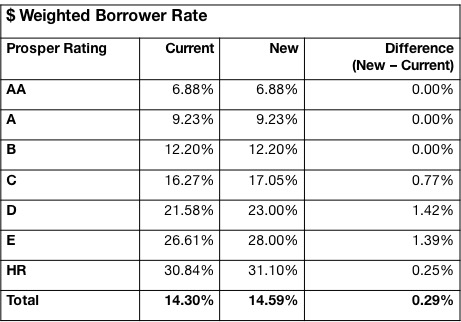 Summary:
As with past rate increases, this recent move underscores our fundamental desire to maintain a balanced, sustainable marketplace that is equally appealing to borrowers and investors. We believe the value of newly originated loans will be competitive with traded securities backed by loans through Prosper, and takes into consideration the steeper forward curves on the risk-free rate that will be driven by the anticipated actions of the Fed next month.