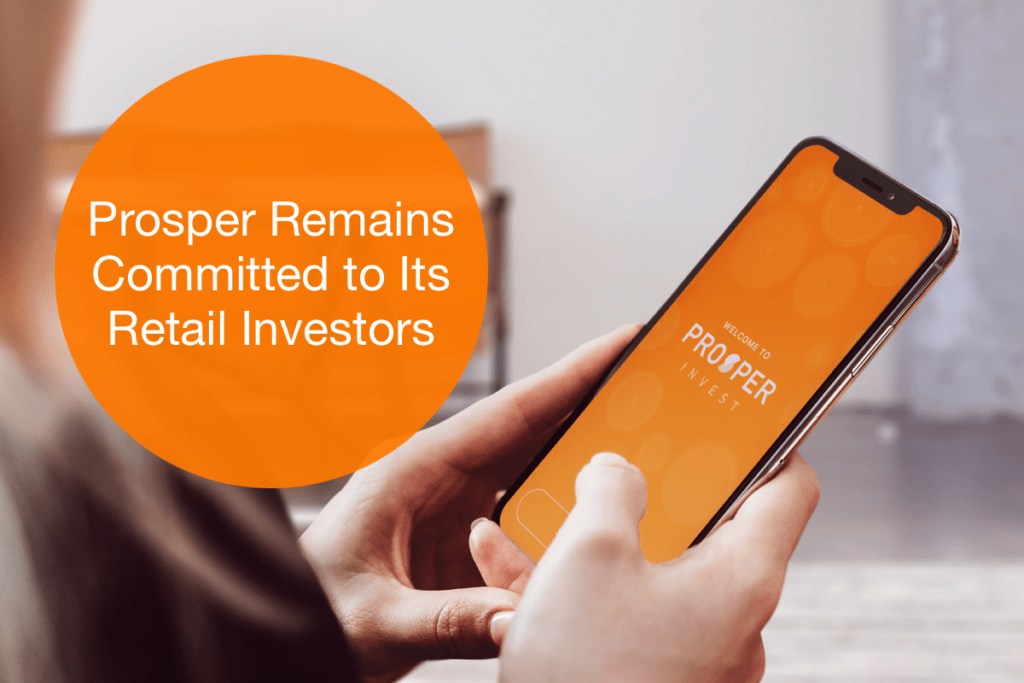 We have an update regarding our retail notes platform. Prosper launched in 2006 as the first peer-to-peer lending platform in the U.S. and since then we have gone through many changes. But, more than 15 years after we were founded, one thing stays the same – our commitment to our borrowers and investors.
As one of the largest online marketplace lending platforms, Prosper offers institutional and individual investors a unique opportunity to invest in the consumer credit asset class. In light of recent news that LendingClub is closing its Notes platform effective December 31, 2020, investors can be assured that Prosper remains committed to growing its retail Notes offering. In addition, as investors look to Prosper to invest in consumer credit and re-allocate across platforms, we are committed to matching the supply of Prosper Notes available for investment with investor demand.
As the needs of investors continue to evolve, two things remain consistent – they want to put their money to work quickly and easily, and see solid returns. Over the past several years, we've continued to invest in our retail notes platform, including launching an investor app for both iOS and Android to make it easier than ever for investors to manage and monitor their portfolio and returns. In addition, the credit quality of recent origination vintages continues to be strong on the Prosper platform. With average historical platform returns of 5.2%1, Prosper provides an attractive fixed-income investment option in this low interest rate environment. Investors can access monthly Prosper Performance Updates through the Prosper Blog, with the latest August 2020 update available here.
Investors who are new to Prosper and would like to begin investing can sign-up here or reach out to our customer support team at [email protected] or (877) 646‑5922 with any questions.
Weighted average historical return for loans originated through Prosper as of September 30, 2020. To be included in the historical return ("Historical Return") calculation, the loan must have originated (a) on or after July 1, 2009, and (b) at least 12 months prior to the calculation date. Historical Returns are based on actual payments (other than principal) received by the investor net of fees and losses (including from charged-off loans). We calculate the Historical Return for loans originated through Prosper as follows. First, loans are separated into distinct "Groups" based on the specific month and year in which they were originated and their Prosper Rating at origination. For each Group, we calculate: (a) the sum of the interest paid, plus late fees, minus servicing fees, minus collection fees, in each case on active loans, plus net recoveries on charged-off or defaulted loans, plus net debt sale proceeds on sold loans, minus gross principal losses; divided by (b) the sum of the principal balances outstanding on active loans at the end of each day since origination. We then annualize the result to get the "Historical Return" for the Group. Once this calculation is performed for every Group, we compute the cumulative-outstanding-principal-dollar-weighted average of their Historical Returns. This gives us the "weighted average Historical Return" for loans originated through Prosper. For purposes of this calculation, "active" means loans that are current in payments or delinquent less than 120 days; loans that have paid off, charged-off or are in default are not considered active.
The Historical Return calculation excludes the impact of servicing related corrective non-cash adjustments that may modify the outstanding balance or status of a borrower loan. The actual return on any Note depends on the prepayment and delinquency pattern of the loan underlying each Note, which is highly uncertain. Individual results may vary. Historical performance is no guarantee of future results and the information presented is not intended to be investment advice or a guarantee about the performance of any Note.
Prosper's borrower payment dependent notes ("Notes") are offered pursuant to a Prospectus filed with the SEC. Notes are not guaranteed or FDIC insured, and investors may lose some or all of the principal invested. Investors should carefully consider the risks, uncertainties, and other information described in the Prospectus before investing.
Read more