In early 2013, when my partners, Steve and Ron, and I joined Prosper Marketplace, this company and this industry were in a vastly different place. Prosper Marketplace had just closed out 2012 with $150 million in loans originated through the platform, 85 employees, and frankly, a future that was very much in question. At the time, we had no expectation that Prosper would reach the kind of loan volume it is doing today. We just knew that Prosper could help people get out from burdensome high-rate debt and be a better option for paying for large-ticket purchases. We set to work building, hiring and fixing things here, with the goal of bringing in the best people and scaling the business
Back in the second quarter of 2013 (our first full quarter at the company) Prosper originated $72 million in total loans through the platform. Fast-forward two years, and we just closed out our largest quarter ever — $912 million in loans originations through the platform, a staggering increase of 1166% in two years. This brings us to another milestone – today, we crossed more than $4 billion in loans on the platform since launching in 2006. This growth has not come at the expense of quality – we continue to deliver excellent loan performance and the quality of our loans is stronger than ever.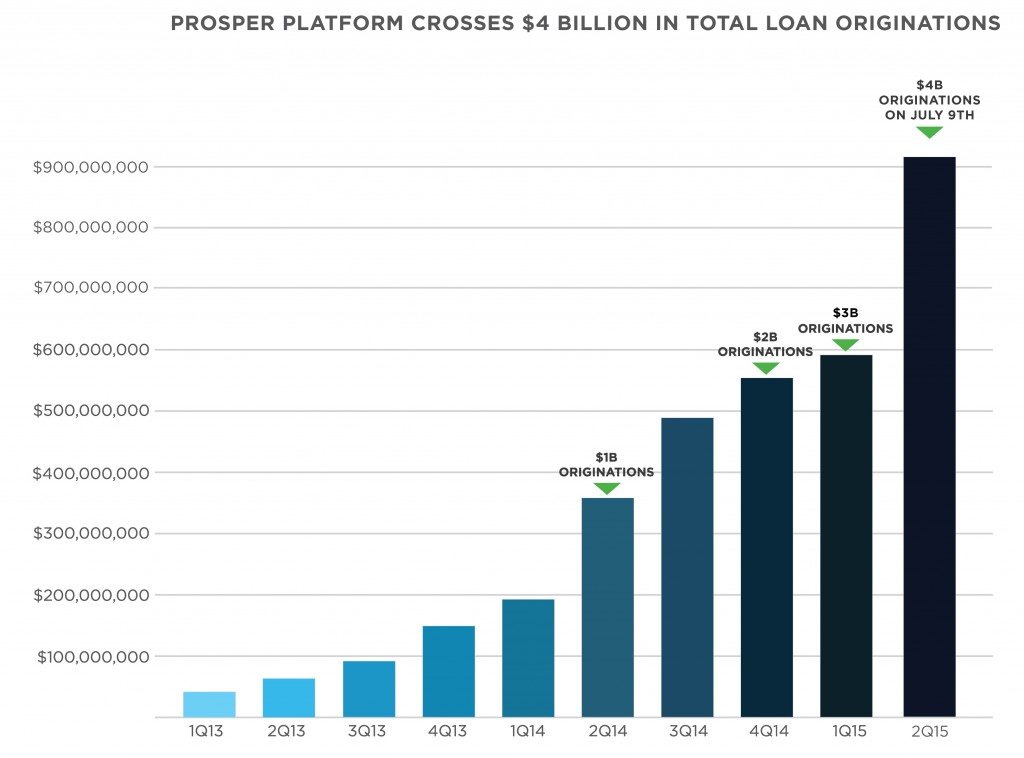 As we look toward the second half of the year we see that Prosper is currently on track to double the $1.6 billion in loans originated through the platform in 2014, which in itself was a record (and a 350% increase from 2013). These numbers underscore the continued growth and momentum of marketplace lending as it moves toward mainstream awareness. More and more people are realizing that marketplaces and online lending are a better way to borrow and invest. And the industry is noticing as well. So far this year, Prosper Marketplace has been named one of Forbes Magazine's Most Promising Companies of 2015, and AlwaysOn named Prosper Marketplace the OnFinance Company of the Year, as well as one of their Global 250 Top Private Companies.
Our focus remains on bringing consumer-friendly personal loans to more people, and making changes to improve the experience for both its borrowers and investors. This includes launching a responsive website that functions across desktop and mobile devices, and making continued improvements to the verification process so it is a fast and streamlined experience. We are seeing more people come back for their second loan through Prosper, as well as a wider variety of use cases beyond debt consolidation, such as large purchases, medical expenses, and home improvement projects.
Prosper is also making improvements for its retail investors, which remain a core part of the Prosper investor community. In April Prosper introduced an update that gives retail investors better visibility into pending orders and makes it easier for them to access data. In the coming months there will also be more data analytics and account management tools to improve investors' experience using the platform. As Prosper works to broaden access for retail investors, we also saw the launch of the first publicly traded fund through River North, a significant move toward broadening retail access to marketplace loans.
To keep up with all of this growth, Prosper Marketplace continues to grow its team in all of its locations. We now have more than 457 employees with offices in San Francisco (recently named one of the coolest offices in the Bay Area by the SF Business Times), Salt Lake City (where we just opened a new office), and Phoenix (where we now have 130 people focused on customer service and verification). This year alone, we have doubled the size of our engineering team and we're still hiring across all functions. If you are interested in what we are building, check out the jobs section of our website.
We are proud to have pioneered the online lending market and to operate one of the largest platforms in the world today, with much more growth in store. We continue to be inspired our customer stories, and believe in our mission to help people achieve financial well being. Thank you to the entire community, from all of us here.
Read more