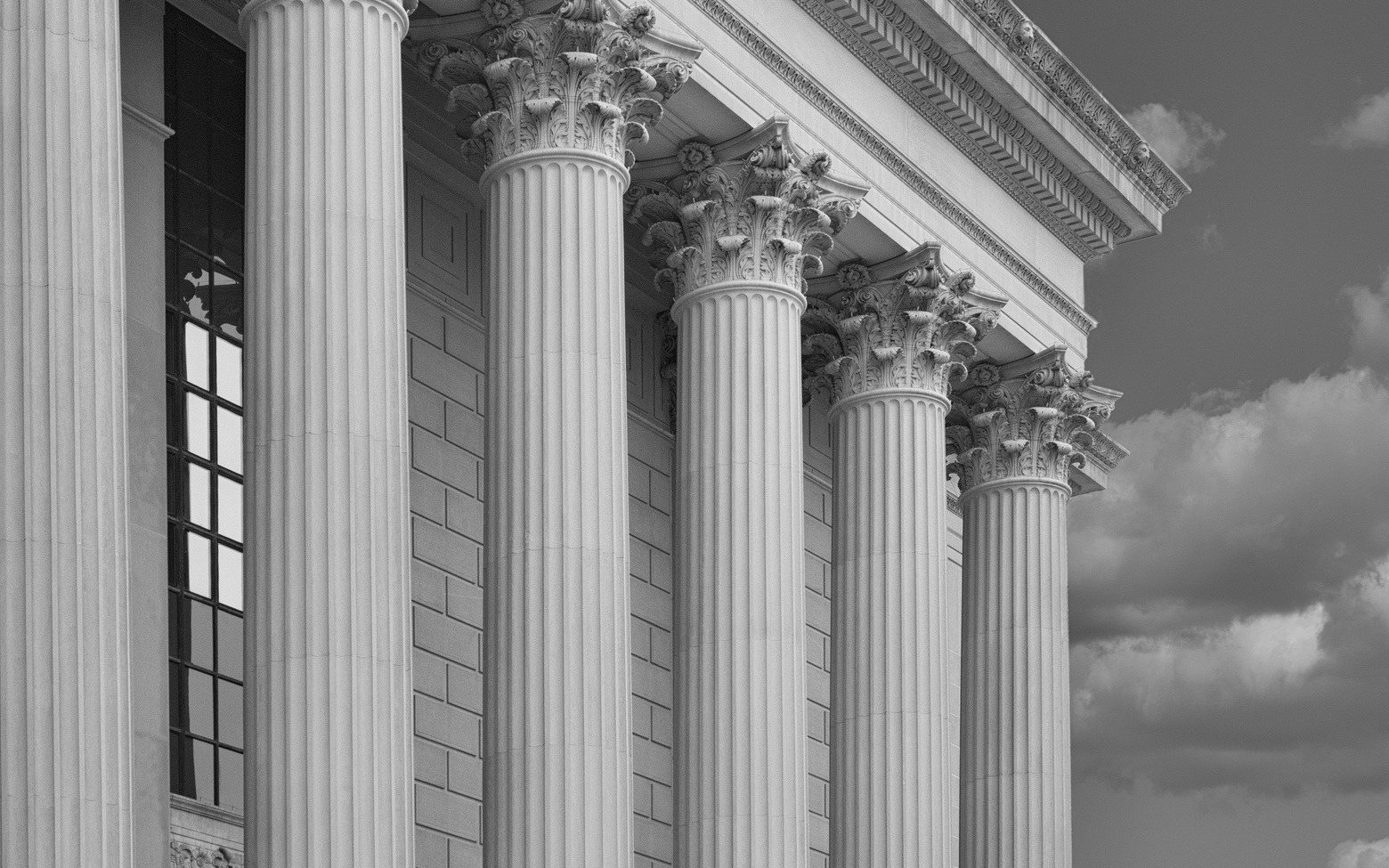 Marketplace platforms provide a platform through which creditworthy borrowers can obtain loans with competitive rates and investors can commit funds to those loans. Prosper pioneered the industry of peer-to-peer-lending over a decade ago and allows borrowers to access 3 to 5-year fixed term personal loans ranging from $2,000 to $40,000. In exchange for their investment, investors receive monthly principal and interest payments, less a servicing fee, as borrowers repay their loans. WebBank originates all of the loans sourced through Prosper's marketplace and Prosper services these loans.
In the beginning, Prosper was exclusively a peer-to-peer market aimed at individual investors where borrowers could secure rates often more competitive than credit cards and retail investors could get average risk-adjusted returns often higher than other traditional high-yield investments. Over time, Prosper made loans broadly available to institutional investors such as banks, asset managers, hedge funds, and insurance companies. In doing so it created a new consumer credit asset class that previously was only accessible to very large banks with credit card portfolios.
In June 2016, a top 25 bank began investing in loans originated through Prosper's platform because it could gain exposure to high ROE consumer unsecured assets without needing to make a major investment in the operational and digital infrastructure required to operate a loan or credit card product at scale. In addition, the bank was attracted to Prosper's loan geographic diversification and Prosper was able to successfully demonstrate to the bank that it had the appropriate controls and processes required to be a lasting partner.
This article seeks to dispel three myths of marketplace platforms, and in so doing explain why banks and marketplace platforms can benefit from a synergistic partnership.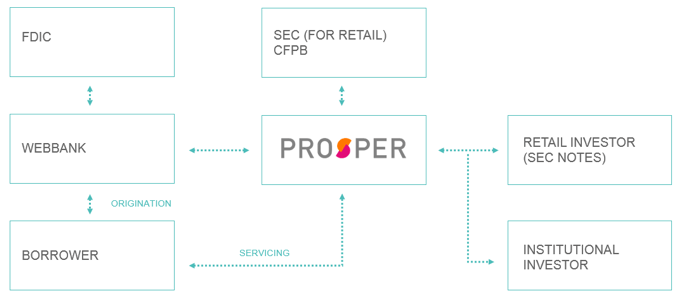 Myth #1: Marketplace platforms are not subject to the same regulation as banks.
On the borrower-side, Prosper partners with WebBank which originates all loans through the platform. Loans originated through the platform are subject to the same laws and regulations as traditional bank loans, including laws such as the Truth in Lending Act and Equal Credit Opportunity Act. WebBank is regulated by the Federal Deposit Insurance Corporation ("FDIC"), which has oversight into and authority over the loan program. WebBank supervises Prosper in performance of loan origination functions and audits Prosper at least quarterly in order to ensure that Prosper is compliant with all applicable bank regulations. Prosper also works closely with investors to provider reporting and information necessary to meet all applicable regulatory requirements (e.g., FDIC FIL-49-2015).
On the investor-side, the borrower payment dependent notes ("Notes") offered by Prosper to retail investors are registered with the SEC, and Prosper is subject to Exchange Act reporting requirements, including filing financial statements, as if it were a public company. Moreover, Prosper has an external audit performed on its financial statements and is pursuing a SOC 1 Type 2 to further demonstrate its strength of controls. As a further commitment of Prosper's culture of risk management and compliance it has a dedicated Compliance, Information Security, and Enterprise Risk Management (ERM) department (including Business Continuity and Vendor Risk). Since a majority of banks' questions revolve around Prosper's risk management and compliance practices, the ERM department also supports bank investor on-boarding and due diligence.
Recently the marketplace industry has started to form associations of its own, in an effort to promote transparency, efficient, and better customer-friendly financial systems. Groups like the Marketplace Lending Association (MLA) believe that strong internal controls, coupled with existing regulatory standards will ensure that this industry maintains the integrity of its investment programs and financial transactions.
Myth #2: Marketplace platforms do not fully vet borrowers.
Prosper has 80+ employees dedicated to verifying the accuracy of the borrower's identity and bank account information. On a risk-basis, the department also verifies income and employment for more than two-thirds of the borrower population. This level of verification is much greater than what is required by most credit card originators in the U.S.
In 2015, Prosper incurred roughly $125,000 in identity fraud losses on $3.7B loans. This translates to a third of a basis point in fraud losses and is a testament to the strength of Prosper's verification process. Prosper's investors did not suffer any of these losses because they are covered under Prosper's investor indemnification, which imposes repurchase and indemnification obligations on Prosper in the event that a borrower loan was obtained as a result of verifiable identity theft.
In addition, Prosper's anti-money laundering program includes upfront and ongoing OFAC checks for borrower and investor populations.
Myth #3: All marketplace platforms rely on alternative sources of underwriting data (e.g., social media, college attended, etc.) in addition to data provided by credit bureaus.
Prosper's credit underwriting department carefully chooses permissible fair lending inputs from credit bureau variables and does not rely on any other source other than our own customer credit experience and application information. Also, manual intervention of Prosper's automated underwriting rules engine is not permitted. For this reason, there is little scope for individuals to add human bias to credit decisions unlike with bank underwriting files.
| | | |
| --- | --- | --- |
| | Bank Challenges | Prosper's Strengths |
| Credit Underwriting | Some banks manually underwrite loans that lead to inconsistencies and constrains volume | Sixth generation fully automated credit model, constantly calibrated and updated as facts on the ground change; agility and quick implementation from strategy to policy; transparent, risk-based pricing |
| Borrower Acquisition | Expensive and challenging to acquire new customers | Multiple channels to acquire credit worthy borrowers |
| Technology | Inflexible legacy systems that are burdened with technology debt. | Simple and fast application process. A companion personal finance mobile app called Prosper Daily that assists borrowers with their personal finances. |
| Borrower Product | Developing UDAAP-compliant products that pass CFPB diligence | Consumer-friendly product with monthly amortizing cash flows |
| Investor Product | Regional and community banks have challenges gaining access to geographic diversification and to unsecured credit due its heavy upfront investment | Attractive return profile (6.8%[1] platform net return), prime/super-prime borrowers (avg. FICO of 706), short duration, asset/geographic diversification, and resilience through a downturn scenario |
Conclusion
This article seeks to dispel common myths about marketplace platforms by using Prosper as an example. The truth is marketplace lending platforms and banks have strong synergies because their strengths and developmental areas complement one another. Below is a table that summarizes these synergies by different competencies.
The article "Why Banks and Marketplace Platforms are the Perfect Match" was written by Gene Yoshida, Senior Director of Enterprise Risk, Prosper Marketplace, Inc. and was originally published in the September/October 2016 issue of Western Banker.
[1] Estimated returns are calculated by (i) taking the weighted average borrower interest rate for all loans originated during the period, adding (ii) estimated collected late fees and post charge-off principal recovery for such loans, and subtracting (iii) the servicing fee, estimated uncollected interest on charge-offs and estimated principal loss on charge-offs from such loans. The actual return on any whole loan or Note depends on the prepayment and delinquency pattern of the underlying loan, which is highly uncertain. Individual results may vary and projections can change. Past performance is no guarantee of future results and the information presented is not intended to be investment advice or a guarantee about the performance of any whole loan or Note. Data from March 5 – March 14, 2016.
More information about Prosper and the borrower payment dependent notes offered by Prosper to retail investors is available in the prospectus at www.prosper.com/prospectus. Retail investors should review the risks and uncertainties described in the prospectus prior to investing.