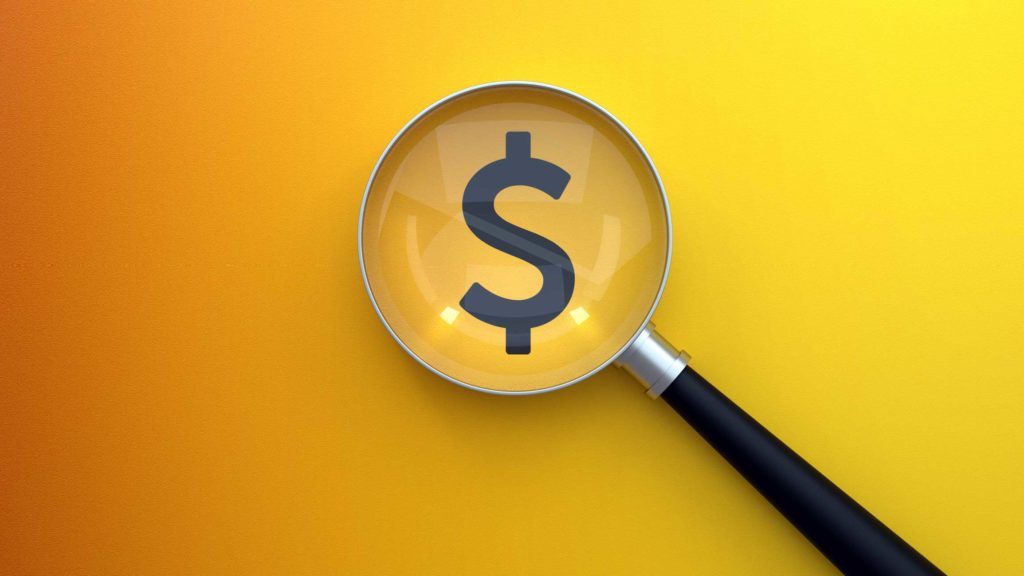 As one of the largest online marketplaces for consumer credit, Prosper regularly calibrates its credit and pricing models in order to maintain a balanced and sustainable marketplace that is equally appealing to both borrowers and investors.
Today, we are providing an update on the credit and pricing changes on Prosper's platform in 2018. These changes are expected to drive an improvement in overall platform returns and a more predictable rate of return to investors on the platform.
Credit Changes
Over the last few months, we have implemented multiple credit tightening actions focused on a borrower's ability-to-pay. As an outcome of these changes, we expect the overall asset quality of new loans to improve materially. As of Q3 2018[1], the loan weighted average borrower's income on the platform is trending at $104,395 vs $86,546 a year ago (Exhibit A). The monthly scheduled payment to income (PTI) ratio, a key measure of a borrower's ability to make payments on their loan, is trending at 5.7% for the average borrower as of Q31 vs. 6.6% a year ago (Exhibit B).
We believe the timing of these changes is critical given that we think we are in the latter part of the credit cycle and overall revolving debt in the US is higher than prior to the financial crisis in 2008[2].
Pricing Changes
On the pricing front we have been increasing borrower rates on our platform since March of this year to stay in-line with changes in the interest rate environment (Exhibit C). On a mix-adjusted basis, we have increased overall platform interest rates by 133 basis points (bps) since the beginning of the year. Today, the Federal Reserve announced an increase in the Fed Funds rate. In light of this development, the rates offered to borrowers through the Prosper platform will be increased by an average of 14 bps, translating to an overall increase of 147 bps on a mix-adjusted basis since the beginning of the year.
Table 1 below summarizes the simulated impact of the Prosper rate increase on the loan portfolio originated through the Prosper platform in September 2018.
Table 1: Borrower Rate on Prosper Platform*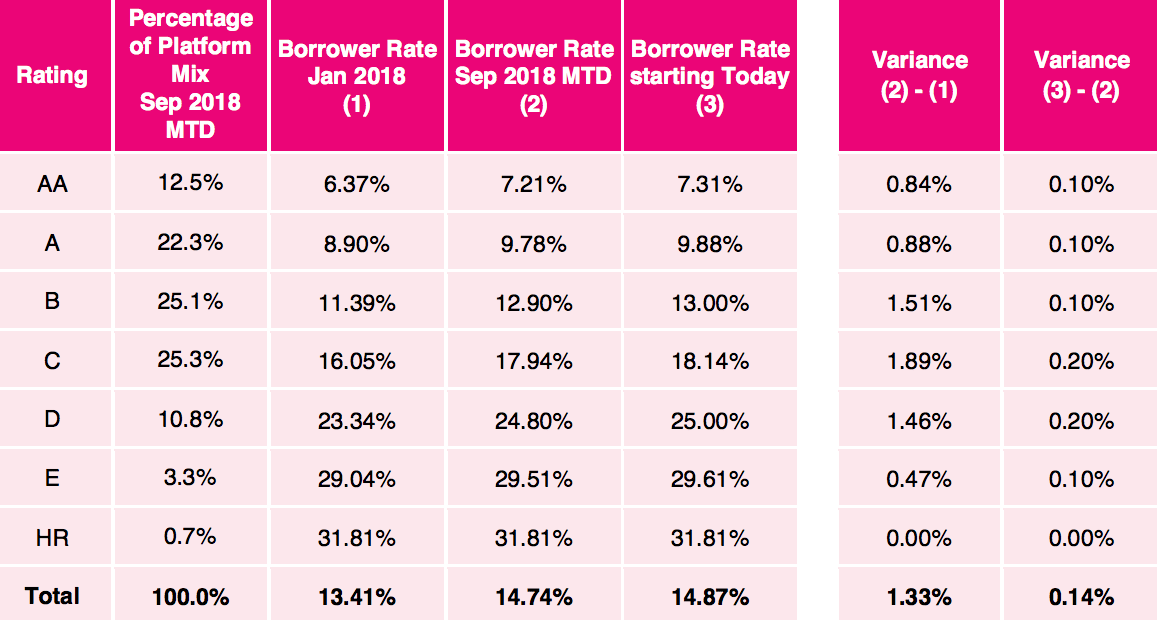 * Table reflects the simulated impact of borrower rates changes.
Pricing and Credit Changes: Summary
Prosper's mission is to advance financial well-being for both borrowers and investors on the platform. This requires regularly calibrating our credit model to ensure we are extending credit to borrowers who have the ability to pay back their loan through Prosper, as well as ensuring that we meet investors' expectations related to platform returns.
[1] Q3 includes July 1 – September 20, 2018
[2] Source: Federal Reserve Bank of St. Louis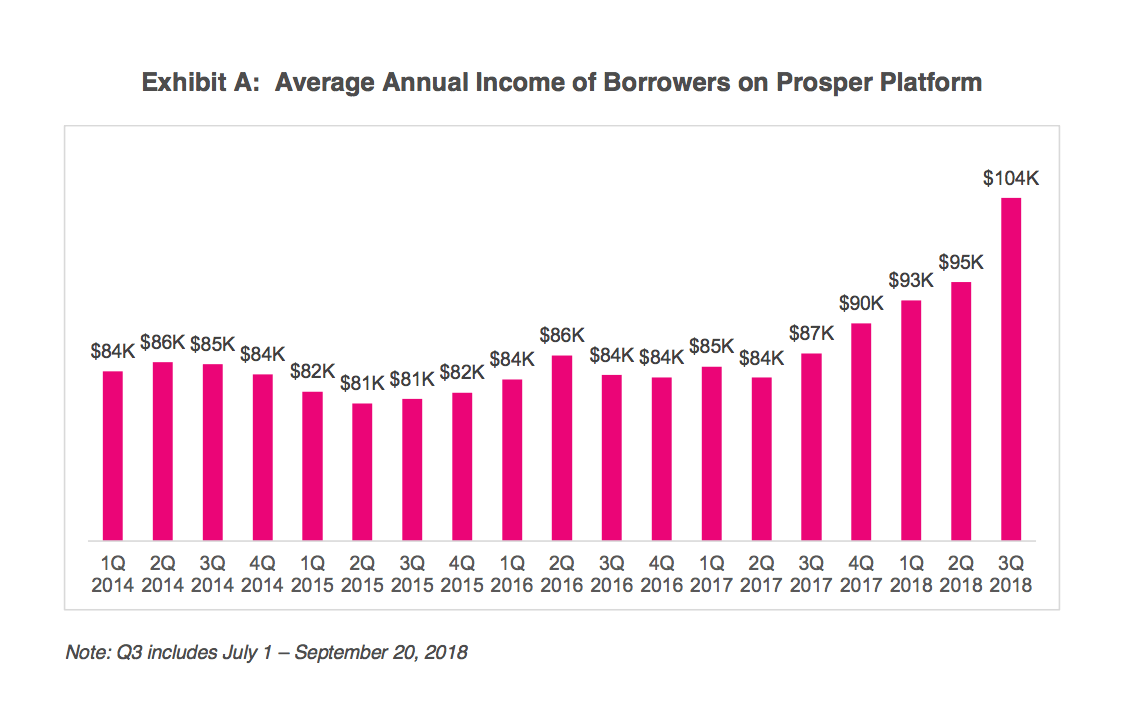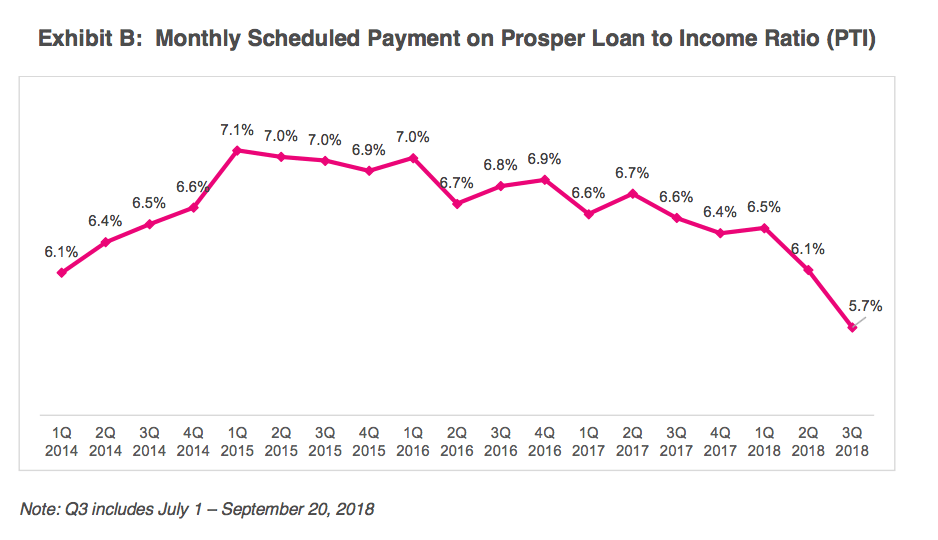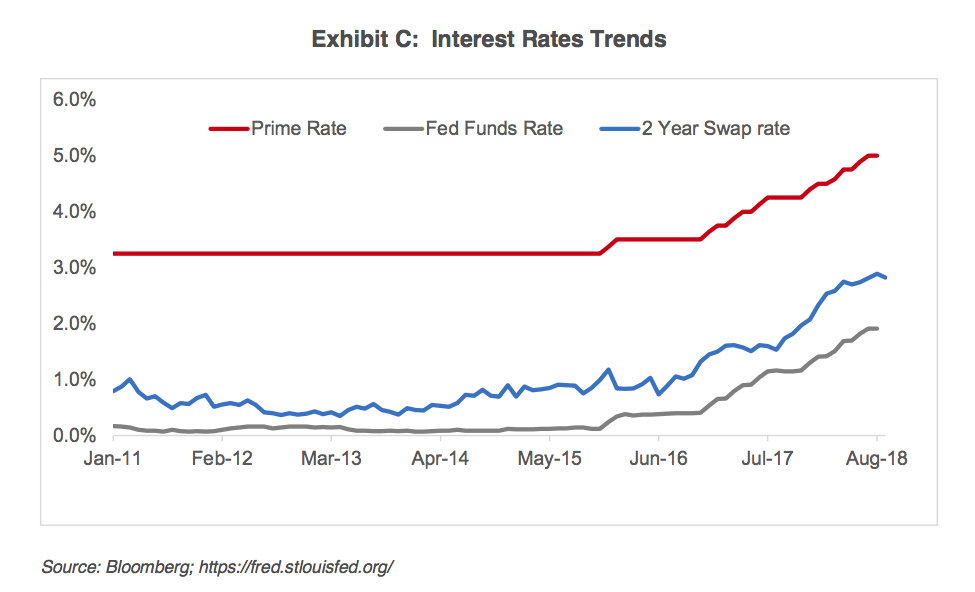 Notes & Disclaimers:
The data, statements and figures in this article are based on Prosper's analysis and calculations which, in turn, are based on various data sources compiled and analyzed by Prosper with all reasonable care to ensure they contain no omission likely to affect their import. Neither the analysis nor the underlying data sources have been verified by an independent third party.
This article includes forward-looking statements. Forward-looking statements inherently involve many risks and uncertainties that could cause actual results to differ materially from those projected in these statements. Where, in any forward-looking statement, we express an expectation or belief as to future results or events, such expectation or belief is based on the current plans and expectations of our management and is expressed in good faith and believed to have a reasonable basis, but there can be no assurance that the expectation or belief will result or be achieved or accomplished. All forward-looking statements speak only as of the date of this article and are expressly qualified in their entirety by the cautionary statements above. We undertake no obligation to update or revise forward-looking statements that may be made in this article to reflect events or circumstances that arise after the date made or to reflect the occurrence of unanticipated events.
All personal loans are made by WebBank, a Utah-chartered Industrial Bank, Member FDIC. All personal loans through Prosper are unsecured, fully amortized personal loans. Neither Prosper Funding LLC nor Prosper Marketplace, Inc. are registered as an investment adviser with any federal or state regulatory agency. The information contained in this article is for informational purposes, and should not be construed as individually tailored investment advice or as a recommendation with respect to any security or investment approach. Each individual should consider the appropriateness of any investment decision having regard to his or her own circumstances, the full range of information available and appropriate professional advice.
Prosper's borrower payment dependent notes ("Notes") are offered pursuant to a Prospectus filed with the SEC.
Read more: