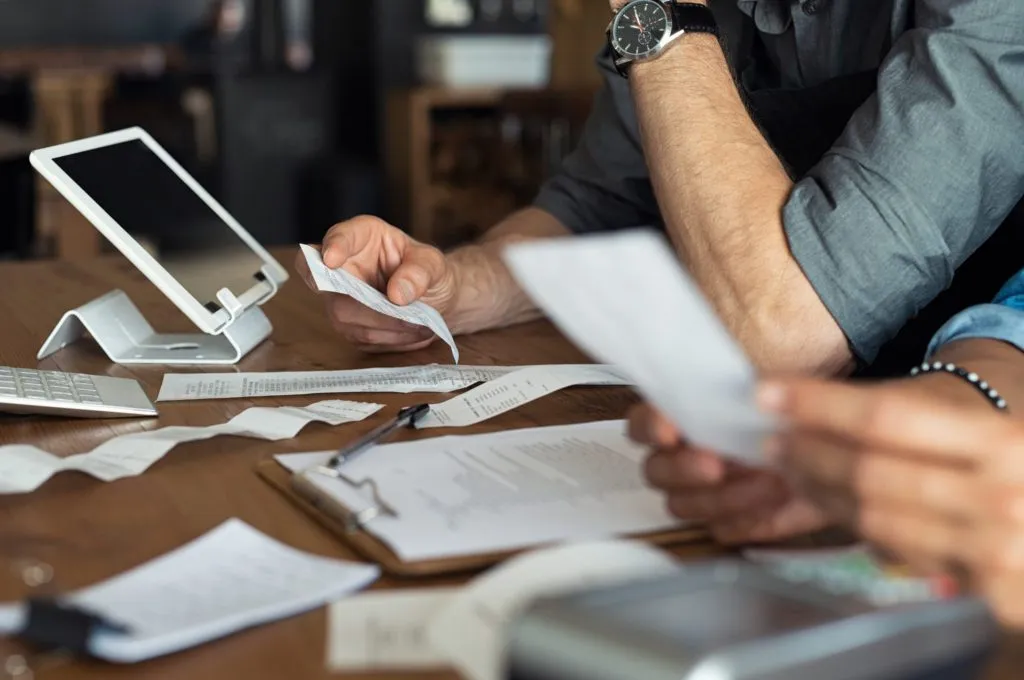 American consumers are awash in debt. According to a recent report by the Federal Reserve, we collectively owe $4.1 trillion in consumer debt, including over $1 trillion in credit card or revolving debt.

Are you stressed—both mentally and financially—about your share of this credit card debt? Then it's time to take action and heed these expert tips for paying it off.
Calculate Your Credit Card Debt
You can't get a handle on your credit card debt if you don't know exactly how much you owe and to whom. Yes, it may be painful to add it all up, but it's necessary if you are serious about paying your balances down. Make a list of every card, its balance and interest rate, and then total it up. Make sure to include retail charge cards in your list.
Instead of getting depressed about your total, use it as motivation to take the next step.
Rethink Your Spending
Look at your monthly income and expenses. Do you routinely spend more than you make with the help of credit cards? Then stop using them at will. Leave one credit card, preferably one with no balance, in your wallet for emergencies only, and store the rest in a safe place until you pay them off.
Next, create a realistic budget, starting with all necessary expenses. Factor in your discretionary spending, i.e., entertainment, clothes, etc. Find ways to cut back. This will help you live within your means and also earmark more money for paying off your credit cards, which should definitely be a budget line item by the way.
Choose the Right Payoff Method
Rather than making minimum payments on each card every month with maybe a little extra here and there, you need a structured payoff plan. Otherwise, you're likely to continue spinning your wheels and getting nowhere.
There are two primary methods that experts recommend for paying off debt. Both involve setting money aside for it in your budget. To determine which plan is right for you, you need to understand how each works and what results will motivate you to stay on course: Would you rather pay off debt sooner or see quick wins? Let's take a closer look at each method.
Debt avalanche: You pay off the card with the highest interest rate first by paying as much as possible on that card and the minimum on all other cards each month. Once that first card is paid off, move on to the card with the next highest interest rate. Tackling debts in order of interest rate means you'll pay less overall and be out of debt more quickly."
Debt snowball: You pay off the card with the smallest balance first with as big a payment as your budget can afford each month, while paying the minimum on all other cards. Once the smallest is paid off — presumably pretty quickly— move on to the card with the next smallest balance. This method takes longer, but it provides quick wins for those who need to see tangible results (a zero balance) to stay motivated.
Consider Consolidating
Many experts also recommend consolidating credit card debt to pay it off sooner. Debt consolidation from a place like Prosper can simplify your monthly finances. Since you only have one payment to make, instead of many, you're less likely to miss a payment — which can cause your credit score to drop.
There are two key financial vehicles for debt consolidation:
Personal Loans: In most cases, the interest rate on a personal loan is lower than that of your credit cards. By consolidating some or all of your credit cards into a fixed-rate, fixed-term personal loan, you'll put more of your money toward the principal balance, pay less in interest, and pay off your debt sooner. And because of the fixed-term (usually three or five years), you'll know exactly when you'll be debt-free. The added benefit is that a personal loan is considered installment debt, which has a more positive effect on your credit score than revolving debt.
Balance Transfers: If you have good to excellent credit, you can also take advantage of a credit card balance transfer offer for a zero or low annual percentage rate. The key to making this option work is paying off as much of the balance as possible — if not all of it —before the introductory rate expires, which is typically six to 18 months after the account opening.

Need More Motivation?
If you only pay the monthly minimum on approximately $15,000 in credit card debt with an 18 percent interest rate, it will take nearly 23 years to pay it off. There's no need to wait that long. Using these expert tips, you can start your debt reduction plan today.
Read more
1  For example, a three-year $10,000 personal loan would have an interest rate of 11.74% and a 5.00% origination fee for an annual percentage rate (APR) of 15.34% APR. You would receive $9,500 and make 36 scheduled monthly payments of $330.90. A five-year $10,000 personal loan would have an interest rate of 11.99% and a 5.00% origination fee with a 14.27% APR. You would receive $9,500 and make 60 scheduled monthly payments of $222.39. Origination fees vary between 1% and 5%. Personal loan APRs through Prosper range from 6.99% to 35.99%, with the lowest rates for the most creditworthy borrowers. 
2  Eligibility for personal loans up to $50,000 depends on the information provided by the applicant in the application form. Eligibility for personal loans is not guaranteed, and requires that a sufficient number of investors commit funds to your account and that you meet credit and other conditions. Refer to Borrower Registration Agreement for details and all terms and conditions. All personal loans made by WebBank.