Peer-to-Peer Lending Means Everyone Prospers
Prosper is the market leader in peer-to-peer lending-a popular alternative to traditional loans and investing options. We cut out the middleman to connect people who need money with those who have money to invest...so everyone prospers!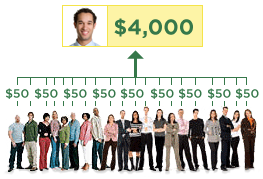 Here's how it works:
Borrowers choose a loan amount, purpose and post a loan listing.
Investors review loan listings and invest in listings that meet their criteria.
Once the process is complete, borrowers make fixed monthly payments and investors receive a portion of those payments directly to their Prosper account.
INVEST MONEY
Seasoned Returns*
1. Set your investment criteria
2. Invest in loans
3. Get borrower payments deposited directly to your Prosper account
4. Enjoy great returns
BORROW MONEY
APR starting at
Fixed rates from
5.99% to 36.00% APR
for best borrowers**
1. Provide basic application information
2. Post your customized loan listing
3. Watch Prosper investors invest in your loan
4. Get your money
We Protect Your Privacy
Whether you're a borrower or an investor, protecting your privacy is our paramount concern. While we encourage borrowers to tell potential investors why they are looking for a loan, your actual identity is never revealed. And for investors, we offer an ID Theft Guarantee to protect you against fraudulent borrowers.
You are protected when you borrow or invest with Prosper.*** Read our privacy policy.