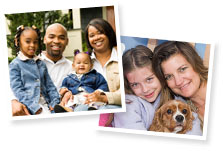 Get a Friends and Family Loan
The loan you need with help from friends and family
At Prosper, we make borrowing from friends and family worry-free. We understand that applying for a personal loan from a bank can be a difficult chore. By joining Prosper, you can create a listing to request a loan, then invite your friends and family to join as lenders so they can assist you by bidding on your listing. You get the money you need, and we manage all of the details. Your payments can be automatically deducted from your bank account every month at no additional charge. Best of all, there are no pre-payment penalties and no hidden fees.
All Prosper loan transactions are entirely online, so you can securely check the progress of your loan anywhere you can access the Internet.
---
Use Prosper for friends and family borrowing without the awkwardness
Often, loans among friends or relatives can lead to awkward situations if payment deadlines are missed due to miscommunication. Prosper can help eliminate any uncomfortable conversations, since your friends and family can check the status of your repayments any time on the Prosper site. Meanwhile, you can sit back and relax while fixed monthly payments are automatically distributed back to your loved ones.
Prosper is the perfect forum for family members to loan you money. There's no cost to post a listing, or for your friend or family member to become a lender. Depending on your qualifications, you may be able to borrow up to $25,000.
---
Use your friends and family loan to: 
Consolidate debt
Buy a new car
Fix up your home
Engagement rings and weddings
Vacations, gifts and more
When you have great friends and family, you shouldn't have to struggle through all the hoops of the old way of borrowing. Apply now. It's fast, easy, and free. The Prosper community marketplace is here to help people just like you.
---
Does my credit score affect my loan? 
Yes. Most lenders will look at your credit history, and Prosper lenders are no exception. If you are sure you have bad credit, you may want to consider improving it before you apply. If you are not sure of your credit score, we can help you find out now, for free, with no obligation.
The Prosper community does not require "perfect credit." If you have an average to an above average credit rating, one way to expedite your loan funding is to ask another Prosper member (especially a lender) to endorse you. Don't know any other Prosper members personally? Invite a friend to join.
CHECK YOUR RATE
APR starting at
for best borrowers**
Rates from 5.99% to 36.00% APR
* Based on one year personal loans made to first time borrowers with an AA Prosper Rating. To qualify for an AA Prosper Rating, applicants must have excellent credit and meet other conditions. APRs by Prosper Rating range from 5.99% (AA) to 36.00% (HR) for first time borrowers. The average APR for borrowers during the period May 1, 2014 through October 31, 2014 was 17.87%. Rate offered is based on Prosper Rating and other factors, and your actual rate may differ. Eligibility for a loan is not guaranteed and requires that a sufficient number of investors commit to fund your loan. Refer to Borrower Registration Agreement for all terms and conditions. All loans made by WebBank, an FDIC-insured, Utah-chartered Industrial Bank.