How to Create a Successful Borrower Listing
Borrower listings that carefully and personally address your loan amount and reasons for wanting a loan have a greater likelihood of receiving enough investment to result in a loan. It also helps to continually improve your Verification Stage-which tells potential investors how your loan application is progressing in the verification process-by submitting requested documents as soon as possible. Here is our guide to what we have found works based on Prosper data:
Create your successful listing now »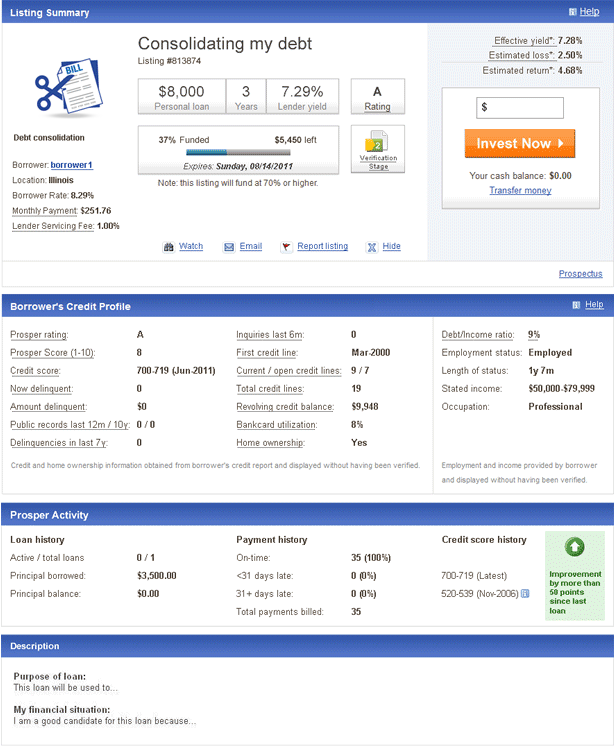 CHECK YOUR RATE
APR starting at
for best borrowers**
Rates from 5.99% to 36.00% APR
* Based on one year personal loans made to first time borrowers with an AA Prosper Rating. To qualify for an AA Prosper Rating, applicants must have excellent credit and meet other conditions. APRs by Prosper Rating range from 5.99% (AA) to 36.00% (HR) for first time borrowers. The average APR for borrowers during the period May 1, 2014 through October 31, 2014 was 17.87%. Rate offered is based on Prosper Rating and other factors, and your actual rate may differ. Eligibility for a loan is not guaranteed and requires that a sufficient number of investors commit to fund your loan. Refer to Borrower Registration Agreement for all terms and conditions. All loans made by WebBank, an FDIC-insured, Utah-chartered Industrial Bank.