Why Invest with Prosper?
Prosper provides investors direct, low cost access to high-yield consumer loans from creditworthy borrowers.
Competitive Returns
5.48%
6.78%
9.47%
11.14%
10.74%
11.35%
10.78%

Seasoned Returns* by Prosper Rating
Power of Diversification
For Notes purchased since July 2009, every Prosper investor with 100 or more Notes has experienced positive returns. 100 Notes can be obtained with an investment of just $2,500.
Learn more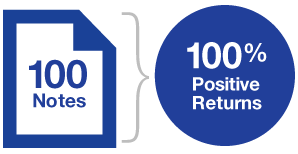 Monthly Cash Flow from Consumer Loans

Prosper.com finds
creditworthy borrowers
You invest in a
portfolio of loans
Borrowers make scheduled payments and
Prosper deposits them into your account
What We Offer
Investments in personal loans from qualified borrowers, as little as $25 per Note
Capability to build high-yield income ladders with 3- and 5-year Notes
Flexibility to diversify across credit grades and estimated yields
Experienced credit risk management