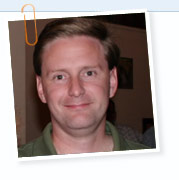 Prosper Member Bids on Loans That Reflect His Own Values
"...debt consolidation is something I support "
Steve A., Iowa
Member since: 12/2006
Self-described "serial entrepreneur", Steve A. spends most of his time and energy investing in software companies. When his wife read about Prosper in a magazine and brought it to his attention, it immediately piqued Steve's investment curiosity. "Right away, I saw P2P lending as an appealing, unique business model that nicely fit a niche that needed to be filled."
P2P Lending: Getting Started
Steve started by bidding small amount on Prosper and recommends the same for new lenders. "It was good to start by just getting our feet wet to see how the process worked," he says. As he got more confidence, Steve began to bid out the funds he received on his loans, and to-date has about $5,000 in outstanding loans on Prosper. He currently estimates his return to be 11%.
Great Returns, Lower Risk - Finding the Balance.
"It's definitely a learning process," Steve recounts when asked how he gets such great returns on Prosper. "At first, I just set a minimum percentage rate for loans I was willing to consider," he says. "Soon, I had ten $500 loans out, but wasn't comfortable with the risk. One default could be pretty painful in a portfolio like that."
Steve limits his bids to $50 per loan and his portfolio is spread among 50 to 60 borrowers. It may take a little more work to find the right 50 or 60 people to lend to, but to Steve's eye, it's worth it.
P2P Lending: Learn as You Earn
"I look for a number of things," Steve says of his eye for good listings, "But mostly, I've just learned from experience." Steve's had more success giving personal loans to those who may not have the best credit rating, but have a solid DTI ratio and are seeking modest loan amounts.
"I enjoy bidding in ways that reflect my own values," Steve says. "I'm not sure I want to fund someone's vacation, but debt consolidation is something I support and I'm glad to help."

Share Your Story
Do you have your own Prosper success story to share?