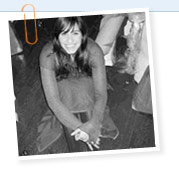 Play Video
Personal Loan for Small Business Keeps Fashion Studio Fluid
Another Small Business Loan Success Story from Prosper
Lara Miller,www.LaraMiller.net, Illinois
Member since: 07/2006


Early Success for a Small Business
Lara Miller began showcasing her original fashion designs as a student of the Art Institute of Chicago. Six short years, a landslide of favorable press and 17 retail outlets later, the Lara Miller brand needed an influx of cash to keep up with demand and fuel the growth.
Financing the Growth
After borrowing from family, friends, and credit cards, Lara ran into a cash squeeze. Like many small businesses, she didn't have the credit history or the collateral to get bank financing. For all her success, without a small business loan or line of credit, Lara was faced with going out of business.
Enter Peer-to-Peer Lending
"Fortunately, a friend told me about Prosper," Lara says. Within minutes of visiting Prosper's peer-to-peer lending site, Lara posted her listing and, "It was amazing. I posted the loan, and almost immediately, I had 8 bids."
Lara's first loan for $3,000 was funded at 10% APR --dropping from a listing of 14% in the first day. Since then, Lara has taken out two more loans with Prosper to fund a new website and help launch the Lara Miller 2007 Spring/Summer line.
Financing and a Networking Tool
For Lara, Prosper has been not only a source of financing, but also a valuable networking tool. "It's unbelievable, the business connections you make," she says. "I've met so many great people and gotten wonderful advice about running by business. I honestly wouldn't be able to do what I'm doing now if it wasn't for Prosper."
Share Your Story
Do you have your own Prosper success story to share?