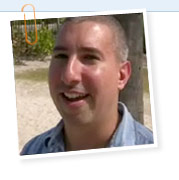 Play Video
People-to-People Lending is an Easy Process
Another Prosper People-to-People Lending Success Story
John V., New York
Loans: 37*, Total amount - $7,545*
Member since: 11/2006

The Prosper Process
"The process of signing up is very easy", John says, likening it to paying your credit card or banking online.� You provide your email, a user name, some personal information, and you're ready to start bidding on borrowers' loan requests. "It's basically like an eBay thing, you place bids on different loans�it's as simple as that."
People-to-People Lending is All About the People
John likes the fact that he's also helping his fellow Americans by enabling them to get loans they otherwise might not get.� "It's kind of like being in a corporate bond, only you're helping another person," John says.
John really enjoys what he calls the personal experience of the people-to-people lending process.� He finds that reading the stories of people in need of financial help, seeing their pictures and looking at their credit profiles through Prosper is much better than the "cookie-cutter model" banks use to make loans�better for both the lender and the borrower.
Different from the Stock Market
John compares his Prosper account to more typical vehicles like equity stocks. He notes that while his stock portfolio principal might go up and down, his Prosper account yields a monthly payment of principal plus interest, "just like a bank would". "You can take the payments as cash or re-bid the funds on more loans," John says. "And as you get a bigger and bigger portfolio of loans, your cash flow increases each month."
(*as of 05/2008)
Share Your Story
Do you have your own Prosper success story to share?