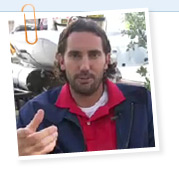 Play Video
People-to-People Lending: Doing Good Things and Making Money
Another Personal Lending Success Story from Prosper
Robert (www.denisonyachtsales.com), Florida
Loans: 26*, Total amount: $2,997*
Member since: 06/2007
The Draw of Prosper
Robert credits his parents who are "very compassionate people" for having helped him to grow a "big heart for social justice issues." A yacht broker by day, Robert works with the homeless through his church and is also a lender to the working poor in developing countries through www.kiva.org, a microfinance non-profit.

"Prosper was my first introduction to the idea of personal lending," Robert says. A friend told him about Prosper during a conversation about how to "both do good things and make money at the same time." Making good returns and being the "source of good things that help people accomplish their dreams", seemed the perfect fit.
Personalizing The Personal Loan
Robert especially likes that he is making available personal loans to real people. "I like the idea of Prosper because it personalizes and humanizes the lending process," he says. Robert likes knowing that his dollars are attached to a specific person and a specific project.
Compare to Bank Rates
Another thing Robert likes about Prosper is the return he gets on his money. "It's empowering to know that you can help people out and make money like banks do at the same time," Robert says. "Of course there's a bit of risk, but I literally triple what I would be making if I had it in a CD and infinitely more than if it were sitting in a bank account."
(*as of 05/2008)
Share Your Story
Do you have your own Prosper success story to share?