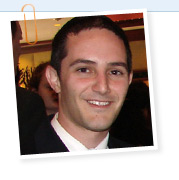 Play Video
People-to-People Lending: a Chance to Give Back
Another Personal Lending Success Story from Prosper
Aldenrains, Florida
Loans: 14*, Total amount: $1,062*
Member since: 08/2007
Helping People with Personal Lending
As a financial analyst, Alan was attracted to Prosper not only because it was an attractive financial opportunity, but also a unique place for him to give back.
Managing Risk
Alan also finds people-to-people lending on Prosper less risky than buying stocks or mutual funds. "You can look through a several hundred page prospectus written in legalese and never really know what's going on", says Alan. Or you can browse Prosper listings, look at the borrower's background and financial history and "immediately know exactly what kind of risk you're getting into without investing a lot of time."
The Draw of Personal Lending
Alan enjoys the personal aspect of people-to-people lending and sees it as a win-win for both lenders and borrowers. "I've found borrowers to be very friendly and open and forthcoming," Alan says. "It's so rewarding to be able to talk to someone about their finances, help them to get a loan at a much lower rate than they ever thought possible, and make better returns than I would from a money market or a CD".
(*as of 05/2008)
Share Your Story
Do you have your own Prosper success story to share?