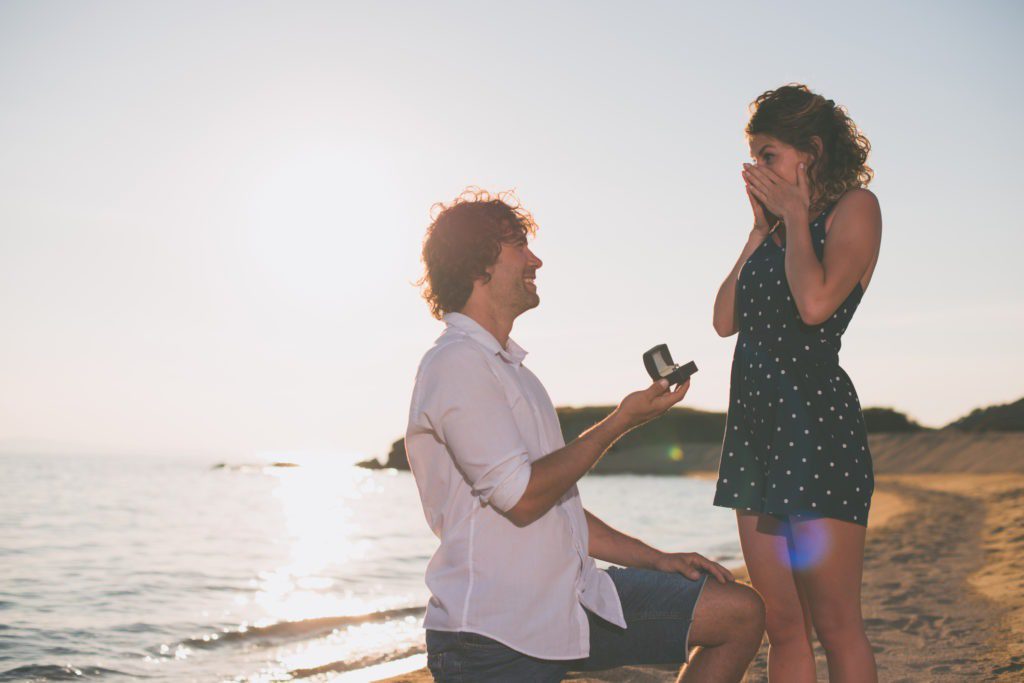 Ready to pop the question, but not sure whether you can afford the ring? Luckily you don't have to derail your engagement plans over the high cost of a forever stone. We've compiled some advice on how to set a ring budget and pay for it, and pop the question – all without derailing your financial goals.
Choosing the Perfect Ring
Before learning about the four Cs, it's important to decide on a realistic budget for your engagement ring. If it's a surprise, you may not be able to have a frank upfront discussion about the ring expectations. So how much should you spend?
One rule of thumb is to spend two months' salary on a ring. According to The Knot, the average couple spent $6,163 on their ring, which roughly aligns with the two-months guideline for an average salary.
However, the two-month rule does not work for everyone.
In a survey by GOBankingRates, the majority of Americans said they believe that the appropriate amount to spend on a ring is less than $3,000. With the high cost of weddings along with student debt and other factors, it's no wonder why people are increasingly willing to break with tradition to be more conservative with their ring budget.
Paying for the Ring
Once you have a rough idea of how much you are comfortable spending, you have a few options on how to pay for the ring. Of course some buyers will choose to pay cash, but not everyone can pay full price of the ring up front. Here are some options for financing all or part of the ring purchase:
Jeweler financing: In-store financing plans are available, generally through a retail credit card — and heavily encouraged by salespeople — at most jewelers. In some cases there are attractive terms, such as no-interest payments for a set period, but make sure to read the fine print before you sign. These loans can include hidden fees, and high interest rates may apply after the promotional period ends or if you happen to miss a payment.
Credit cards: Beyond the store card, you may qualify for a promotional credit-card offer with low or no interest rates on purchases for the first year. Like with in-store financing, you should also always be careful with credit cards — if you are leveraging a promotional offer, plan to pay off the purchase in full before the interest kicks in.
Personal loan: An unsecured personal loan is a compelling option, and is becoming increasing popular because they offer low fixed rates that are generally better than non-promotional credit card rates. Loans through the Prosper platform are fixed term, which means you have a line of sight as to when the loan will be paid off, and can budget based on your monthly payments.
Unconventional options
Some couples want a traditional diamond ring, but are willing to break free from the in-store buying route to save money. For example, buying online is now an attractive option, with some services even leveraging AI technology to help you get a good deal on the right stone.
Other couples choose non-traditional rings to signify their commitment, including engagement tattoos, vintage rings, or rings made of more affordable materials. Beyond financial reasons, some people choose alternative rings for ethical reasons — including many options that offer conflict-free gems and recycled or sustainable materials.
There's also the less-conventional option of delaying a ring purchase altogether until you are in a more comfortable financial position. Or, as a compromise, you could start off with a more modest ring, and upgrade once you are in a more comfortable spot financially.
The Big Moment
Now that you have decided how much ring you can afford and how you plan to pay for it, the real fun begins. Rest easy knowing that you're starting your life together on the right financial footing, and get to work planning a proposal for the partner of your dreams.
Good luck and best wishes from your friends at Prosper!
Oh, and don't forget to hire a sneaky photographer — everyone loves to see good candid engagement pics on Instagram!