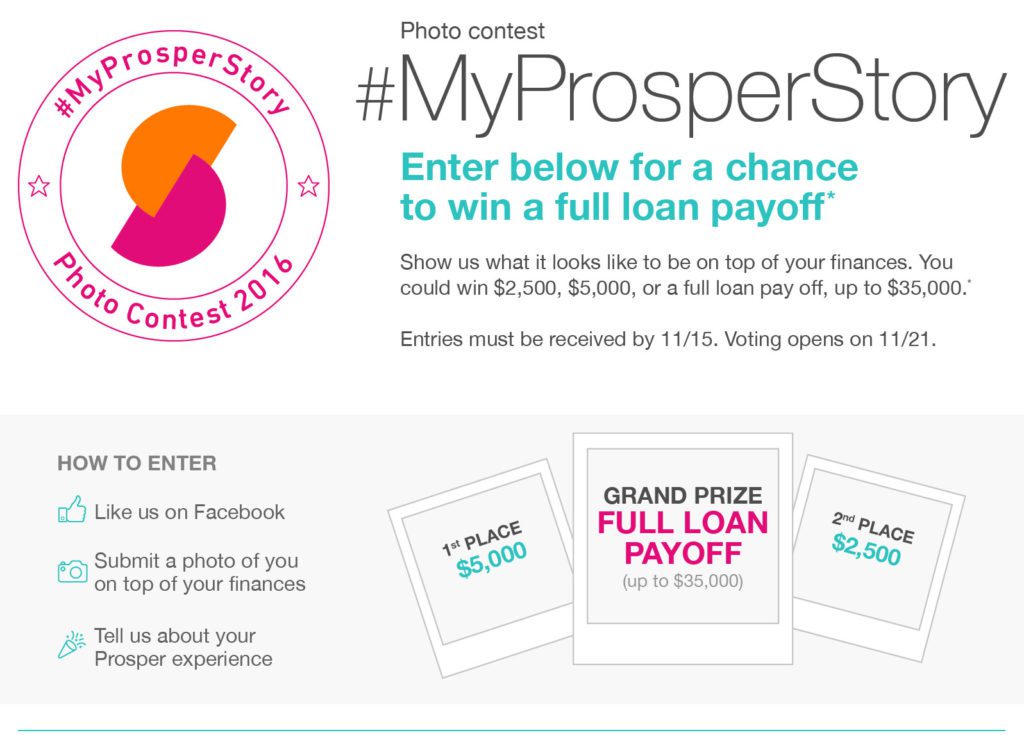 Today we're excited to announce the #MyProsperStory 2016 Photo Contest! For the third year in a row, we're celebrating our community and their commitment to advancing financial wellbeing. Today through November 15th, people who have recently taken a loan through Prosper can submit a photo and written description of what it looks like "to be on top of your finances" for a chance to win a full loan payoff.*
We're looking for vivid photos and compelling captions, and we're excited to see what everyone will share. In years past, our hearts were warmed, eyes watered and we've even laughed out loud at the creative and powerful stories that we have received from our community. To see the submissions, visit the #MyProsperStory gallery on Facebook.
Once again this year, we're giving away a grand prize of a full loan pay off, up to $35,000. First and second place winners will receive $5,000 and $2,500, which will be applied to their remaining loan balances, respectively.
Who can enter the contest?
The contest is open to anyone with an active loan through Prosper between October 31, 2014 – October 31, 2016.
Here's how we'll determine the #MyProsperStory finalists:
Photo Submission (8MB max): Photos account for 25% of the total score and will be judged on quality and their ability to be expressive and/or inspirational. Photos must be in .jpeg, .gif, or .png file format. Please make sure your photo is clear. No blurry or inappropriate images.
Photo Caption (350 characters max (words); no spaces): The photo caption accounts for 50% of the total score and will be judged based on the persuasiveness and thoughtfulness. We're looking for entries that are heartfelt, authentic, inspiring and/or humorous. Caption must include the hashtag #MyProsperStory.
Overall Originality/Uniqueness: Photos and captions will be judged based on creative interpretation of the contest theme. This will account for 25% of the total score.
*All prizes applied to remaining balance first. Refer to official rules for more information. All personal loans are made by WebBank, Member FDIC. All personal loans are unsecured, fully amortized personal loans.
Read more